THIS IS A GUEST BLOG BY ONE INGREDIENT CHEF'S ANDREW OLSON
I'm lucky enough to live in a city where there are several amazing vegan-friendly Thai restaurants; green curries, yellow curries, red curries, tom yum soup, pad see ew, pad Thai, and of course Thai iced tea with coconut milk. Amazing vegan Thai food is never more than a few blocks away.
Naturally, I've been inspired to start exploring Thai cooking at home lately, and I thought I'd share my recipe for a classic Thai curry: a coconut-based red curry with plenty of veggies and tofu. It's super easy to make (like 25 minutes from start to finish) and the flavors are incredibly authentic.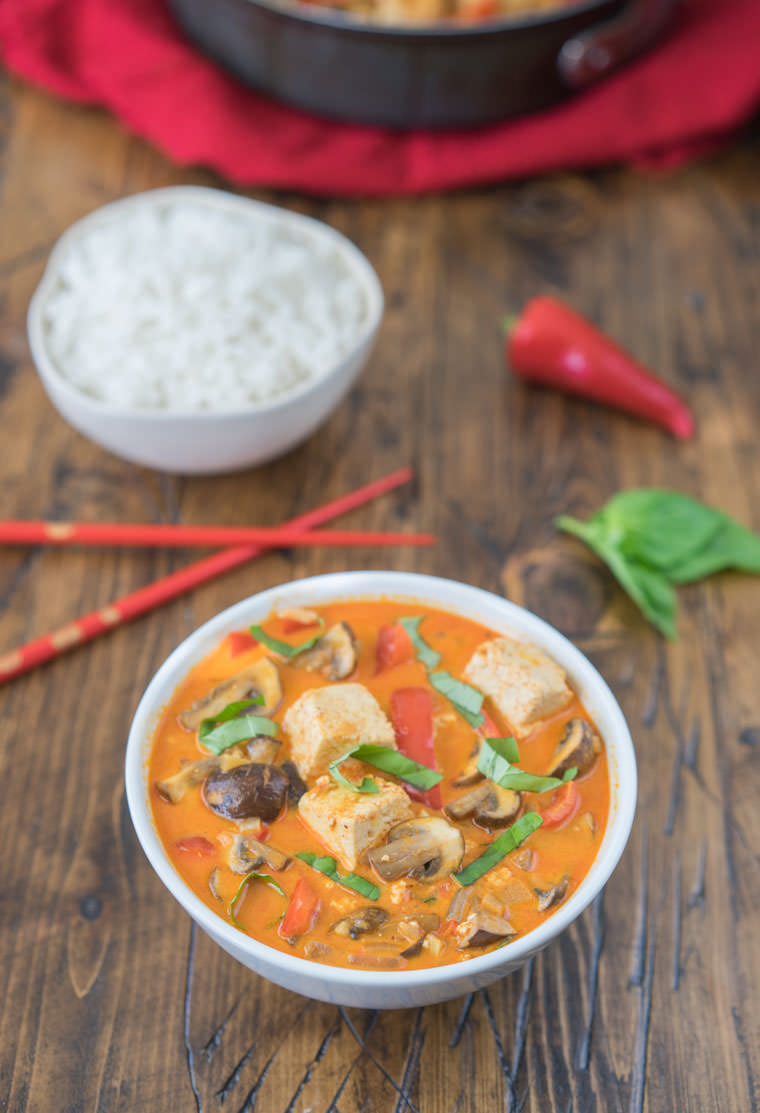 Serves 3-4
Ingredients:
1 small yellow onion
2 cloves garlic
1 teaspoon grated ginger
1 red bell pepper
1 cup sliced mushrooms
3 tablespoons red curry paste
350ml light coconut milk
1-2 tablespoons soy sauce
350g extra firm tofu
1-2 thai chilis
1 lime (juice + zest)
8 basil leaves
Brown basmati rice, for serving
Step One
Finely mince the onion, garlic, and fresh ginger. Add these to a large skillet over medium heat with a splash of water and allow to soften for about 5 minutes, until the onions turn slightly translucent.
Step Two
Next, add in a sliced red bell pepper and sliced crimini mushrooms along with about 3 tablespoons of the infamous red curry paste and stir until the paste is evenly coating the veggies.
Meanwhile, you should probably start cooking some rice unless you already have leftovers.
Step Three
Add in the coconut milk and soy sauce. A classic thai curry would have fish sauce, but since that isn't quite going to cut it in our vegan version, soy sauce is an excellent substitute. Stir for a minute or two until the paste has dissolved into the liquid and everything is looking beautiful.
Step Four
Cut the extra firm tofu into fairly large cubes and use a paper towel to squeeze out some excess water. Toss these into the pan along with the juice and zest of 1 lime and, if you'd like extra heat, 1-2 minced red thai* chilis.
* If the thai chilli plant in your garden is languishing as badly as mine and doesn't actually have any chilis yet, feel free to substitute Anaheim, jalapeño, or anything else you have on hand.
Step Five
Finally, allow this to simmer uncovered for at least 15 minutes, until the curry reduces and becomes slightly thicker, then add in a few sliced fresh basil leaves and cook for just another minute or so. At this point, give it a taste and add some salt or more curry paste if needed. When it's perfect, ladle over fresh brown rice and enjoy.
Be sure to check out Andrew's website for more amazing plant-based recipes!
Find our why he calls himself the One Ingredient Chef here.
READ THIS NEXT: [Recipe] Cornersmith's pear, lemon & rosemary chutney
1 Million Women is more than our name, it's our goal! We're building a movement of strong, inspirational women acting on climate change by leading low-carbon lives. To make sure that our message has an impact, we need more women adding their voice. We need to be louder. Joining us online means your voice and actions can be counted. We need you.
---