This is a guest post by Tammy Logan, author of Gippsland Unwrapped.
Everyone living plastic free or zero waste does it a little differently because as individuals we have different preferences, different levels of knowledge, live in areas with different resources, products and services, and have different levels of support which can affect our decisions. As a family, our methods will change over time as we learn more, nearby towns progress, and family life evolves with growing children and significant life events. But for now, this is how my family lives plastic free and zero waste.
Bathroom
Menstruation: I use a menstrual cup and underwear with a built in liner.
Contraception: My husband had a vasectomy. It goes without saying that you should continue to use your chosen form of contraception and STI protection.
Medication: Some medications must be taken no matter what they are packaged in, however we do try to use simple, natural remedies first and dispose of unwanted and out of date medicines via the RUM project so they don't end up in landfill or waterways. There has been a significant reduction of illness in our family since going plastic free and I believe it is because we live a healthier lifestyle.
Band-aids: Cloth with paper tape, rubber band or kombucha SCOBY.
Toilet paper: I get Who Gives A Crap toilet paper through a bulk buying group, but I also get Pure planet toilet paper which is made from bamboo and sugarcane waste instead of trees.
Shaving: I have a stainless steel safety razor and use soap for shaving lather. I've also extended the life of my disposable razor with this handy sharpening trick. My husband uses an electric razor.
Waxing: I 'wax' with homemade sugaring paste.
Cotton tips: Our cotton tips are made with a bamboo stick instead of plastic which means they can go in the compost after use. All the packaging is cardboard and will be recycled.
Deodorant: I use homemade deodorant using ingredients I can buy in bulk. My husband uses an antiperspirant in an aerosol can. He is not willing to try anything else.
Hand wash: Unpackaged bar soap.
Face wash: Unpackaged bar soap or just water.
Exfoliator: Rough washcloth.
Moisturiser: I use coconut oil when I need it. I get coconut oil in bulk but you can also buy it in 1 litre glass jars .
Lip balm: I make my own from ingredients I get package free.
Make up: I wear it maybe four times a year on special occasions so it's going to last a long time. This means I have no need to make my own makeup or look for sustainably packaged alternatives at this point in time. Check back with me in a couple of years to see if this has changed.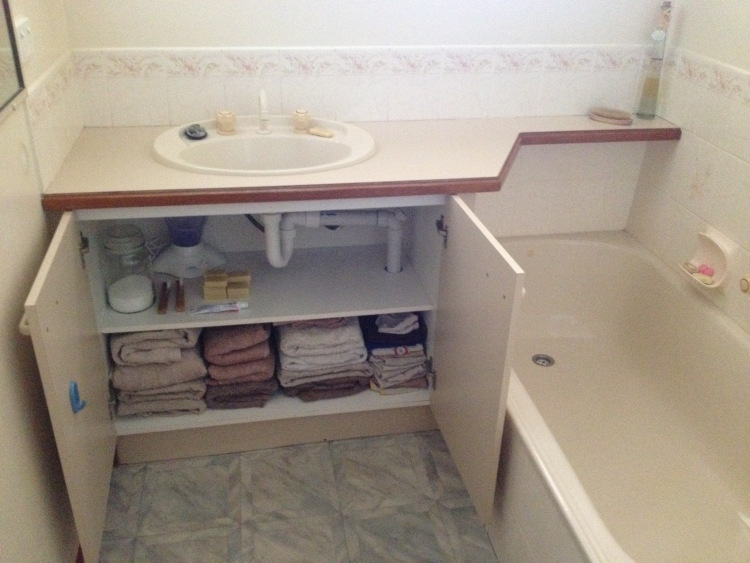 The kids bathroom. We don't use the shower in this bathroom (so I don't have to clean it). Image: Gippsland Unwrapped


Dental Hygiene: We use bamboo toothbrushes. There is a mixture of regular store bought toothpaste and DIY toothpaste being used in our home. I want to do more research in this area, so I am saving the tubes to be recycled. I have to confess to very infrequent flossing, I'm still working on a suitable solution to that.
Hair care: Everyone in our family washes with water only most of the time. Occasionally we use a shampoo bar (here are some you might like to try). Sometimes I mix it up with bi-carb soda mixed with water to wash, followed by an apple cider vinegar and water rinse.
Hair colour: I decided to give up dying my hair and return to my natural hair colour. After thinking about it for months and researching plastic free options (of which there aren't many), I'm really excited to rediscover my natural hair colour, greys and all!
Hair styling: I use a hair dryer and a hair straightener when the occasion calls for it. My daughter is only five so she is happy with braids. The boys use homemade hair styling wax when desired.
Sunscreen: I'm doing some testing and research in this area to understand more. Homemade sunscreen has very low SPF so I'm not prepared to use that on my kids at this point. Instead I buy sunscreen in a large bottle for the whole family to use. Larger bottles are preferable because of the surface area to volume ratio which means you get more product compared to packaging than with smaller bottles. When it runs out I'll recycle the bottle. We also wear protective clothing to reduce the need for a lot of sunscreen. My husband and I are trialling this natural sun zinc which comes in a tin this Summer.
Insect repellent: I use a natural balm which comes in a tin.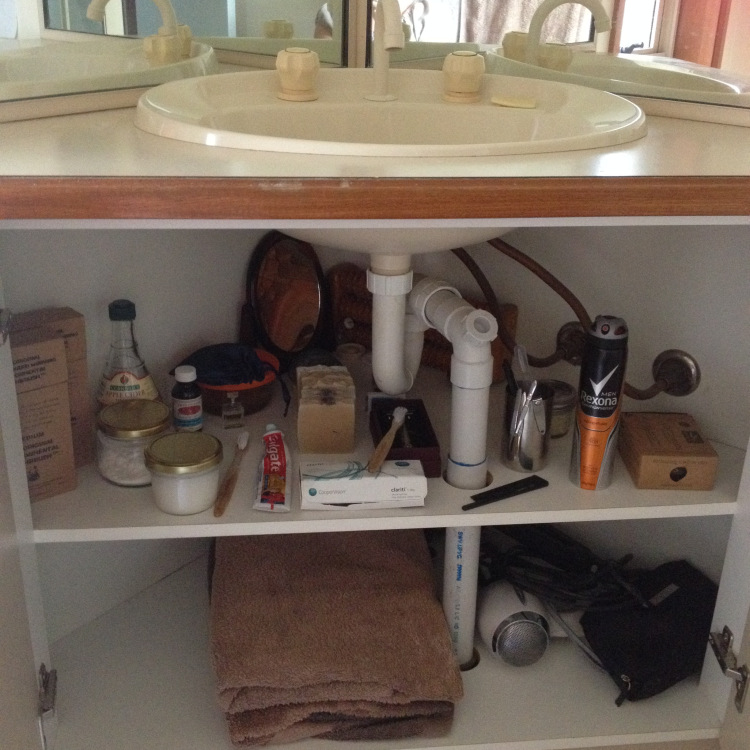 Our bathroom cabinet. Image: Gippsland Unwrapped
Laundry
Washing machine powder: I bought my laundry powder in bulk. There are brands in the supermarket that are completely plastic free if you don't have bulk supplies near you.
Clothes drying: We line dry using bamboo pegs. In Winter we dry beside the wood heater on a wooden rack.
Stain remover: I use sunlight, eucalyptus oil, bicarb soda, or washing soda for stains on clothing, carpet, and other fabrics. I buy a large supply of bicarb soda when I make my bi-monthly trip to a store which sells it package free or buy it in a box. I've only ever seen washing soda in plastic bags so I started making it myself. I aim to buy Australian, organic essential oils with as little packaging as possible. I'm hoping I'll be able to get essential oil refills somewhere by the time I've emptied these bottles.
Cleaning
All-purpose cleaner: I mostly clean everything with hot soapy water. I have replaced white vinegar with homemade kombucha vinegar which I dilute with water in a spray bottle to clean windows, mirrors, and the bathroom. The spray bottle is reused from a product I no longer buy. No point throwing that away to buy a new spray bottle. Sometimes I infuse the white vinegar with citrus peel to make the scent more pleasant.
Gloves: I usually don't use any but on the odd occasions that I do, I use a pair made from natural rubber and cotton.
Dishwasher: My bulk bought powder ran out so I tried using bi-carb soda on its own. I found it didn't perform well over time so for now I use a plastic free powder I found in the supermarket. I occasionally use vinegar as a rinse aid.
Hand dishwashing: I bought a bulk amount of detergent, otherwise you can refill from stores selling it in bulk. Buying the bulk sized container is a bigger up front cost but you will probably save money, time, and still be responsible for the same amount of plastic packaging. I tried using Velvet Pure Soap until I discovered it contains unsustainable palm oil. I don't use this anymore.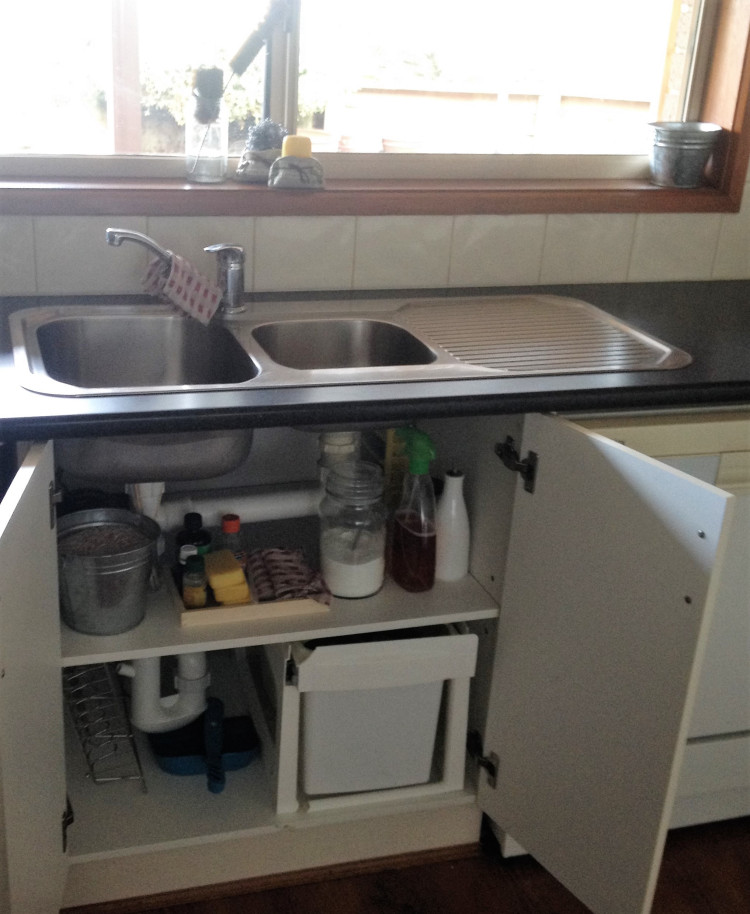 Dish cloths: I use old cotton tea-towels and other rags that I have cut up into appropriate sizes. They get composted when no longer usable.
Dish drying and hand towels: Reusable cotton tea towels or worn bath towels cut to size.
Cleaning wipes: I use our old towelling nappies and rags for cleaning and drying surfaces. I use scrunched up newspaper for windows and mirrors. The newspaper gets composted when I am done.
Scrubbers: I think stainless steel scourers are amazing. They lasts forever and can go in the compost when your done with it. I use crushed egg shell in place of bottle brushes because it works better. I have a reusable straw cleaning brush (unfortunately the bristles are synthetic), and I use an old bamboo toothbrush for cleaning grout and other tight spaces. I still have my old plastic toilet brush.
Disinfectant: Eucalyptus oil when needed.
Floors: Boiling hot water and a mop.
Descaler: Washing soda is great for descaling kettles, toilets, and washing machines. It is also amazing for cleaning burnt pots.
Mould remover: Teatree oil mixed with water, or white vinegar, or Bi-carb soda mixed into a paste with water.
Air freshener: I open the windows. Sometimes I bring herbs, flowers or foliage in from the garden. Lately I have been placing a scrap of fabric with some drops of lavender essential oil on it into the vacuum cleaner. The smell of lavender fills the house and lifts my mood.
Kitchen
Baking paper and Aluminium foil: Reusable baking sheet and the parchment paper my butter comes wrapped in.
Cling wrap: Homemade beeswax wraps, containers, plates, and teatowels. I talk about the options here.
Food and drink: I buy our meat in containers, our bread in homemade cloth bags, our produce in reusable produce bags, and I visit a range of stores to buy as much as I can from bulk dispensers using my own cloth bags and glass bottles. I grow and make a lot of own food and drink, but I also rely on buying a few things in glass, paper, cardboard, or a can.
Food storage: Containers, jars, bottles, bags, or loose in the crisper drawer.
Compost: Food scraps and anything made from biodegradable materials, which can't be recycled, goes into the compost bin. I like to call this extreme composting. Our chickens and dog also get some of the scraps.
Landfill bin: We no longer need a bin liner or a bin. Each family member collects their waste in a jar so that we can monitor how we are going. Here's how we went in 2016.
Recycle tub: We don't have kerbside waste collection so I sort our recyclables into cardboard boxes and take them to a transfer station in my car every couple of months. I reuse the boxes.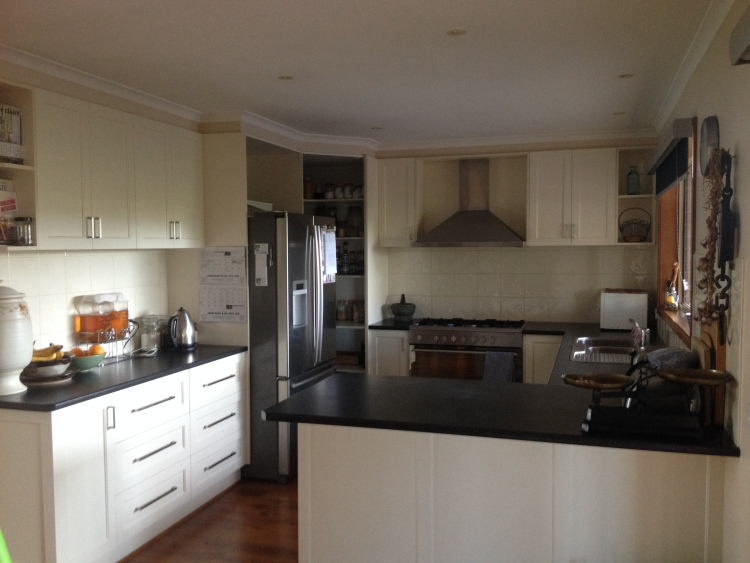 Clothing
School uniform: We have managed to source almost all our school uniform secondhand. However, next year the uniform is getting a complete overhaul. I'll be looking for ways to reduce the amount of packaging we end up with.
Kids clothing: We have been so lucky to receive good quality secondhand clothing from friends and relatives since the day the kids were born, so I have barely needed to shop for kids clothing. We've even had a pretty good run with shoes. However, now the kids get good-fitting new shoes which they wear out before getting another pair. There may be a few pairs of shoes sitting beside the kids waste jars by the end of the year. We also pass on clothing that has been outgrown. We have one relative who sometimes buys new clothing for the kids as gifts.
Adult clothing: I have not shopped for anything other than underwear and shoes for years. I get enough secondhand clothing given to me to keep me happy. Shannon's approach is to have a fairly small number items which get a lot of use and then every couple of years he buys a few good quality pieces new. We are conscious of plastic fibres being an issue and look for clothing made of natural materials. There is a system for all the clothing in our house where items move from being clothes we 'wear in public' to clothes we wear 'around the house', then 'on the farm', and finally we turn them into rags. Sometimes clothing is repurposed before it becomes farm clothing.
Sports uniforms and gear: We look for secondhand or hire options, but when we need to buy new gear we avoid packaging as much as possible. I wear contact lenses for netball which generates a bit of waste.
Toys
Toys: We focus on giving experiences instead of stuff. I do give the kids pocket money which they are free to spend how they like. Being kids they sometimes want cheap plastic toys, but I feel they are learning a lot for themselves with this approach. For example, how easily cheap plastic things break and saving money for valuable items.
Cubbyhouse: We made a cubbyhouse entirely from salvaged materials and filled it with household items from the op-shop.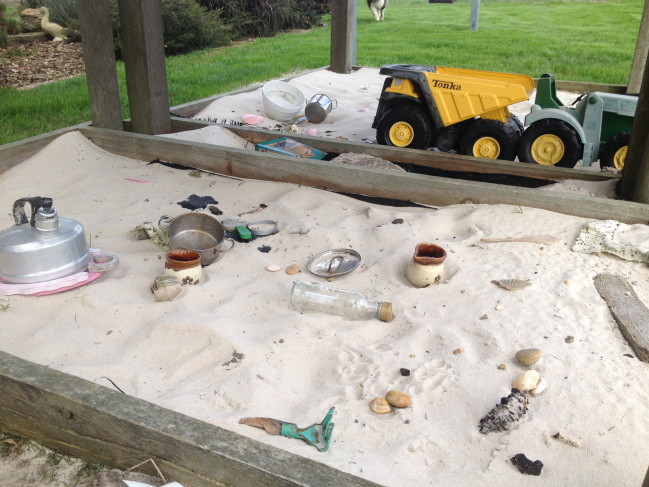 Sand pit toys made from wood, steel, glass, ceramic, and other items from nature like shells, rocks, and banksia seed pods. Image: Gippsland Unwrapped
Garage
Tools: We borrow or hire tools that we don't have for one-off projects. We repair what we can.
Oils, lubricants, etc: There is still a bit of stuff floating around in the garage from years gone by, but now whenever we need anything we buy it in a can. We will recycle appropriately when they are empty.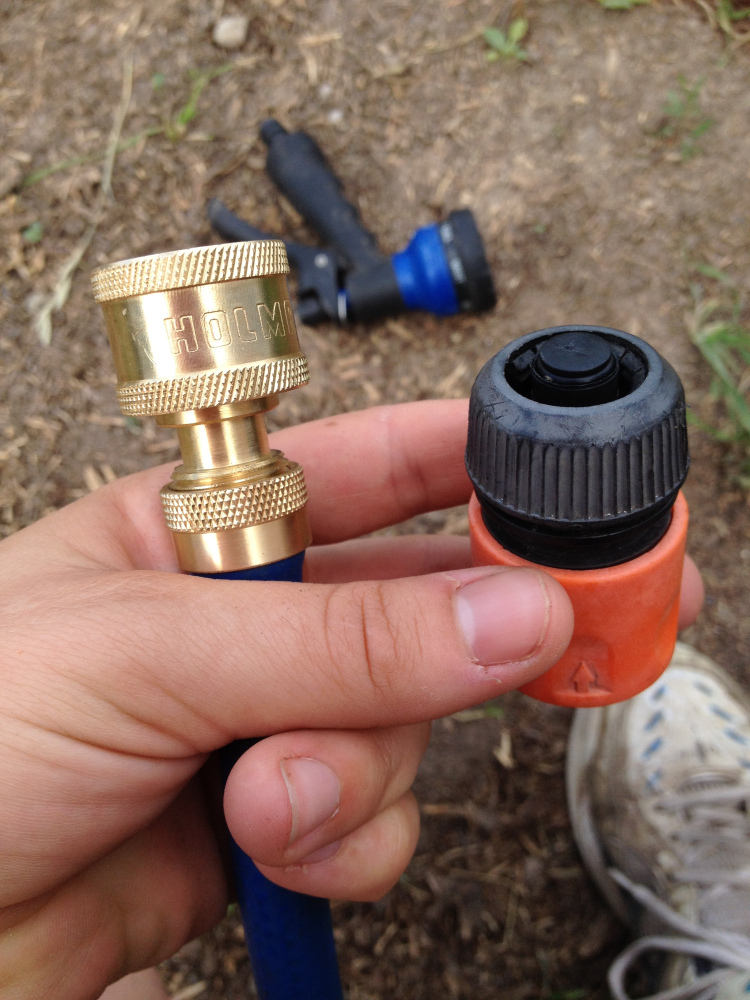 Garden
Tools: We use metal and wooden hand tools. I use biodegradable string or old t-shirts that have been cut up for ties. I use fallen branches to make trellises.
Hose fittings: As things break I have been replacing them with brass fittings instead of the plastic ones.
Plants: I avoid plastic pots by buying bare-rooted trees, saving seed, and swapping seeds, seedlings, and cuttings. When I do have pots, I return them to a nursery nearby by which reuses them.
Fertiliser: I don't really use fertiliser, just my compost. I've made weed tea in the past and plan to make my own fish emulsion. Some nurseries sell bulk seaweed and fish emulsions for you to refill your bottles.
Compost bin: Made from salvaged timber.
Weeds: Weeded by hand or with tools. Boiling hot water.
Pests: I use netting over the vegetable garden and the chooks roam around the beds.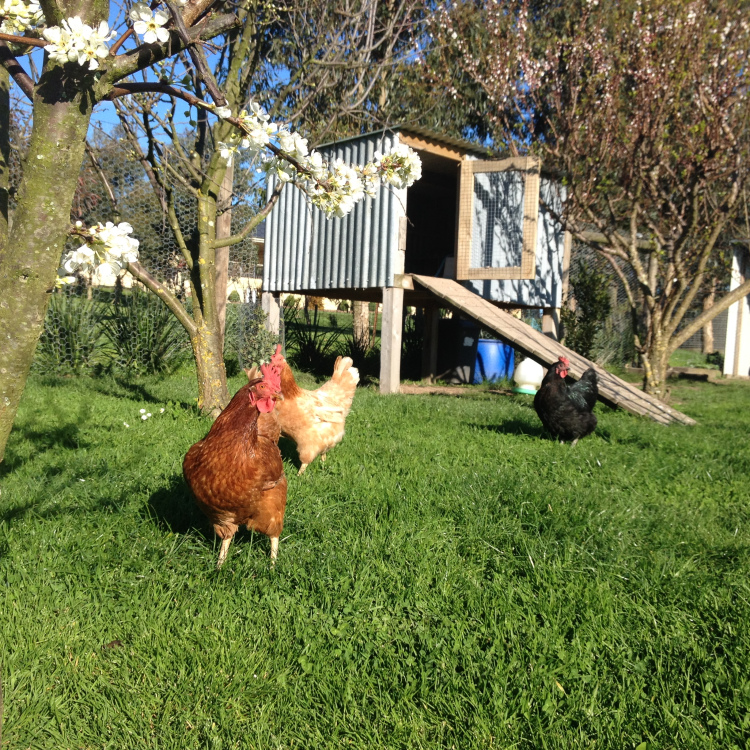 Pets
Chickens: The chook house is made entirely from second hand materials. I use shredded newspaper to line their nest boxes and this gets put in the compost when the boxes get cleaned out. They are able to forage for their own food but we also buy grain. I buy the biggest bag I can find and recycle the bags via the REDcycle program. I have also planted plants that I read are good for chook health.
Dog: Our dog sleeps on old blankets in the garage. I buy the biggest bag of dog food I can find (20kg) and recycle the bags via the REDcycle program. Our property is big enough (and she has good manners), so I don't need to clean up dog poo. It is possible to do this plastic free and to compost dog poo, but please do your research so that you understand what is required. I have a shampoo bar for washing her. She receives appropriate worm and flea treatments direct from the vet which generates a very small amount of waste.
Away from home
Eating out: We don't live or work in a town so we don't get a lot of opportunity to eat out. When we do, we don't often have leftovers but I try to remember a container to take them home if we do.
Takeaway food and drink: We use our own containers and cutlery, otherwise we opt for fish and chips, pizza, or something else that comes in recyclable or compostable packaging. We always take water bottles with us. Sometimes we allow the kids to have a drink out of a can, or glass bottle. We use Keepcups for coffee and other drinks.
School lunches and lunch orders: We use a range of simple tools for waste free lunches including containers, cutlery and reusable lunch order bags. I even send a tub of soy sauce so we don't get the plastic fish bottles.
Holidays: We take our 'resuables' with us and do everything we would do at home on holidays too. Here are my holiday reports from the past two years – Vacation in Vanuatu and 9 Lessons Learnt From Our Zero Waste Family Holiday.
I love that this journey pushes me to be more self-sufficient and resourceful with the things I already have. There's less clutter, less toxic chemicals, and more love put into the things around us. Please feel free to share your tips too.
Tammy Logan is the author of Gippsland Unwrapped, a blog committed to the pursuit of plastic and waste free living.
Read this next: Forget Recycling. Here's How To Live Zero Waste In 3 Simple Steps
We're in a climate emergency and it's going to take all of us to get out of it. That's why 1 Million Women is building a global community of women committed to fighting climate change with our daily actions. To join the (free) movement just click the button below!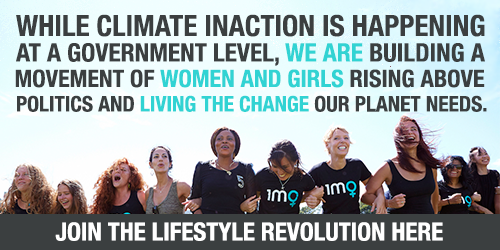 ---