Reducing your clothing footprint doesn't mean you need to sacrifice style. With a capsule wardrobe, you really can have it all. Great style, a clutter-free closet (and mind), and a healthier planet.
Fast fashion is contributing to a rapidly growing global waste problem. The industry is also a large contributor to global warming, so creating your own capsule wardrobe is a fantastic way to reduce waste, lessen your water and carbon footprint and feel great!
What is a capsule wardrobe?

Originally coined by boutique owner Susie Faux in the 1970's, a capsule wardrobe is a minimal approach to style. The idea revolves around choosing approximately 30 quality items of clothing to wear exclusively, making changes every season or so. This includes clothing, shoes and accessories. The idea was originally made for busy women to feel great and make room for the important things in life.
Why the capsule wardrobe?
Remove decision making from your morning
For the ever-busy individual, removing the "what do I wear today?" conundrum from your daily ritual can eliminate stress and help you to concentrate on more important decisions.
Declutter your mind to discover what's important
Decluttering your wardrobe is an important step in decluttering the mind. Having less stuff means that we can have more time and more space for the things we love, giving us the freedom to discover what is really important in life.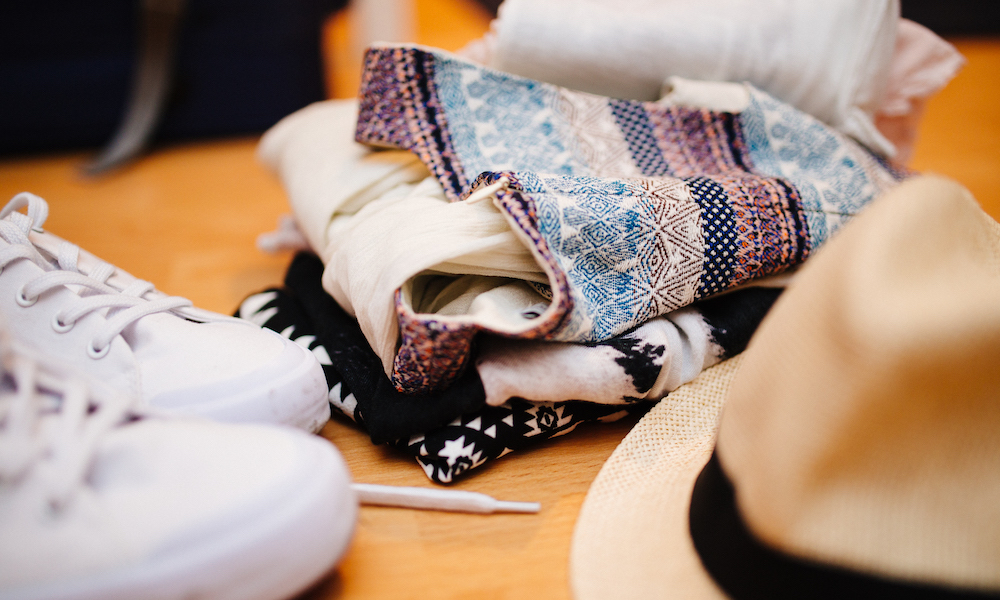 Wear what you love
One of the greatest things about having a capsule wardrobe is keeping only your favourite items of clothing. If you choose well, you'll feel great in what you wear every day.
Save money
If you choose to maintain your capsule wardrobe for several months at a time, it's a great way to save money. Although you may be spending more cash on each individual item, in the long term, buying less and keeping items for longer is a great way to deepen your pockets for a little more financial freedom.
Help the planet
The fashion industry is the second largest global polluter, only second to the oil industry, so whittling your wardrobe down to 30 items may have a bigger impact than ditching your car.
How to build your capsule wardrobe
Step 1: Categorise
Think practicality first. Create a category list of vital item types. You can exclude underwear and socks. What kinds of items do you wear the most often? Dresses? Pants and t-shirts? Make a list of these types of items before you start sorting. Depending on the weather in your part of the world and your personal style, adding jeans, t-shirts, jackets, dresses, skirts, heels, flats, joggers, jewellery and sunglasses to this list is a good start.
Step 2: Sort
Dump every item from your wardrobe onto your bed or floor and sort the items into different piles: 'Keep', 'Maybe' and 'Go'. Depending on how many items you started with and how decisive you are, it might take a while to whittle down the 'Keep' and 'Maybe' piles. Ask yourself "Have I worn this item in the last year?" If the answer is "no", chances are you're not going to wear it again. Sort until your 'Keep' pile contains 30 items. Make sure your 'Keep' pile contains the vital item types that you wrote down in Step 1 and then give yourself a big ol' pat on the back.
Step 3: Say goodbye
Ship the 'Go' pile off to charity, sell them at the markets or upcycle and offhand. If you have clothes that are very worn, they may not be able to be resold at a charity store, so consider composting them if the fabric is biodegradable.
Rejecting the world of rampant overconsumption is the best way to live a low carbon and low waste lifestyle. Maintaining a capsule wardrobe is a great way to reduce your impact on the planet, declutter your mind, and make room for the more important things in life.
Read this next: 7 simple tips for minimalist living
We're in a climate emergency and it's going to take all of us to get out of it. That's why 1 Million Women is building a global community of women committed to fighting climate change with our daily actions. To join the (free) movement just click the button below!

---