In the wake of the devastating fires across Australia it's difficult for lots of people to know what to do. You donate if you can, share support on social media but it still feels like you're not doing enough.
I know this feeling of helplessness all too well. Over the last two weeks I've waited and watched anxiously as my parents, friends and families homes on the south coast of NSW, Australia have been surrounded by raging fires and in some cases burned to the ground.
It's been so hard to be three hours away in relative safety waiting to hear from the ones you love, not being able to do anything. I can't even begin to imagine how it would feel if I had lost a loved one to the flames.
Now that the immediate threat to my home town has subsided (although it's far from over yet), I'm starting to understand that this disaster is going to have flow on impacts beyond physical damage to lives and homes.
The far south coast of NSW is a beautiful place. Stunning beaches, serene bushland, friendly locals, epic camp spots and delicious food. Each summer flocks of tourists come to soak up the sunshine and make the coast their home for a week or two. Most local businesses rely on that peak 6 week period during summer holidays to boost their income so that they can survive throughout the year. For places like surf schools, caravan parks, gift shops and cafes, it's their livelihood. Sure we sometimes bemoan the flocks of tourists but everyone knows it's what helps keep the coast alive.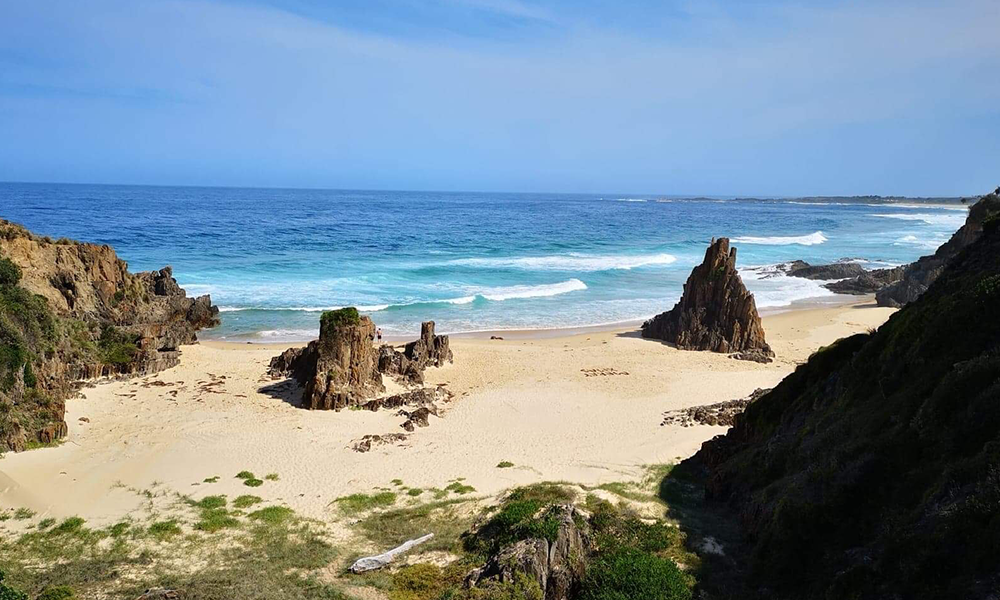 [Bingie Beach, south of Moruya, image provided by author]
Throughout my teenage years I had summer jobs at places like this. You'd spend most of the year in relative quiet bliss and when that 6 weeks came you'd knuckle down and work hard and put up with the crowds because you knew that if you didn't make the most of the business then, there wouldn't be another real chance until next summer.
Right now there are roads closed in all directions around my hometown of Tomakin (near Moruya). The main road to Canberra (where most of our tourism comes from) has been closed since early December and will probably remain that way for at least another month. The road north to Wollongong and Sydney has been closed on and off for the better part of 6 weeks. As fires continue to threaten towns, there will be more of this to come.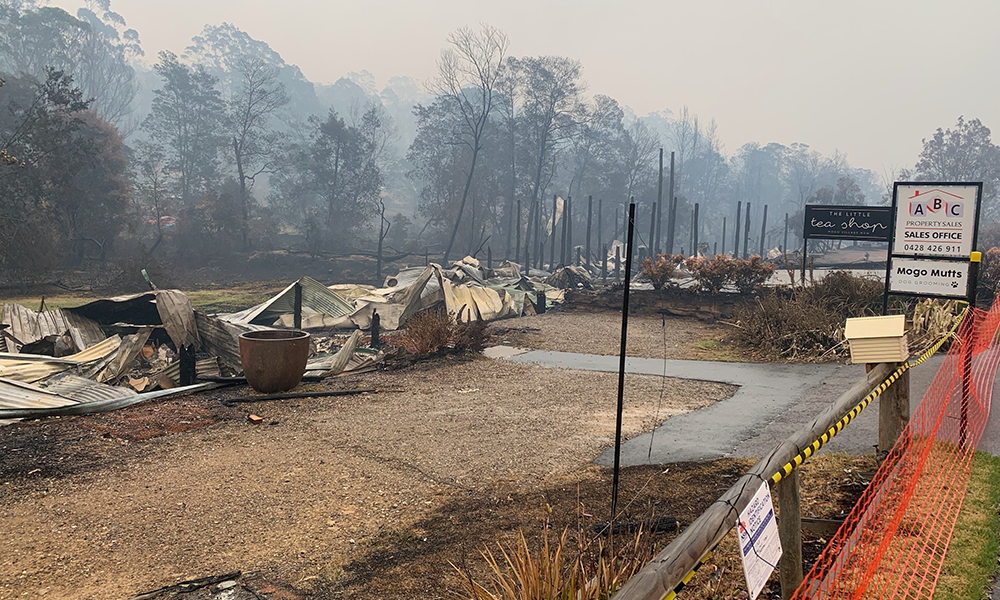 [North end of Mogo after the New Years Eve fires, image provided by author]
The first thing you should do if you can, is donate to one of the incredible organisations helping prevent fires and help families get back on their feet.
But once you've done that, open up another tab and start booking your next holiday to the coast.
Because our communities and residents are brave and strong and I've seen the most incredible support and resilience, but we can't do it all alone. We need everyone to support these communities in as many ways as possible if we're going to fully recover.
These fires have been horrific and perhaps today or tomorrow isn't safe, but don't let it keep you away forever. Once the threat is gone and the roads are safe, we want you to be down here with us. Brave the cooler weather, take the money you would have spent on a flight to Bali and come and explore or just relax.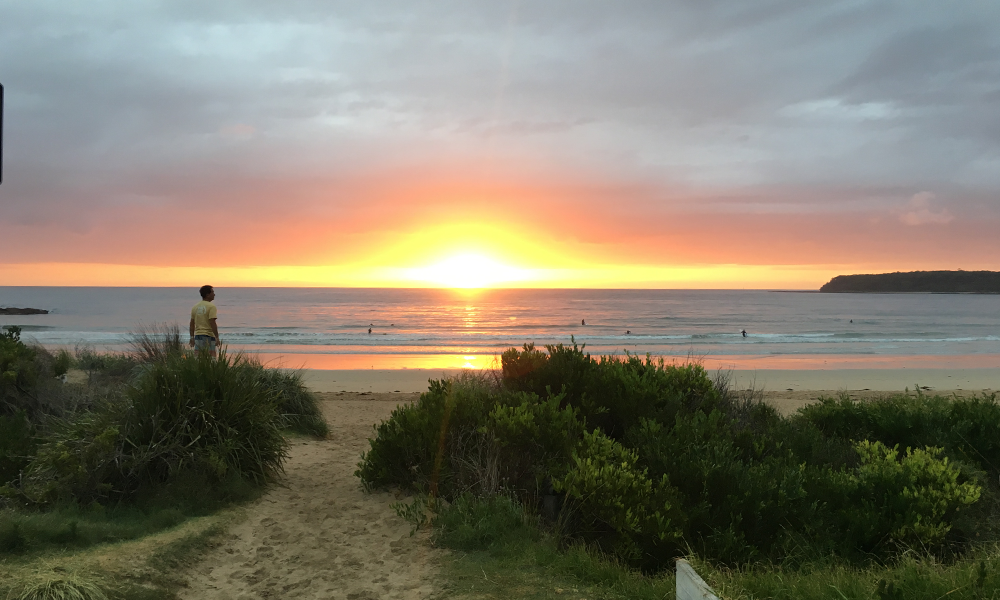 [Tomakin Beach, image provided by author]

It might be a day trip, a weekender or a week or two with the fam. Make your way down those familiar roads with empty eskies, low fuel tanks and hungry bellies. Book the caravan parks, rent a surfboard, eat out for dinner and buy cute gifts for your friends and families. These towns and businesses need you to do this so they can not only survive but thrive.
Lastly, what we can do to help everyone - those with scorched homes, those with struggling businesses and those who are safe for now but might be experiencing this in the future - is to take action on climate. Call your politicians, use your votes wisely, support brands who are doing the right thing, go to protests and MAKE NOISE. Because it could be anywhere next. This is what living in a climate crisis looks like. And it's no one's fault but everyone's responsibility to wake up, make noise and help change our world.
[Header image: Broulee Beach, provided by the author]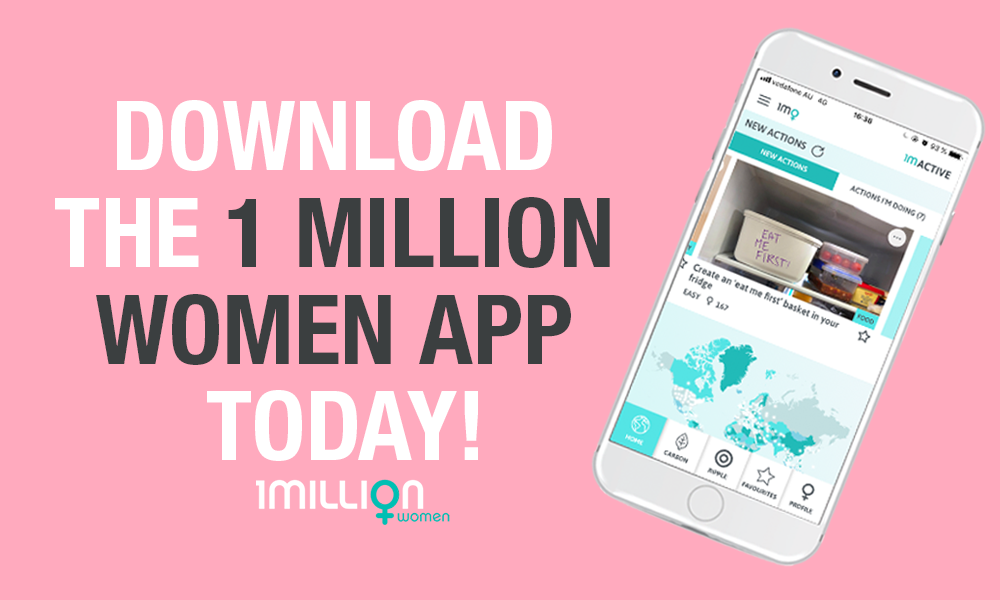 ---