Download the 1 Million Women app on iOS here. Download it on Android here.
Please note: We are currently having issues with the app working outside Australia. We're working really hard to fix this as soon as possible! Could you let us know if you are experiencing any issues at all. Your feedback really assists us in fixing the issues. Contact us at enquiries@1millionwomen.com.au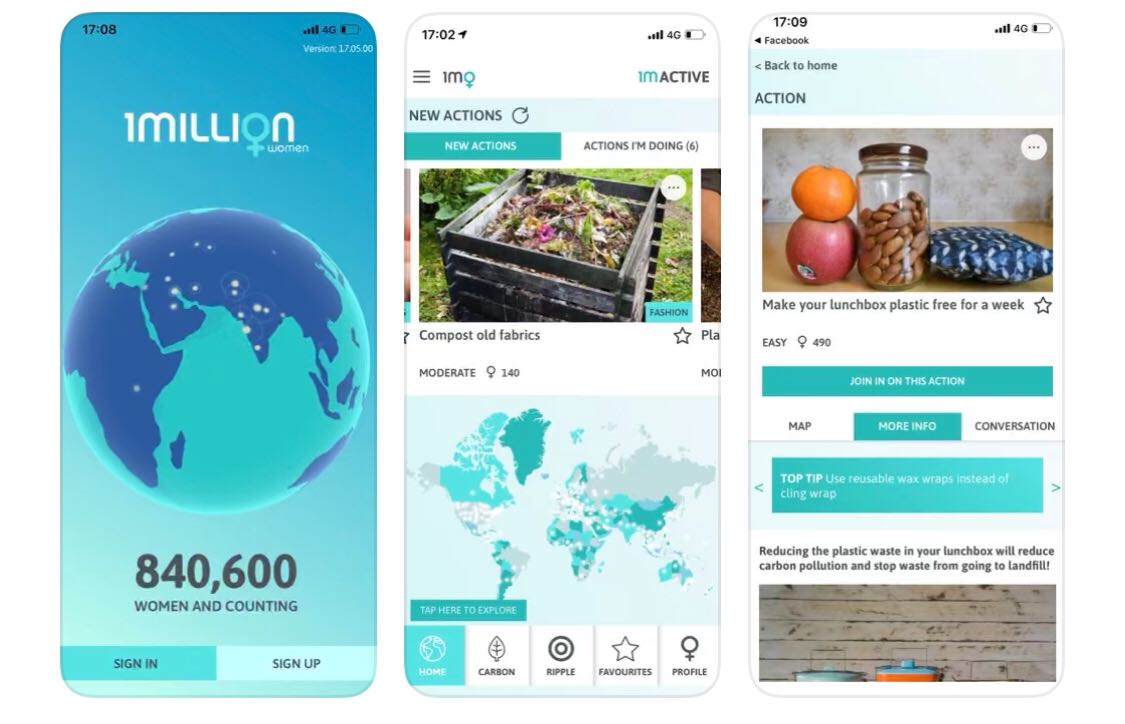 ​We are women and girls from every corner of the planet building a lifestyle revolution to solve the climate crisis.
No matter whether you are a climate warrior or a beginner, the power of this app is to show in real time our collective impact when we all act together.


The 1 Million Women app gives you the tools to cut carbon pollution in the key areas of your everyday life focusing on home energy savings and clean energy options, minimising food waste, reducing overconsumption, investing and divesting (your money) wisely, sustainable fashion, low-impact travel and much more.

You will join a growing community of women acting on climate change through the way we live and will see the impact in real time that we have when we all act together.
Our 1 Million Women App allows you to:
JOIN DAILY ACTIONS TO CUT YOUR CARBON POLLUTION
Join actions every day in themes that you want to explore - including tackling food waste, living a zero waste life, going plastic-free, reducing your household energy consumption, using your money as a force for good and saying goodbye to fast fashion - plus more.
Choose whether you'd like to undertake easy, moderate of challenging actions.
Monitor your impact by seeing your carbon savings for each action and see the collective impact of people undergoing the same actions as you.
Learn simple tips on how to undergo each action and read compelling articles on different aspects of the actions you're undertaking.
SEE YOUR IMPACT IN REAL TIME
See your individual carbon savings as well as the 'power of us' when we all take the same daily actions together.
See our collective impact in real time through our map showing where in the world people are undertaking actions.
CONNECT WITH GROUPS LOCALLY AND GLOBALLY
Search for groups around the world that are doing things for the love of Earth.
Whether it's a local clothes swap group or a no plastics movement, a crop swapping community or a compost sharing street, Groups in the 1 Million Women app give you the opportunity to connect with likeminded people acting on climate change.
CREATE A RIPPLE
Share your unique referral code for the 1 Million Women app with people around you to influence them to start cutting carbon pollution from their daily lives.
See your own ripple effect showing your impact on the people around you.
JOIN IN ON CONVERSATIONS
Join a live conversation feed with people who are passionate about climate action around the world.
Chat with people doing the same actions as you, sharing ideas, stories and solutions.
FAVOURITE THINGS THAT YOU LOVE
Click on the stars within the app to favourite things that you love including actions, helpful information snippets, articles, and comments from people around the world.
The 1 Million Women app is free to download because we want to empower as many women around the world as possible to act on climate change.
Download the 1 Million Women app today and join the lifestyle revolution.
---