​Taking a lead on dealing with plastic waste in Cambodia, more than 40 members of Siem Reap's hospitality and tourism industries and development sector have launched ReFill Not Landfill, a campaign aimed at revolutionising the way water is consumed by tourists in Cambodia.​
In case you haven't heard, Cambodia has a problem with plastic. Like its other southeast Asian counterparts, outdated waste management processes and lack of recycling infrastructure, mixed with an influx of tourists (4,775,231 million of them in 2015 to be precise) and scarce access to clean drinking water means that millions of plastic water bottles will be distributed throughout the country every month, with no sustainable means of disposal.

If that number doesn't seem to shock you – think 26 Olympic swimming pools filled to the brim with plastic bottles every year that will most likely make their way into landfill, or be blown around the countryside, in rice fields and gardens, and along watercourses which often become blocked creating flooding and other damage.
So, with Cambodia's almost non-existent recycling facilities and limited resources for transporting the plastic to neighboring countries, something had to be done to combat this budding dilemma, especially considering Cambodia's 17% increase in tourism numbers year on year.
Enter, The ReFill Not Landfill campaign.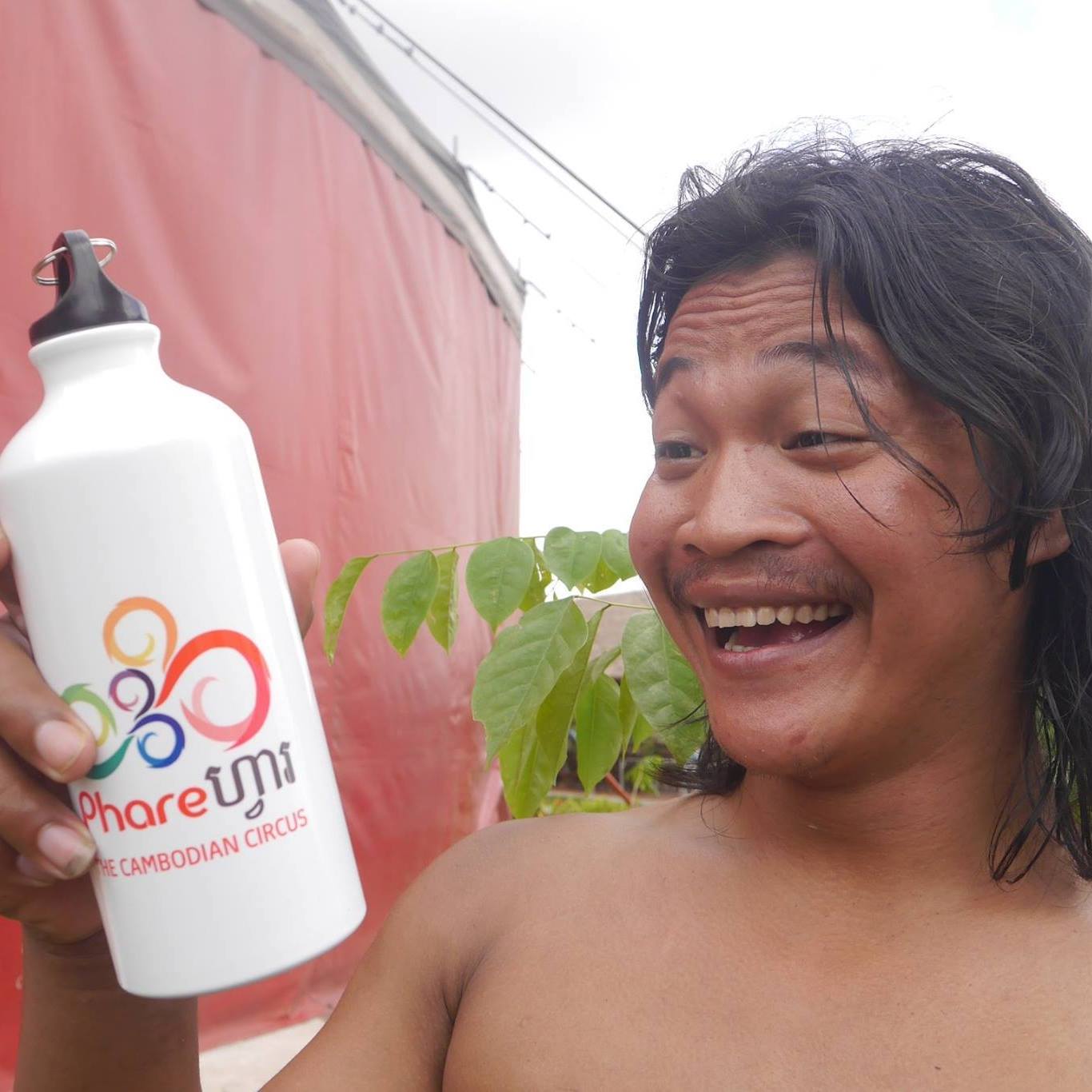 The ReFill Not Landfill campaign was created by a small group of tourism professionals with a goal to reduce reliance on single use plastic bottles in Cambodia. With many businesses reliant on plastic water bottles for their customers, the tourism industry plays a significant role in the amount of plastic currently flooding Cambodia's landfills. While the Cambodian Government is also actively working towards solutions, the ReFill Not Landfill campaign will encourage change at a grassroots level.
"As tourism professionals we have taken it upon ourselves to find some solutions to this ongoing problem" says Christian De Boer, General Manager at Jaya House River Park Resort.
After teaming up with Coola-Products; a small family owned promotional and merchandising company based in Phnom Penh, the group developed custom-made 600ml reusable aluminium bottles that could be distributed throughout the country to participating businesses. Businesses and organisations can purchase the bottles to either be used, sold or given away to their guests and customers. Some hotels are incorporating the bottles the price of the room, some businesses are selling the bottles in store and some are offering them as a giveaway to clients, donors and supporters. With each bottle showcasing the brand of the business, Refill Not Landfill can really become part of their identity.
Over 40 businesses nationwide are currently participating in the campaign with the number gradually increasing. Big hotels such as the Park Hyatt Siem Reap and AMANSARA, and renowned Cambodian social enterprises, Phare Cambodian Circus and Sister Srey Café, are amongst the participants. Some have also chosen to become a refill station; the requirement being that they have to supply clean, fresh, hygienic drinking water to any holder of one of the branded Refill Not Landfill bottles.
To assist people in finding a refill station the group has created a Google Earth map listing all the locations where you can either purchase a bottle or refill your bottle. The campaign's website will also have a function, which will automatically geo-locate the user and show the closest participating businesses.
Many communities in Siem Reap and Phnom Penh have for a long time been working together to find more sustainable solutions for the Kingdom of Cambodia. From plastic reduction, to sustainable community development and responsible tourism initiatives, the country has seen an increase of collaborative activity that is now starting to show significant positive change for Cambodia and it's people.
The ReFill Not Landfill campaign is set to be yet another one of those initiatives that will contribute to not only a changing Cambodia, but to a changing world. Spread the word and support this innovative campaign by using the hashtag - #refillnotlandfill. You can also show your support on their Facebook page or website, which is soon to be completed.
About the Author: Bianca is a freelance writer from Sydney, Australia with a strong passion for responsible tourism, fair trade and community development. She has travelled to over 35 countries and has spent the past year travelling through south east and southern Asia sharing stories of good will and finding ways that we can travel ethically and responsibly around the globe. Check out her Facebookand Twitterfor more.
We're in a climate emergency and it's going to take all of us to get out of it. That's why 1 Million Women is building a global community of women committed to fighting climate change with our daily actions. To join the (free) movement just click the button below!
---