Scientia Professor Veena Sahajwalla is an engineer, Laureate Fellow, Founding Director of the Sustainable Materials Research and Technology Centre (SMaRT) at UNSW Australia , and 1 Million Women Ambassador.
Her work at the SMaRT Centre has earned her the title of "alchemist of waste". One of her most celebrated achievements is the invention of a process of recycling rubber tyres in steelmaking now known around the world as "green steel". To date 2 million passenger car tyres have been diverted from landfill.
So when it comes to developing value from waste, Veena is reinventing the wheel.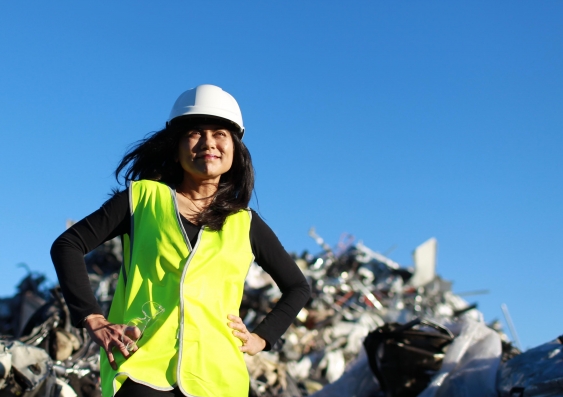 [IMAGE: Tamara Dean UNSW]
Manufacturing has been on the decline in Australia for decades. Today less than 10 per cent of Australian's are employed in the manufacturing sector, so for manufacturing to survive here we need to develop processes that are innovative and sustainable, and to develop these systems we need skilled engineers.
What we are proposing at the Sustainable Materials Research and Technology Centre (SMaRT) at UNSW Australia is a total paradigm shift. It is the ability of engineers to build Australia into the future by fostering invention and innovation. I believe it will be engineers that can deliver previously unimaginable solutions like green manufacturing; a process of advanced manufacturing that will transform the manufacturing industry.
Australian industries need the flexibility, insight and foresight that comes from thinking creatively, asking critical questions, forming and testing hypotheses and reasoning quantitatively – and access to the research and technologies that will add value to manufactured products.
At the SMaRT Centre we are working on green manufacturing in collaboration with industry, using waste and end‐of‐life products as raw materials and rethinking the way we have traditionally done manufacturing which is about creating new resources from waste. But it is fundamental and applied research that has created the foundations of where we are today.
With the ability to produce ferrous alloys from auto waste and copper-based alloys from e-waste, the vision of things being mined traditionally – raw materials sent long distances, one large processing plant used to transform it – is no longer how we see Australia's manufacturing future. Not only are natural resources being depleted at an unsustainable pace, industries are beginning to recognise the cost-effectiveness of reusing materials and the importance of high value-add, small, agile and localised processing facilities.
Silicon from silica in glass, or copper from e-waste, is extremely valuable so we need to look past the fact that initially they present as waste. This is where the scientific discovery and innovation comes in. It's looking for the beauty within. The future manufacturing scientists and engineers will be creating high-value materials by discovering novel green manufacturing solutions.
We see a huge opportunity for green manufacturing in micro-factories across regional Australia and new jobs for regional communities that offer economic opportunities in tomorrow's industries. We believe these new industries can happen on a small scale quite effectively based on new scientific discoveries.
In Australia where our population is small, and the tyranny of distance and the inability to sometimes conform to the traditional economies of scale presents challenges, doing it cleaner and smarter and developing innovations that are good for the environment and sustainable on every level, offers huge economic benefits and a brand new manufacturing sector built around transforming waste into resources.
This article was first published in The Conversation, see the full article 'The future of manufacturing in Australia is smart, agile and green' here.
Veena Sahajwalla
Scientia Professor, and Laureate Fellow and Director, SMaRT Centre, UNSW Australia

We're building a movement of women fighting climate change through the way we live.
Join us and be counted.
---