Australia is on the frontlines of climate damage - the world has been looking at us as an example and warning of the effects climate change. We're still putting ourselves back together, emerging from Summer's devastating bushfires that burnt an area the size of Ireland along the south-east coast of Australia. It's been a time of devastation, but also strength. We've rallied together as a nation to support communities, animals and nature hurt by the fires, and we've taken to the streets to demand action. Now, it's time to rally together again, to finally give Australia a chance to push past the politics and take climate action and build a safe future. The Climate Change Bill was set to be presented to Parliament on March 23 but was postponed due to the coronavirus crisis, but Climate Act Now is back. And as the Government makes recovery plans, it's so important that climate action is pushed to the front of the agenda.
Independent MP Zali Steggall (the member for the electorate of Warringah in Sydney) has put together the Climate Change Bill. And Zali Steggall isn't just any politician. She won former Prime Minister Tony Abbott's seat on Sydney's Northern Beaches, and she did it in a spectacular way - running a powerful grassroots campaign, with climate action at its heart. And she's in a good position to get this Climate Change Bill through Government - being an independent - a step away from the big political parties who have been running in circles around climate action for decades.
So what's in the Bill?
The Bill is 53 pages long, so we've summed it up for you (if you love detail, you can read the full 53 page bill here). The Bill in a nutshell is a framework that can help Australia finally turn over a new leaf and start taking action to become carbon neutral by 2050, reduce emissions, protect itself from worsening drought, bushfires and flooding, and build a country powered by renewables. It lays down a benchmark that can stop the climate wars and give us a foundation from which we can develop and grow, making sure Australia is prepared for the impacts of climate change and can reduce them in the future. The Bill details an Act to establish a national climate change adaptation and mitigation framework' and how an independent body called the Independent Climate Change Commission, will be set up, to make sure the Government sets and meets goals like emission reduction targets.
Here are the other main points in the Bill:
A long-term national emissions target (aligning with the latest science, State government policies and global commitments) will be in place. This is currently set at being net-zero emissions by 2050 but the target is reviewed every 5 years by the independent Climate Change Commission, and new targets can be set.
5 year national emissions budgets will need to be set in advance and include safeguards to make sure that these emissions reduction targets can be achieved and reached in a fair way, in other words, with a just transition (making sure no one gets left behind, this could be for example making sure that workers in the fossil fuel industry are trained and transitioned to new industries). It is written in the Bill itself that the Act recognises adapting to climate change requires a "planned transition towards a net zero emissions economy and the implementation of adaptation measures to protect livelihoods, business and the environment". (page 3).
An independent Climate Change Commission will be set up to monitor and ensure the country will reach its targets. The Commission will also monitor climate change impacts, advise Parliament and assess risks. This Commission is made up of a chair, Australia's chief scientist and five other members who have experience in either climate science, business, agriculture, environmental management, transport or regional development.
Five-year national adaptation plans for specific regional and economic sectors like agriculture, health, education etc… will be set, responding to the impacts of climate damage and the latest science.
So there's the Bill, if you want to do more reading on it that isn't 53 pages long you can find the summary from Zali Steggall's office here. Now that we've laid out what's in the Bill we can look at how it goes from Bill to law and action, and it's here where we all have a role to play.
How does the Bill turn into action?
The Bill has the best chance of getting through the Government with a conscience vote. What's a conscience vote? It's a vote on a particular bill that allows Members of Parliament to vote according to their conscience and not along party lines. In other words, they can vote according to their own moral, political, religious or social beliefs (not how a politician who is a member of a party would usually vote!). The Coalition Government has a technical majority in the House of Representatives, and they've shown that they are not willing to take further climate action, a conscience vote would allow members within the party to 'cross the floor'. Liberal MPs like Dave Sharma in the coastal Sydney seat of Wentworth, and Trent Zimmerman have already shown that they don't agree with all of the Liberal Party's climate policy. They recently came out saying that no new coal mines should be built in Australia, meanwhile the Government committed to a $4 million feasibility study for a new coal fired power plant.
How do we get a conscience vote to happen? Well public pressure is a big part of getting the Bill to go to a conscious vote, so what we do now is really important here. The party leader is usually the one who makes the decision on whether to allow a conscience vote, which means we have to use our voices to get party leaders to call a conscience vote. We can urge our local Members of Parliament to call for a conscience vote in their party by signing this petition to show we support the introduction of the Climate Change Bill, and contacting our local MPs.
How can I help?
You are key to the success of this Bill. We need a people powered movement to show the Government what we want - climate action now!
Here's what you can do to help get this Bill through Parliament:
First, sign the petition to show you support this Bill. The petition also has a pre-written email you can send to your local MP if you don't have time to personalise one, but if you'd like to edit it and personalise it, you can do that too (in fact we encourage it!). The more people who do this in each electorate, the more pressure we'll create, and this website is keeping tabs on the numbers, so we know exactly how each of these politicians should be voting when the Bill goes to Parliament.
Write a and post a paper letter, call and meet up with your MP urging them to call for a conscience vote and vote for the Climate Change Bill. This is the most important thing you can do and we need everyone to get on board, no matter what electorate you're in or who your local MP is. The Bill needs support across parties, so whether you MP is Labor, Liberal, Greens, Nationals or Independent, get in touch with them and tell them why this is such an important moment for Australia. Here's a good guide on how to write a letter to your MP.
Get your community on board! Share on social media, with your workplace, friends and family!
Australia has been plagued by climate wars and stuck in inaction, all the while facing some of the first and worst symptoms of climate change. The fossil fuel industry is powerful and rich here. In the last election $1,894,024 was donated to political campaigns by the fossil fuel industry. Climate action, whether it be through a carbon tax or national energy schemes, has been the catalyst for instability in our political parties and the toppling of Prime Ministers. Now we have a rare opportunity to turn the page, to come together and start acting. This Bill would give us a platform to grow from, it would help us move beyond climate denial in Parliament House and get to work building a safer country, with a better future for our kids, and our economy, which can't rely on coal exports forever. In the lead up to the presenting of the Bill, let's band together and do everything we can to support this Bill and kickstart climate action in Australia.
This blog was updated in September 2020 when Climate Act Now was relaunched, after being postponed due to Covid-19.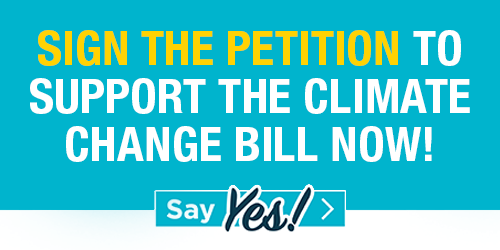 ---