A sustainable tent that collects rainwater, folds up for easy transport and stores solar energy? Sounds visionary, right? But this is the invention of Jordanian-Canadian architect, designer and artist Abeer Seikaly.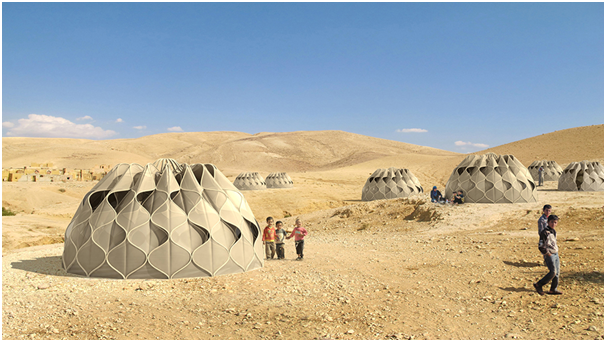 [IMAGE: Abeer Seikaly]
Abeer Seikaly designed these amazing multipurpose tents with refugees in mind, people who have been displaced by global and civil war, climate change and more.
Inspired by elements of nature such as snake skin and traditional cultural aspects such as weaving, nomadic life and tent dwellings, this weather proof, strong but lightweight and mobile fabric tent gives refugees shelter but also a chance to "weave their lives back together".
The flexible dual layer tent structure has the ability to close out the cold of winter and wet weather. It also opens up to allow cool air in and hot air out in summer. Rainwater is collected in the top of the tent and filters down the sides so the tent does not become flooded. The tent also has the ability to become a showering facility with water being stored in pockets on the side and drawn upwards via a thermosiphoning system providing basic sanitation.

[IMAGE: Abeer Seikaly]
Solar energy hits the tent fabric and is stored in a battery for use at night providing renewable electricity.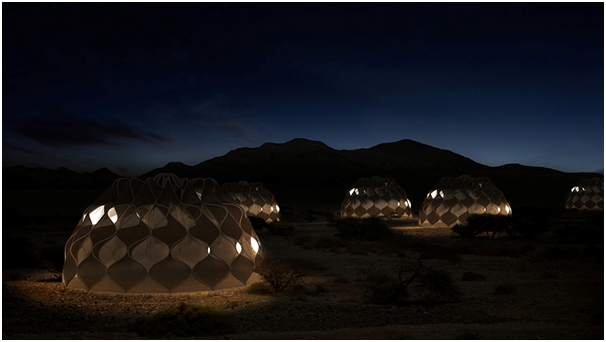 [IMAGE: Abeer Seikaly]
For this amazing life changing structure, Seikaly has won the 2013 Lexus Design Award.
These tents also would make excellent shelter for people who have been displaced by natural disasters.
A simple but effective structure which has the potential to change so many lives across the world by providing some of the basic human rights to displaced people: a home, water and energy.
Please note, 1 Million Women do not produce or sell these tents. We are so inspired by Abeer Seikaly and her work, so we reached out to find out more about the tents and their production. We are happy to have received the following response:
"The tent is currently being developed. We are at prototype stage...

In the meantime, do keep the conversation alive as I'm committed to evolving the work through listening carefully and taking the learning to the next phase." Abeer Seikaly
1 Million Women is more than our name, it's our goal! We're building a movement of strong, inspirational women acting on climate change by leading low-carbon lives. To make sure that our message has an impact, we need more women adding their voice. We need be louder. Joining us online means your voice and actions can be counted. We need you.
---