The following is a guest post from recipe creator and food stylist Tracy Valentina Wood, of Visually Delicious. Her passion for all-things-food begins with fresh, seasonal ingredients and continues right through to the final plated dish and surrounding accoutrement. She believes how it looks is as important as how it tastes.
For me, using produce when it's at its seasonal best, and a good price, is just common sense, and I very rarely shop with a recipe in mind, taking inspiration from the fresh produce in front of me.
When I see plums I always buy some, just a few to start when they are expensive, and as the season progresses, I purchase buckets. Then after I've made jam, and a few cakes, I start to think of different and savoury ways to use them. Partnering with a soft cheese is always a good idea, and lately, my new favourite way of serving plums is to lightly sauté quarters in butter with eschalots, ginger and chilli, and then pile them on to a thick slice of sourdough toast, with chunks of buffalo mozzarella and fragrant mint. We've been eating this as a late breakfast, or as a warm salad without the toast, serving it instead with a few slices of beautifully pink barbecued lamb.
Such an easy recipe, to be honest it's really more of an idea, and maybe something you could elaborate on if you choose. Have fun, experiment, and enjoy.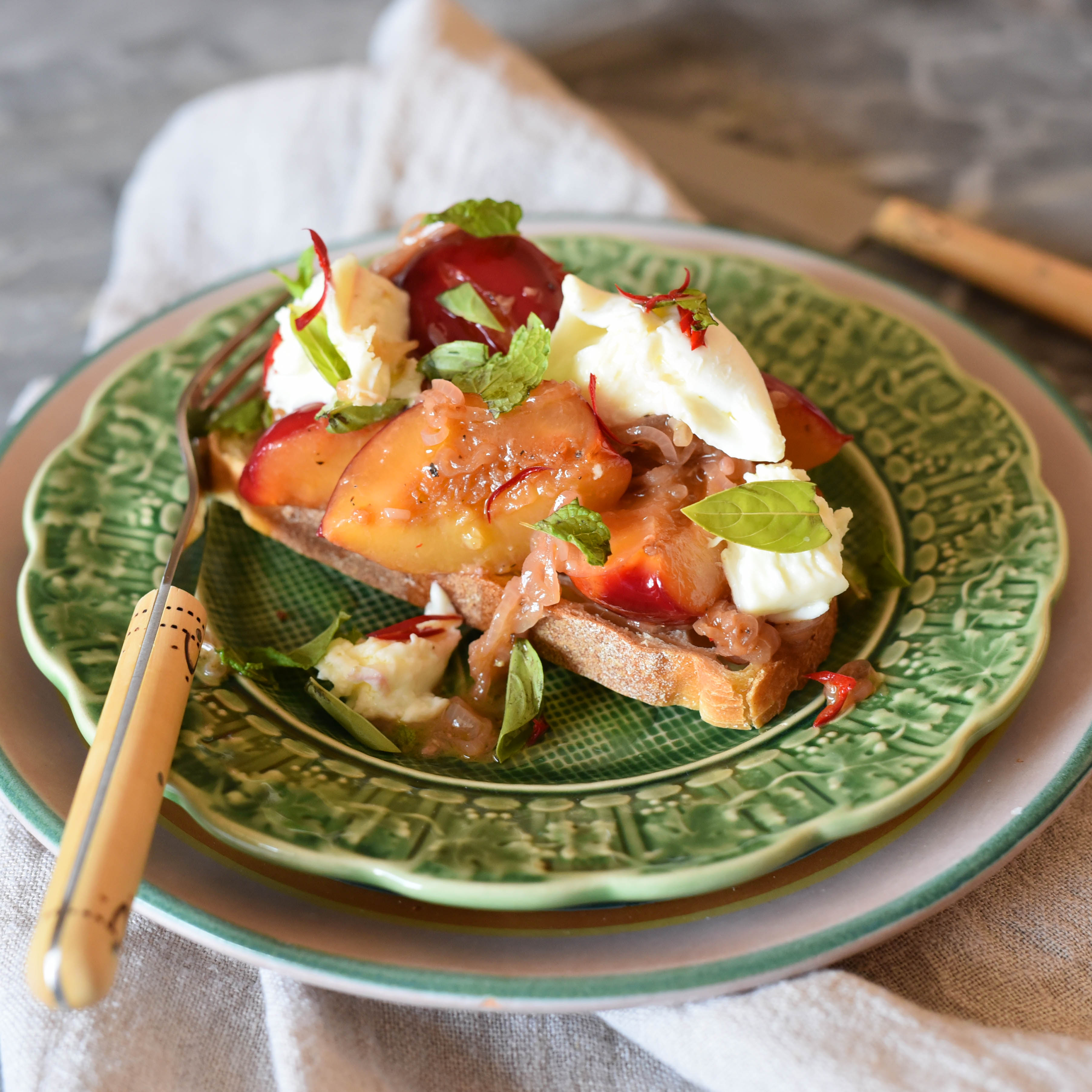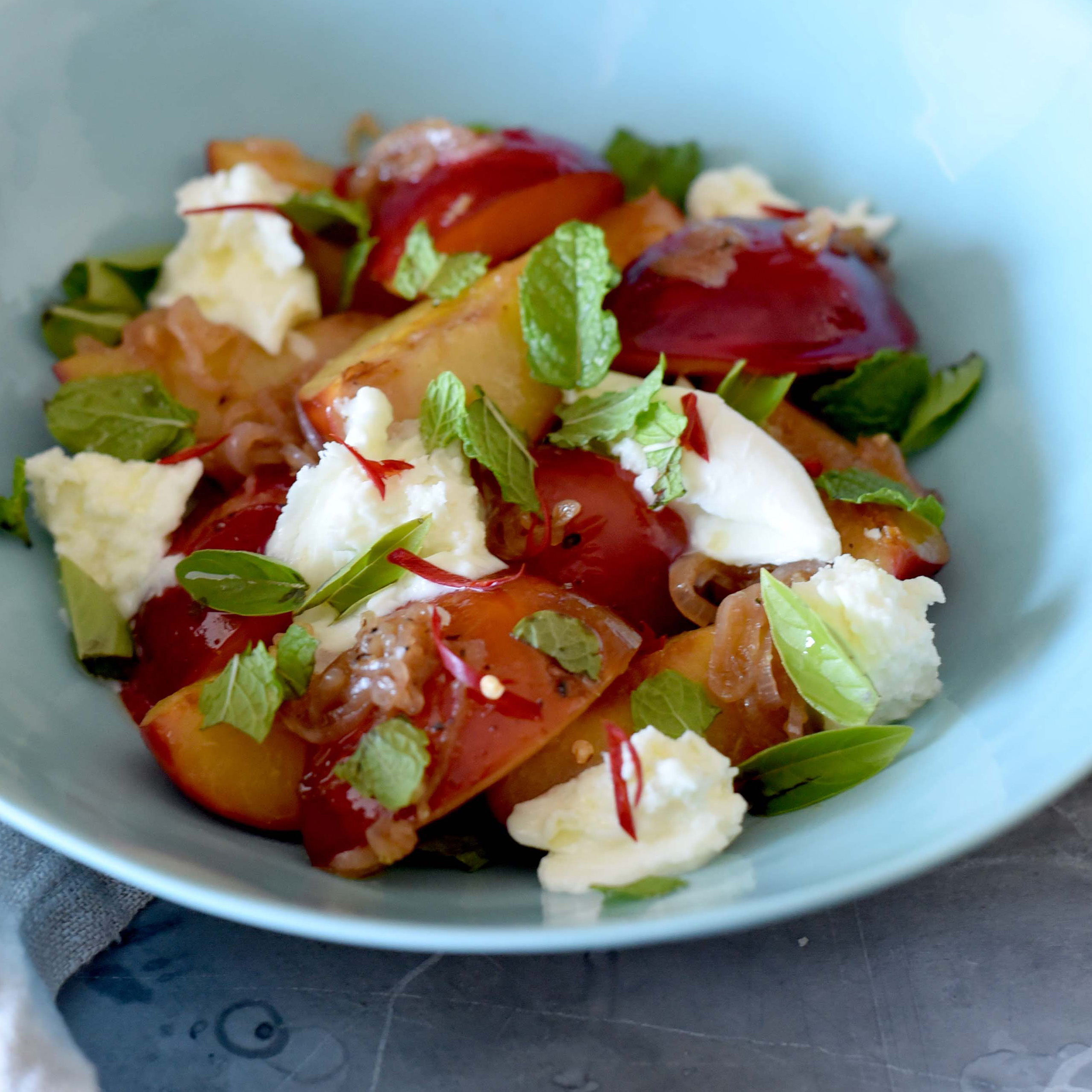 Plum and Buffalo Mozzarella Bruschetta
Makes 2-4 depending on the size of your bread
4 just ripe, but juicy plums
1-2 eschalots, peeled and thinly sliced
1tsp ginger, minced
1 small, hot red chilli, seeds removed and thinly sliced
2tbsp butter
2tbsp red wine vinegar
1 fresh Buffalo mozzarella
2-3tbsp fresh mint or baby basil leaves
Sea salt and freshly ground black pepper
2-4 thick slices toasted sourdough bread
Cut plums into quarters, removing stones and set aside, while over a low heat you melt the butter in a medium skillet. Add eschalots and cook gently for about 3 minutes until soft. Toss in plums, turn them around in the butter, and cook until their skins start to split, and their juice starts to flow.
Turn up heat, and quickly add ginger, chilli, and red wine vinegar. Reduce a fraction, season with salt and pepper, and then spoon onto sourdough toast topping with chunks of Buffalo mozzarella and fresh herbs.
Eat quickly.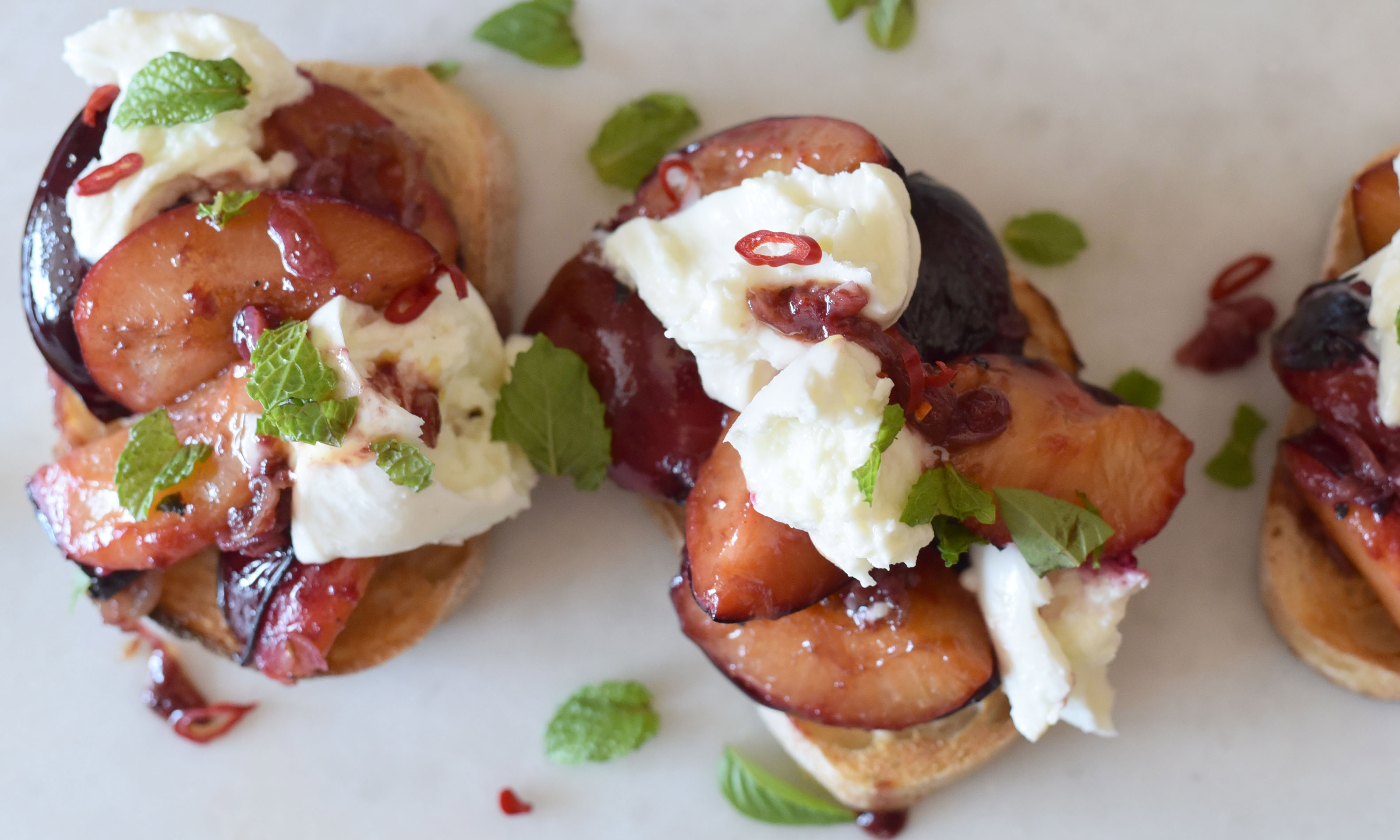 Follow Visually delicious on Instagram, Twitter, and the website.
Try this next: Seasonal Twice Tomato Tart
1 Million Women is more than our name, it's our goal! We're building a movement of strong, inspirational women acting on climate change by leading low-carbon lives. To make sure that our message has an impact, we need more women adding their voice. We need to be louder. Joining us online means your voice and actions can be counted. We need you.
---