The dust is settling on the opening day of the UN's Paris Climate Summit, COP 21. So what have we learnt?
New Zealand earns 'Fossil of the day'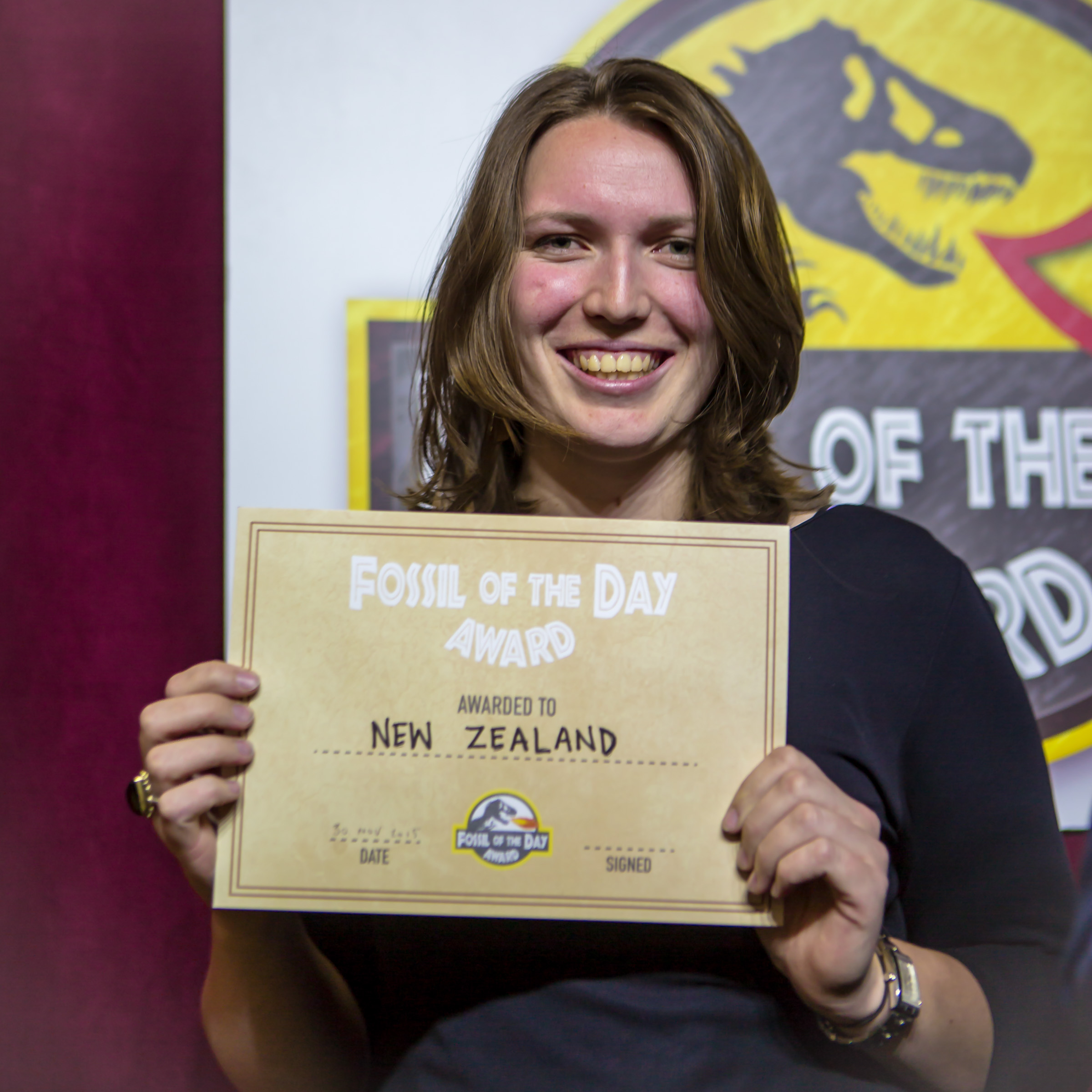 Image: Climate Action Network
The 'fossil of the day' is awarded by the Climate Action Network for the most regressive country in regards to climate change. Today New Zealand earns the trophy for their continuing subsidies of fossil fuels.
Fossil of the day organiser Dan Ilic says: "While New Zealand has abolished subsidies on the consumption side, during the time that the Key party has been in office, subsidies for the production of fossil fuels have gone up over seven times. Seven times!
"New Zealand provides over $80m in production subsidies for fossil fuel industries. To New Zealand, that's a lot of money. In New Zealand $80m can buy New Zealand."
Australia's commitment to potential Paris deal branded "inadequate" by Climate Action Tracker

Image: Climate Action Network
Prime Minister Malcolm Turnbull announces that he will ratify the second commitment period of the Kyoto protocol. However this has been labelled as "meaningless when it comes to emissions" (The Guardian).
Climate Action Network's inadequate rating of our commitment means, "that Australia's commitment is not in line with most interpretations of a "fair" approach to reach a 2°C pathway: if most other countries followed the Australian approach, global warming would exceed 3–4°C." Perhaps we should clear some space on our trophy shelf for a fossil….
Global leaders deliver an opening address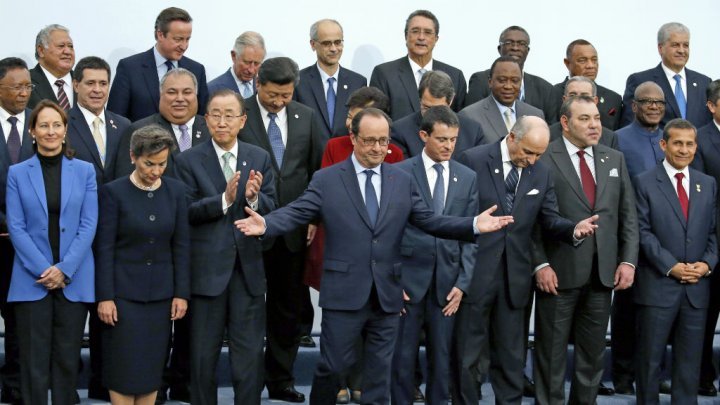 Image: Jacky Naegelen / AFP
President of France, François Hollande:

"To resolve the climate crisis, to be frank, good wishes, declarations of intent will not be enough. We are on the brink of a breaking point. Paris must be the start of far-reaching change. We can no longer consider nature as a pool of inexhaustible resources".
President of the United States, Barrack Obama:
"One of the enemies we will be fighting at this conference is cynicism. The notion we cannot do anything about climate change."
"We salute the people of Paris for insisting this crucial conference go on... What greater rejection of those who would tear down our world than marshalling our best efforts to save it."
President of Sweden, Stefan Löfven:
"Sweden is ready to enter into an ambitious, durable and fair agreement. Our main concern is to keep global warming under the two degree celsius limit. Let's not see Paris as an end but as a beginning."
Prime Minister of Slovenia, Miro Cerar:
"As we peer into society's future, we – you and I, and our government – must avoid the impulse to live only for today, plundering for our own ease and convenience the precious resources of tomorrow."
*Note: this is a quote from former US president Dwight Eisenhower. He adds,
"Today, more than 50 years later, it is high time to heed this warning".
Prime Minister of Australia, Malcolm Turnbull:
"Our task is not just to reduce emissions, the impacts of global warming are already being felt ... Adapting to the impacts of climate change is equally important and there too innovation is key. Some of the most vulnerable nations are our neighbours and we are helping them to build resilience. Our agreement in Paris must provide a common platform for action. Australia is not daunted by the challenge. With great optimism and faith in humanity's genius for invention we are confident that with collective leadership we will with common cause secure our future".
President of the Marshall Islands, Christopher J Loeak: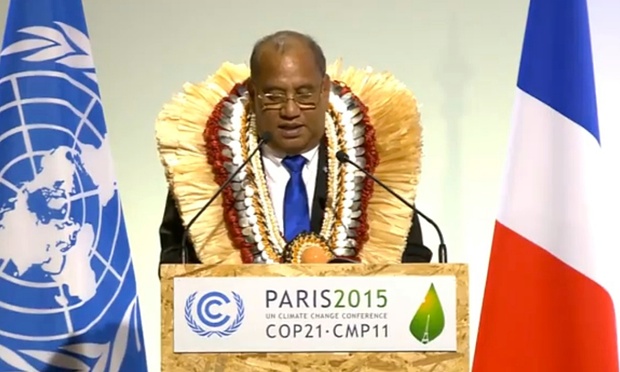 Image: UNFCCC
"The climate we have known over many centuries has in a matter of three short decades, changed dramatically, before our very eyes.
We are already limping from climate disaster to climate disaster and we know that there is worse to come.
For us, COP21 must be a turning point in history. And one that gives us hope.
Our Paris agreement must set a path to the safe climate future we all strive for. We all know that the targets on the table now are not enough to limit warming to below 1.5C. Although they are a start in the right direction.
Therefore if it is to deliver the end we all seek, the Paris agreement must be designed for ambition. It must send a message to the world that if we are to win the battle against climate change, the fossil fuel era must end ..."
The president of Nauru, Baron Waqa:
"Small island communities pay in the droughts that destroy livelihoods and record cyclones. We see a small toll exacted every day as our shorelines are slowly eroded … small island communities are among the first to pay the price of climate change. But no one will escape forever ... We have a choice: we can pay in human misery or pay investing in a more equitable, resilient and sustainable future."
Prince Charles speaks up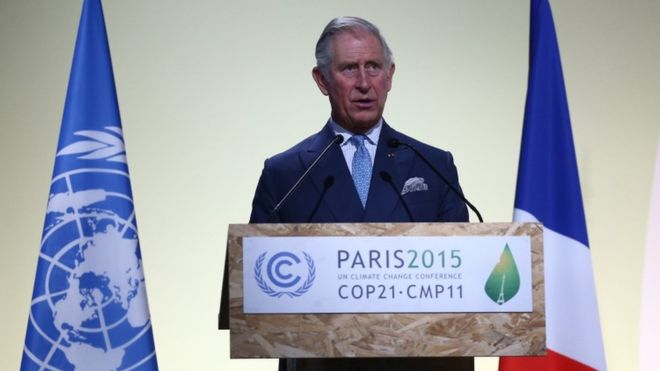 Image: BBC
"The whole of nature cries out at our mistreatment of her. If the planet were a patient, we would have treated her long ago. You, Ladies and Gentlemen, have the power to put her on life support, and you must surely start the emergency procedures without further procrastination!"

Sir David Attenborough is in attendance
"I think there are better chances [here in Paris than at previous climate summits] ... I get the sensation that there is going to be some development,"
The space station chimes in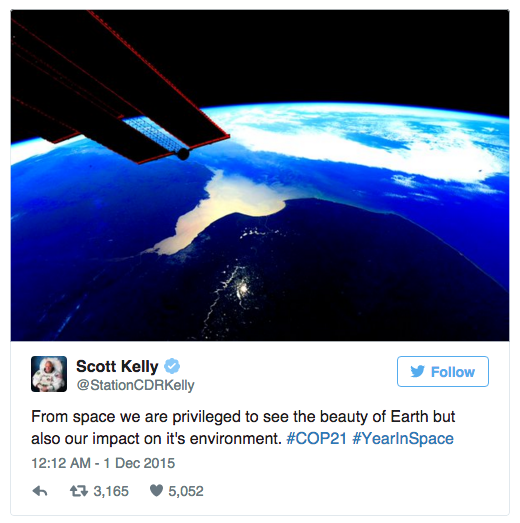 'You're the Voice' – Our anthem from women for climate action and hope.
With a vibe of hope building that the nations of the world will agree on a breakthrough climate change treaty in Paris this December at the UN Climate Conference (COP21), we have an opportunity to influence world leaders in making decisions that will safeguard the world for future generations.
Using the power of music, we want to inspire every woman, man or child to ADD THEIR VOICE - #IMTHEVOICE - to our anthem and form a united call to world leaders for strong action on climate change. No matter who you are, you can add your voice!
Will you watch the anthem and add your name? It's as easy as clicking a button.
With your help, we can capture the attention of governments and stand as a clear call for climate action and hope.
---