My talented sister is sharing, a step by step guide to making your own cutlery wraps.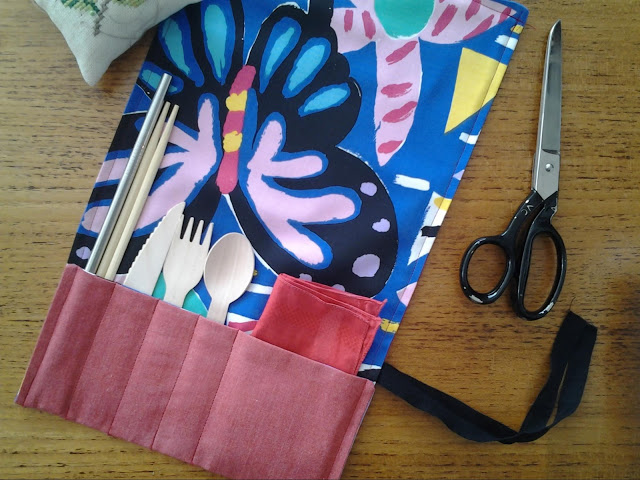 Cutlery wrap sewing tutorial

What you will need
Tools:

Sewing machine
Scissors
Pins
Ruler/tape measure
Iron

Materials:
Paper
Cotton canvas
Cotton Poplin
Thread
Cotton tape


STEP 1 - Draw pattern

You can make it as big or as little as you want depending on your needs. Below are the dimensions I used.
50cm x 25cm
1cm seam allowance
Draw a notch for cotton tape insert 21-23cm up left side of pattern
Fold line 11cm up
STEP 2 - Cut /Lay fabric

Iron fabric.
Cut 1 cotton canvas and 1 cotton poplin.
Cut 50cm of cotton tape.
Notch (2mm snip with scissors) appropriate markers such as seam allowance and cotton tape
parameters on fabric.
Right sides facing each other (poplin on top).
Fold cotton tape in half.
Place the folded end of tape in between the two pieces of fabric at the notch indicated.
Pin down.
1 Million Women is empowering women and girls around the world to lower their impact on the planet. If you love what we do, please support our work by donating a couple of dollars. For the price of a cuppa, you can help us inspire millions more! (click to donate)
STEP 3 - Sew
Sewing machine -Stitch length 3.
Sew the three sides.

Snip the 2 corners at an angle and cut away ¾ of the cotton poplin off the three sides. This removes some bulk when turning it out.
Turn the wrap out, use the scissors and gently push the corners out to make right angles.
Iron down corners and edges.


STEP 4 - Now to enclose the wrap

Stitching will be visible from here on. So you may change the stitch length to 4 as it is more aesthetically pleasing.

At the opening, fold 1cm seam allowance inwards, pin it together and iron.

Line up the foot of sewing machine to the edge of wrap to close this opening. this will be 7mm.
Now on the other end, fold up 10cm, iron and pin.

Sew from the folded end up (follow the edge as you did previously) both sides.

STEP 5 - Onto the pockets

From the left side of fold I make 4 cutlery pockets (3cm each) the remaining pocket is for the napkin (9.5cm)

Adjust pockets to fit your cutlery needs, just sew from the folded end up 10cm.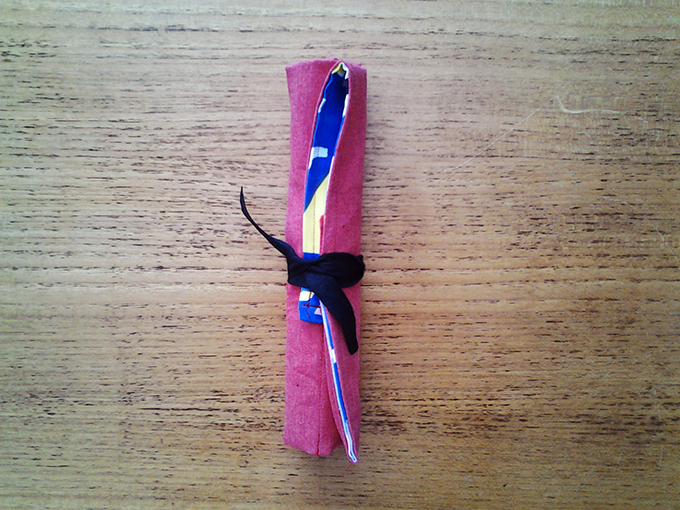 To fill up your kit, I recommend putting in some cutlery you have collected. Look our for places that have wooden takeaway utensils and keep them for your wrap. If you are going to put metal cutlery into the wrap, remember to take it out if you are carrying it onto a plane or you will loose all your cutlery! An old hanky can work for your napkin too. If you want to buy a straw, check out Biome's range.


If you have any questions about this tutorial, leave them below and my sister will answer them for you. Feeling keen to make a wrap? I'd love to see it. Take a snap and send it to me or post it to your social media with the tag #bringyourowncutlery

Read next: How to make your own re-usable fruit and vegetable bags

1 Million Women is more than our name; it's our goal! We're building a movement of strong, inspirational women acting on climate change by leading low-carbon lives. To make sure that our message has an impact, we need more women adding their voice. We need to be louder. Joining us online means your voice and actions can be counted. We need you.

---