THIS IS A RECIPE FROM ONE INGREDIENT CHEF'S ANDREW OLSON
The layers of flavours and textures are so good – the spicy pesto, crispy exterior, and a moist/meaty baked cauliflower interior. Sprinkle with a little Tabasco sauce and these guys are even more delicious!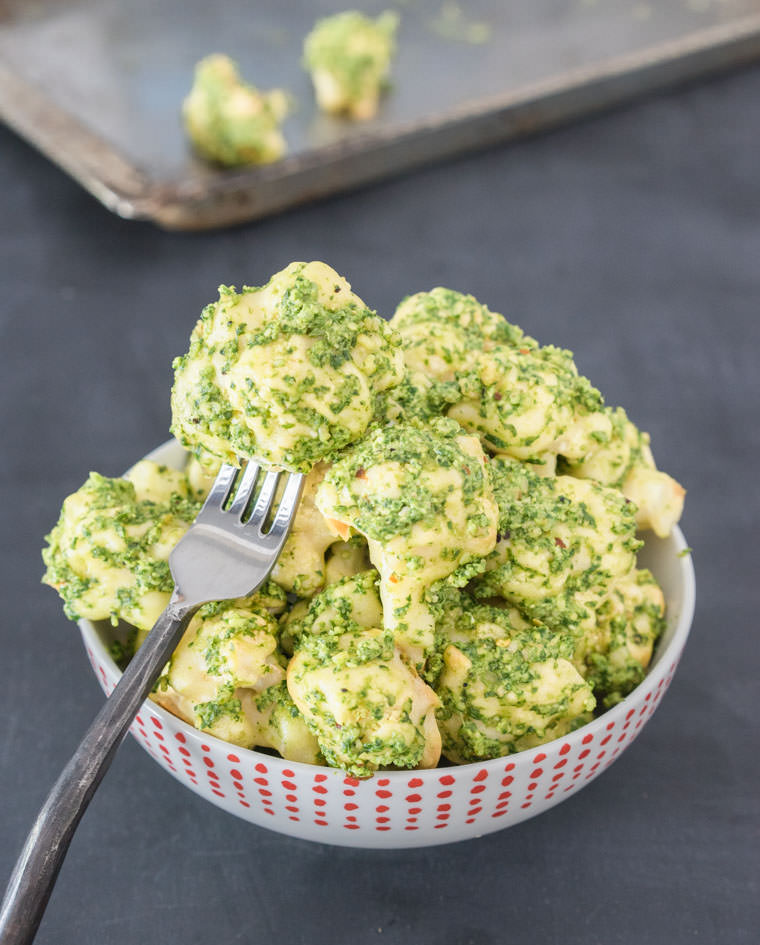 Makes 4 entree servings
Ingredients:
1 large cauliflower head
1 cup whole wheat flour
1/2 teaspoon salt
2 teaspoons garlic powder
1 1/4 cups non-dairy milk
Tabasco sauce, optional
3 cups loosely-packed basil
3 cloves garlic
1/4 cup toasted pine nuts
2-3 tablespoons raw cashews
2 teaspoons red pepper flakes
2 tablespoons lemon juice
salt & pepper, to taste
Preheat the oven to 425º F
Step One
First, break your cauliflower head into small, bite-sized chunks (about 1/2-1 inch in diameter), rinse them, and set aside. Then, prepare the batter by combining the flour, salt, garlic powder, and non-dairy milk in a large bowl and gently mixing with a fork or whisk until combined (a few small lumps are okay).
Step Two
Lightly grease a baking sheet with coconut oil and keep it handy for this step. Transfer a few of the cauliflower pieces into the batter and use your hands to evenly coat them. Then, scrape off any large clumps of batter and place each one on the baking sheet. Repeat in small batches until all the cauliflower has been coated. Pop these in the oven for about 25 minutes, until the tops of the cauliflower are just beginning to turn brown. Before and after pictures: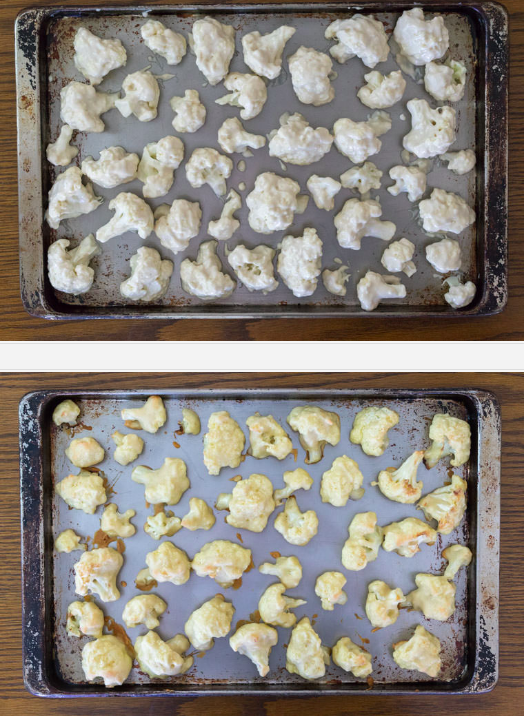 Step Three
While these are baking, let's make some healthy, vegan, oil-free pesto! Trust me, it's easier than you might imagine. Combine about 3 cups of loosely-packed fresh basil leaves into a food processor with everything else from the second list: garlic, pine nuts, cashews, red pepper, lemon juice, and a dash of salt & pepper. Pulse repeatedly, scraping down the sides as necessary, until the consistency is smooth. Give this a taste and feel free to adjust any spices, garlic, etc. as needed. Done.
Step Four
When the cauli is golden and awesome, remove from the oven and allow to cool a bit. Then, using your hands, dip each piece into the pesto to evenly coat. Transfer to a serving dish and sprinkle with a bit of Tabasco sauce to taste. Seriously, Tabasco makes any pesto dish better, but that's never more true than on these cauliflower bites. Sprinkle liberally. These are best served immediately, but can be refrigerated for up to two days.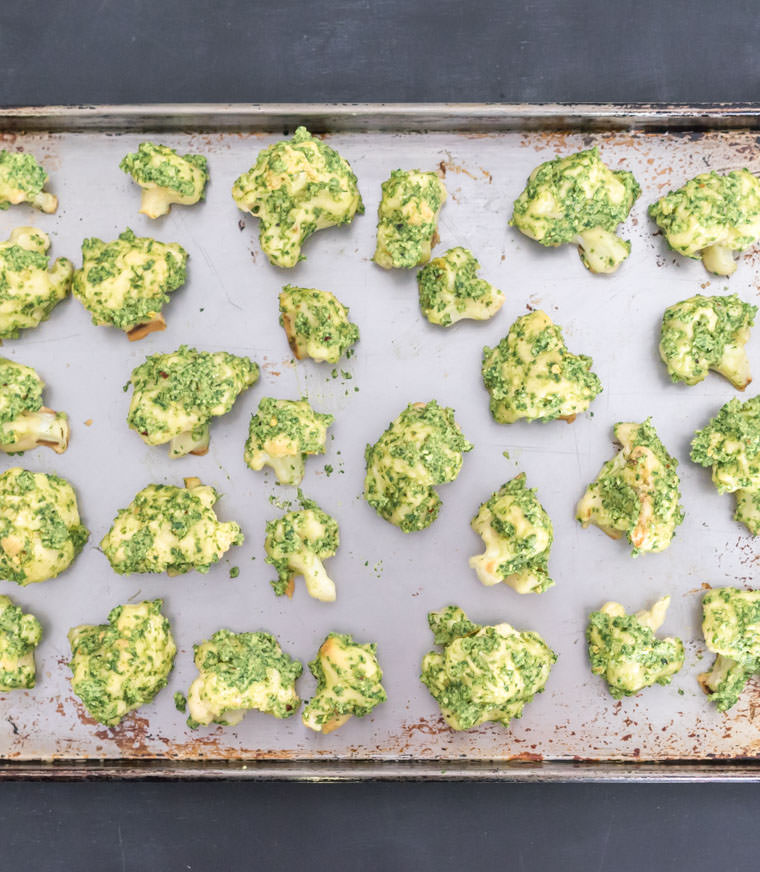 Be sure to check out Andrew's website for more amazing plant-based recipes!
Find our why he calls himself the One Ingredient Chef here.
READ THIS NEXT: [Recipe] Cornersmith's pear, lemon & rosemary chutney
Banner image: Pixabay
1 Million Women is more than our name, it's our goal! We're building a movement of strong, inspirational women acting on climate change by leading low-carbon lives. To make sure that our message has an impact, we need more women adding their voice. We need to be louder. Joining us online means your voice and actions can be counted. We need you.
---