Written by Carly Wilson
Over the last five years or so I've become very passionate about home design and really fascinated by minimalism. I've never lived in a large home and for a couple of years actually lived in a tiny granny flat apartment where my entire living and sleeping area consisted of a single room with just a tiny bathroom and laundry tacked onto the back.

I wasn't sure how I'd go with living in such small quarters but it was actually really great. I had what I needed, my energy costs were low, and I could reach the fridge from my bed! Ok that part wasn't actually ideal but it does make me laugh to think about now. My current home - a 2 bedroom apartment - would still be considered small by most people's standards but compared to where I used to live, it's a sprawling estate.

Most people think of minimalism as the sometimes stark, "modern" style of home design that has recently become trendy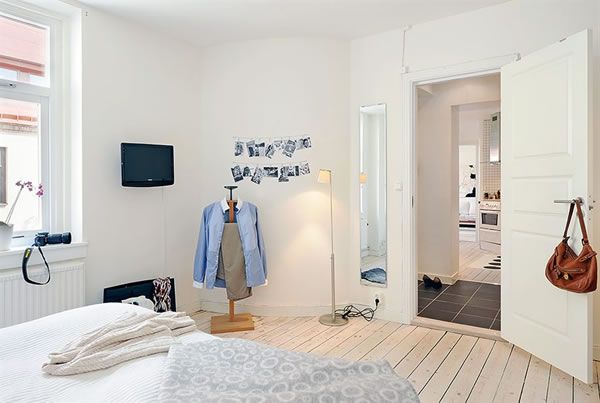 Image: Fresh Home
I find this style of home design interesting and inspiring in its uncluttered aesthetic, but minimalism is more than just a style of design.

Read more: We interview 'The Minimalists'
True minimalism, to me, is about letting go of what isn't useful or beautiful, and focusing instead on the tranquility that comes from having space. It's about living simply, without clutter, and without constant consumption of material goods. It's about choosing to focus your energy and money on what is important to you rather than on possessions. It's not necessarily about a $600,00 piece of modern architecture.
Here are a few ideas for any of you interested in moving toward minimalism:
1. Drastically reduce the amount of knick knacks you have
Knick knacks are something many people find difficult to part with (especially me!!) because they almost always hold sentimental value. So often, though, their only function is to create clutter. One trick I've come up with is to put all your knick knacks in a box. If there are a few that you know you can't live without, go ahead and take them out and display them thoughtfully. Donate or give away the ones you can part with and for the ones you aren't sure about, leave them in the box for a few months. If after a several months, you haven't had the burning urge to save them, get rid of them.
2. Dare to wear out your best clothes – and donate the rest.
Don't save your nicest clothes for a special occasion. Wear them. It's better to wear things out than to hold onto them for so long that they go out of style and have to be thrown out anyway. Go through your closet and get rid of absolutely everything that you don't like, doesn't fit, or that you just don't wear and never will – and be brutal about it. Whatever is left, wear!
3. Eat out your fridge and cupboards before you replenish them.
Food can be a major money sink, especially when you're routinely buying perishable items that go mouldy before you use them. Throwing out or not using good food is also disrespectful to the farmers and land that was used to create it.
1 Million Women is empowering women and girls around the world to lower their impact on the planet. If you love what we do, please support our work by donating a couple of dollars. For the price of a cuppa, you can help us inspire millions more! (click to donate)

4. Be honest about how many skin and hair care products you really need.
So often our bathrooms are full of samples and random products that we have barely used yet have been sitting there for years. If you're not going to use them, give them to someone who will or get rid of them. If you are going to use them, use them.
5. Invest $5 in a library card
You really don't need to be buying books that you will only read once. There's also no real point in spending money on DVDs and CDs when the technology is on the outs anyway. Save your money, reduce your carbon footprint, and start going to the library.
Read more: How a library card can kickstart your sustainability journey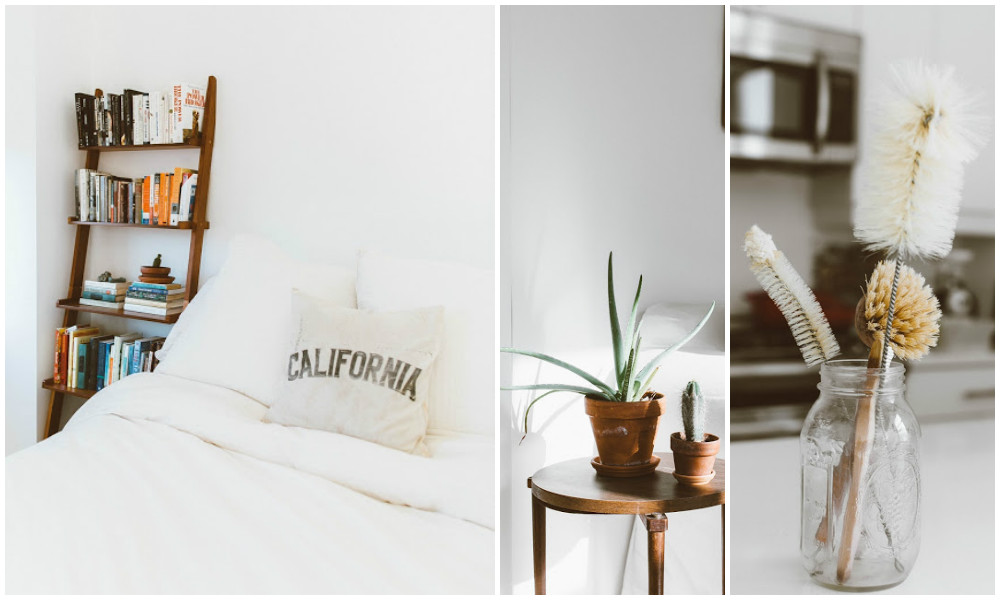 Image: Trash is for Tossers
6. When it comes to furniture and other big-ticket items, buy things that truly speak to your heart.
The beauty of minimalism is that when you do decide to purchase something, you have the luxury of opting for quality because you haven't been spending all your money on other things. You'll treasure these thoughtfully made purchases and hang onto them a long time, keeping them well away from the landfill.
7. Become a minimalist in your whole life!
After you have de-cluttered your space, set to work on de-cluttering your whole life. Get rid of the thought patterns and beliefs that have been tripping you up, clear up your financial mess, let go of those so called friends who do you more harm than good. Then do some nice things for yourself! Maybe sign up for that art class you have been wanting to take or have a long chat to a good friend you haven't seen in forever. Minimalism is about clearing out what doesn't matter so you have more time for what does.
Carly Wilson is a filmmaker and environmental professional specialising in wildlife care and habitat management. She also blogs on her personal website. Right now she is making a film about the effects of released helium balloon on the marine environment. Please follow her on Twitter (@carlycreature) or through Facebook if you would like to keep abreast of the film's progress.

Banner image: Unsplash
Read this next: Meet the inspiring people who live with almost no possessions
1 Million Women is more than our name, it's our goal! We're building a movement of strong, inspirational women acting on climate change by leading low-carbon lives. To make sure that our message has an impact, we need more women adding their voice. We need to be louder. Joining us online means your voice and actions can be counted. We need you.
---