One Western Sydney employee, Rita Milostnik from Holroyd City Council, is doing her bit for carbon emission reduction in Western Sydney through an LED street lighting project.
As 2016 begins to take shape, one of our main goals here at 1 Million Women is to nail energy efficiency. We were delighted to chat to Rita Milostnik about women leading the way in the fight against climate change. It was a timely conversation as she is an example of one of many women working in local government in roles focussed on sustainability, environment and community education.
Rita was appointed to a reference group for an LED street lighting project, called Light Years Ahead . Nine Western Sydney councils are reducing their energy footprint through this project, which received funding from the Australian Government.
Approximately 13,000 old 80-watt mercury vapour street lights are being changed in residential streets and replaced with new 18 watt LEDs. This action results in a 77% energy drop for each light changed.
"Street lighting is a massive cost to councils, it makes up approx. 55% of our energy bills," said Rita.
"Because the cost to councils for street lighting is so high we wanted to look at options to speed up the replacement of old, inefficient lighting.
"When I was asked to join the Reference Group on behalf of Holroyd, I was initially hesitant. What did I know about street lighting? Now, I can spot the difference between an 80 watt mercury vapour and an 18 watt LED when driving around my neighbourhood. I'm a street light version of a trainspotter!"
- Rita
Rita continued, "It's important that women working in sustainability and other roles in local councils put their hands up for major infrastructure projects like this. We aren't all engineers or lighting experts. You don't necessarily need to be. A range of expertise is required so you need to be open to learning, even if it is so far from your core field of expertise."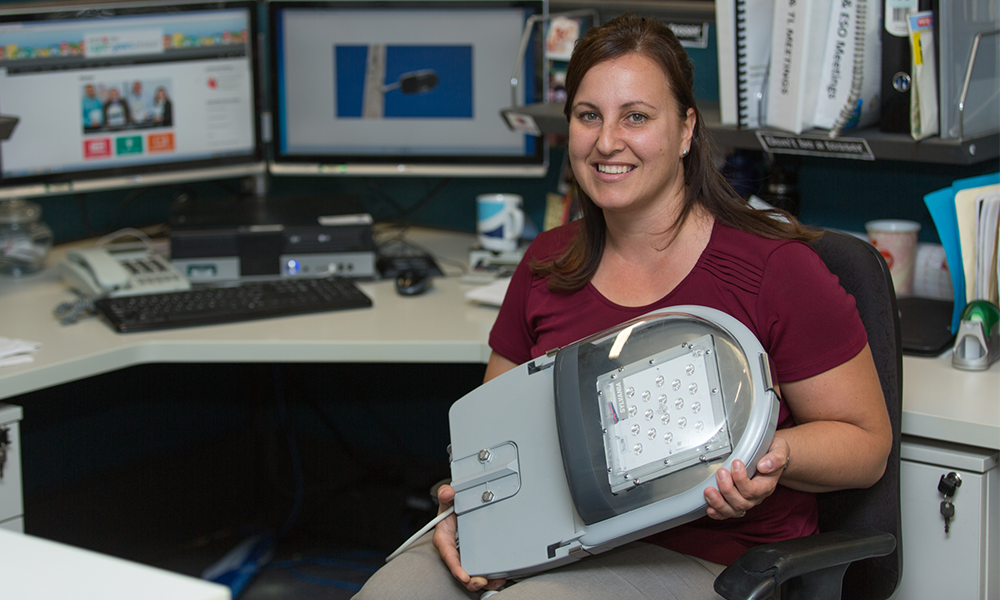 Rita with the LED lighting. Image Jay La
Councils run a number of sustainability-focussed projects. These projects focus on a range of topics or issues and can span anything from how to change community behaviour or attitudes in relation to waste, to recruiting volunteers to work at community gardens, through to projects focussed on work with culturally and linguistically diverse communities around reducing their energy usage and bills.

WSROC President Cllr Tony Hadchiti has noted the importance of the employment of women in sustainability and other positions within local councils.
"Women of Western Sydney have a lot to contribute to projects like Light Years Ahead. Council professionals like Rita contribute their knowledge in sustainability, community engagement and other areas of expertise. They work day-in-day out on a range of projects aimed to reduce councils' and communities' footprint. Rita and her colleagues tailor messages for a range of council audiences and for community members – from updates to committees and councillors, to messages for school kids and new members of our communities."
Rita is pleased that they could contribute to a major infrastructure project that has large outcomes predicted.
"The technology is moving fast. The new lights are making huge savings in terms of energy-costs and CO2 emissions – we predict the new LEDs will save over 74,000 tonnes of emissions and $21 million over 20 years for the 10 councils," she said.
"The savings of CO2 are equivalent to taking around 37,000 cars off the road each year for 20 years or saving the emissions equivalent to lighting 92,500 average Aussie homes each year. Pretty impressive. I'm proud to be a part of this important project."
Endeavour Energy crews began installing the LED street lights in May 2015 with work expected to be completed by March 2016 with the project wrapped up in May 2016.
By the end of the project, a total of $5.3 million will be contributed by the Australian Government, with a co-contribution of $2.6 million by the participating Western Sydney councils.
For more information on the project go to www.lightyearsahead.com.au.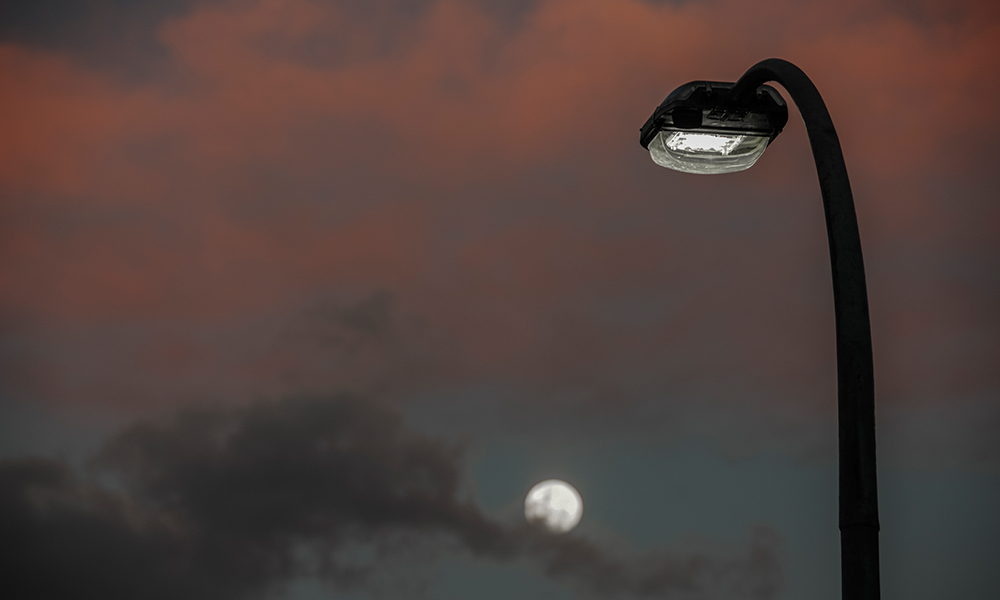 Image: Serge Golikov.
Do you know of a woman doing great things in the fight against climate change? Let us know in the comments section.
Banner image: Shutterstock
Read this next: Taking out the trash: how one woman is fighting landfill
1 Million Women is more than our name, it's our goal! We're building a movement of strong, inspirational women acting on climate change by leading low-carbon lives. To make sure that our message has an impact, we need more women adding their voice. We need to be louder. Joining us online means your voice and actions can be counted. We need you.
---