The following is a guest post from Tammy Logan of Gippsland Unwrapped. She lives on a farm, is a mother, a passionate eco-warrior and has a degree in conservation biology. After completing Plastic Free July Tammy realised that she did have a choice about how she lived her life or voted with her dollar. And so, Gippsland Unwrapped was born. It's a blog about living a life that leaves less of an impact on the world.
No Nature-Deficit Disorder here!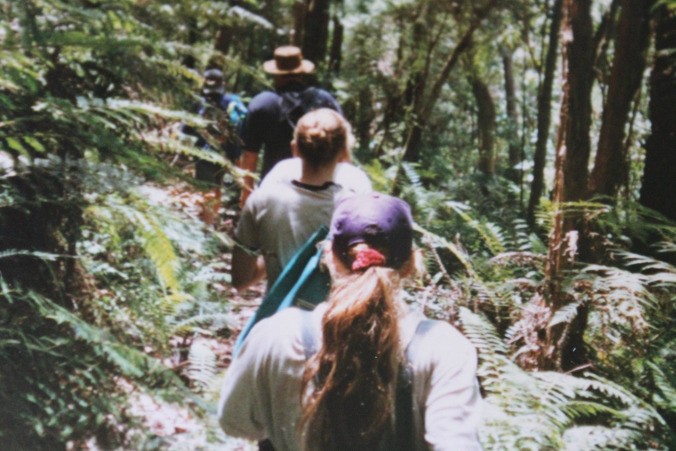 Image: One of my many bushwalking adventures with my parents and four siblings.
"We have such a brief opportunity to pass on to our children our love for this earth, and to tell our stories. These are the moments when the world is made whole"
- " Richard Louv, Last Child in the Woods.
There is scientific evidence that childhood exposure to natural settings raises interest in environmental stewardship and leads to careers and hobbies connected with nature and the environment. I'm certainly an example of this; having grown up on a small dairy farm with four siblings, we had loads of unstructured, unsupervised time to do whatever we wanted. We climbed the tallest trees, leapt from branches to the ground in bare feet, crawled through crevices in hay stacks, built cubbies in piled up dead trees, encountered wildlife including snakes and spiders, had mud fights in the swamp, looked for creatures down by the creek, and pretended tree hollows were magical places. We also cared for animals, grew vegetables and spent family time bushwalking, fishing, swimming in rivers, and camping.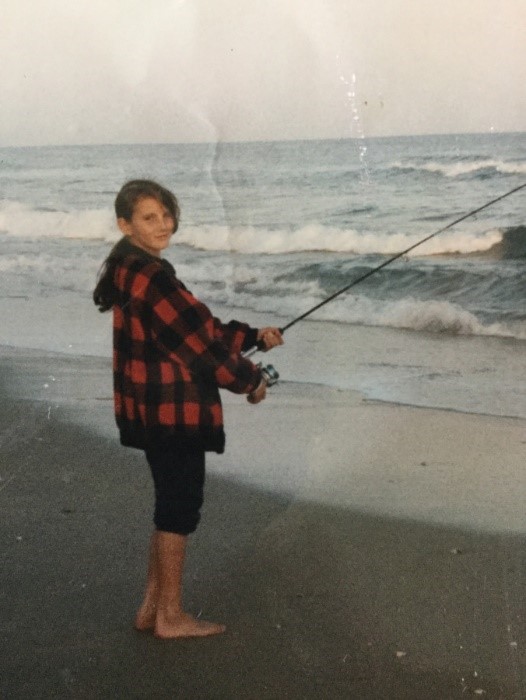 Image: That's me 10 years old fishing at Cape Conran, East Gippsland.
I started becoming really concerned about environmental issues at around age 14 when I tried out being a vegetarian. Ever since then my hobbies, recreational pursuits, studies, and employment have revolved around nature and sustainability. One of my greatest goals in life is to pass on this same love for the earth to my children. Those of you who have read the Our Story page of my blog will know that we recently moved to a farm, in part to give our children more opportunity to have the experiences described above. I also try to take them camping more than once per year – we recently succeeded at camping without waste – and spend our regular family days doing something nature-based.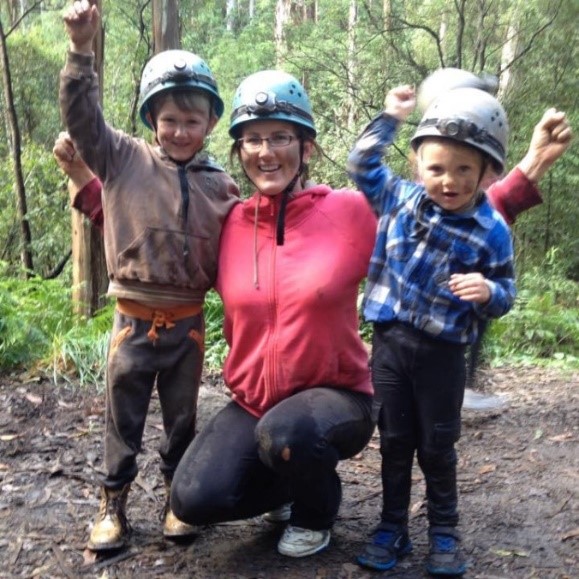 Image: My wonderful friend Megan took us caving a little while ago through the Britannia Creek Caves. I was so proud of Alby and Ainsley; they overcame physical and mental challenges and felt so accomplished at the end. It's a very tight cave system with water in it which required us to crawl, slither and contort our bodies most of the way.
I make the effort because the benefits of children being in nature don't stop with developing environmentally responsible citizens. Science is proving that time in nature provides exercise, reduces anxiety, improves focus, makes kids smarter, and helps develop deeper connections with family. Nature-Deficit Disorder (NDD) is the term coined by Richard Louv to describe the costs to individuals who miss out on exposure to nature (it is not a medical diagnosis). We've all heard how little time children spend outdoors compared to only a few decades ago and how this is leading to things like obesity and behavioural disorders.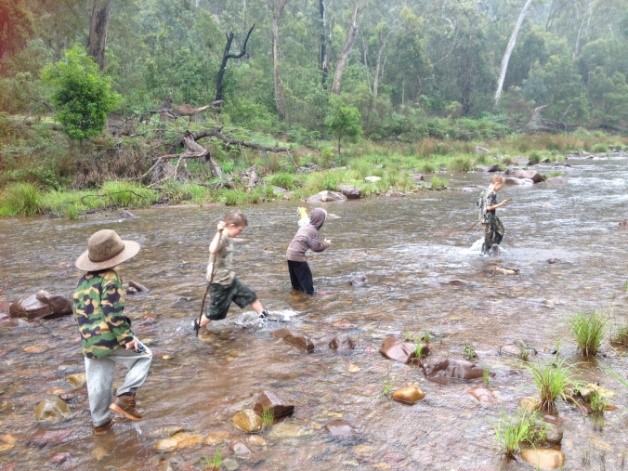 Now add to this a lack of risky play, another aspect of our children's lives that has been removed. Risky play is about playing freely without adult control and taking some risks that might involve injuring oneself. It is a natural and positive part of children's play that is crucial for learning how to manage situations and developing life skills like how to manage fear and anger, and how to try again by doing something a different way. And because risky play usually involves climbing, balancing, jumping from heights and hanging upside down, it's also essential for developing motor skills, balance, coordination and body awareness.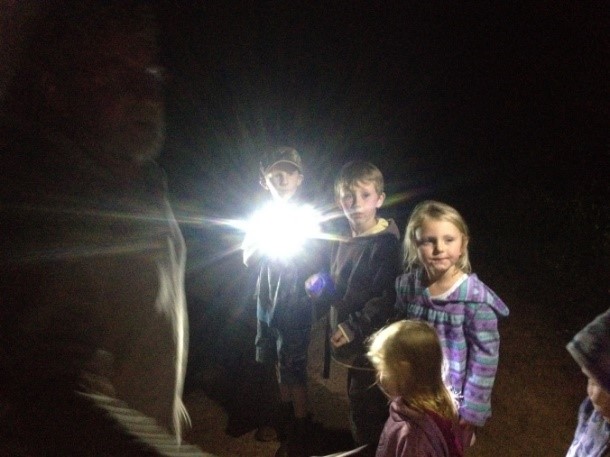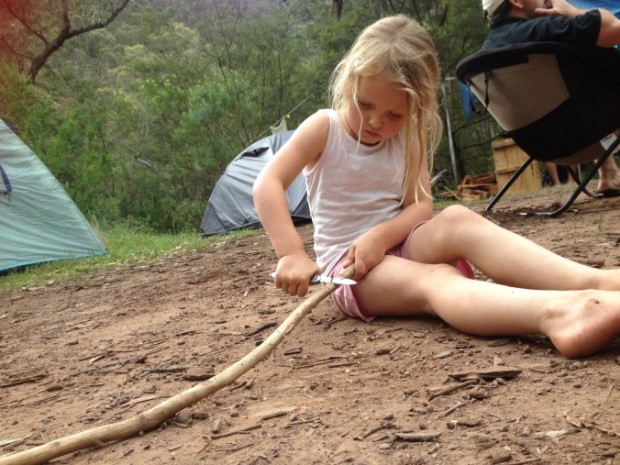 Image: My four-year-old daughter asked if she could use my pocket knife and I didn't hesitate to give it to her. I showed her how to use it with instructions to always direct it away from her body. I could see from her face that she felt very special to be trusted in this way and promised to be responsible. She whittled away sticks for three days without incident.
Our recent camping trip gave the kids plenty of opportunity to engage in risky play, and to simply enjoy unstructured play with no time pressures for three days. This sort of play with other children boosts problem solving skills, focus, self-discipline, cooperation and self-awareness. Not once over the three days was I asked "what can I do now?" Or told "I'm bored". They entertained themselves by:
Whittling sticks with a pocket knife
Fishing
Pretending to hunt for fish in the river with spear sticks they made
Walking and playing in the river in all weather conditions doing who-knows-what in their imaginary worlds
Running through rain and puddles during a storm
Lighting and stoking the camp fire
Burning sticks and writing their names in the air with the smoke
Climbing slippery rocks
Balancing on logs above water
Bushwalking and exploring at night
Learning to tie knots
Building a drying rack/shelter with available materials
Making a see-saw from fallen branches
Looking at the stars, sunsets and sunrises to appreciate their beauty and learn which way is North
Playing cricket
Playing hopscotch
Grinding up different coloured rocks and painting their bodies
Listening to birds in the early morning and owls at night
Discovering a Satin Bowerbird bower
Singing along to guitar music, and
Socialising around the campfire.
I'm incredibly happy with the way they spent their time.
There is no better thing can we do for the wellbeing of our children and the wellbeing of the planet than immerse our children in nature at every opportunity.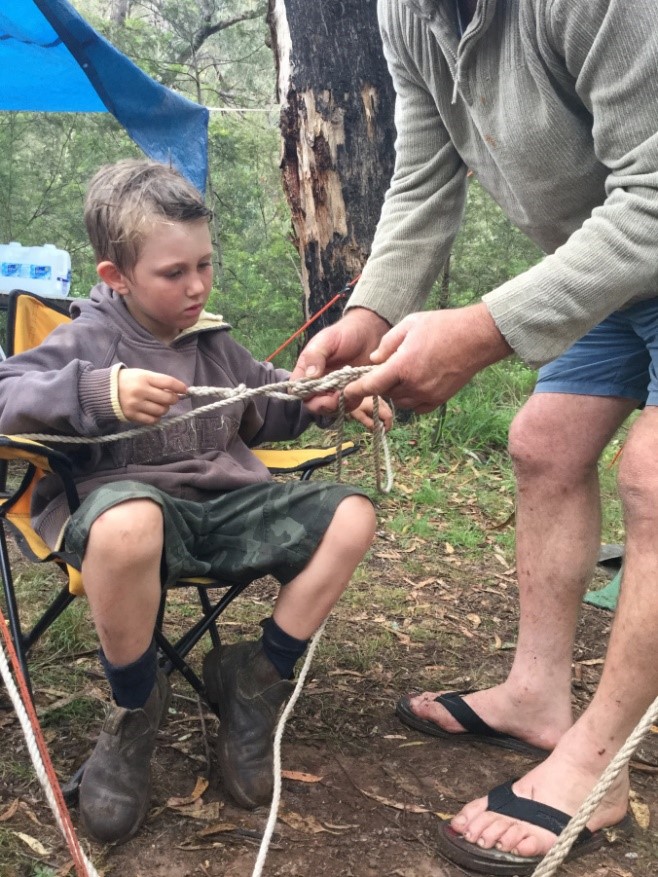 Image: Poppy teaching Alby how to tie different types of knots.
Read more from Gippsland Unwrapped:
Why tracking your waste is a great habit to pick up

Keep up with Gippsland Unwrapped:
Read this next: More Than a Weed: How to use wild dandelion
Header Image: Shutterstock
All other images: Tammy Logan/Gippsland Unwrapped
1 Million Women is more than our name, it's our goal! We're building a movement of strong, inspirational women acting on climate change by leading low-carbon lives. To make sure that our message has an impact, we need more women adding their voice. We need to be louder. Joining us online means your voice and actions can be counted. We need you.
---