Scientists in Switzerland, a country that imports 80% of its energy, have come up with a cohesive strategy to tackle today's persistent energy squandering — the "2,000 Watt Society".
Written by Kalle Huebner
A watt is a unit of power that indicates the rate at which we are using energy. At present, the average European uses around 6,000 watts, compared to 12,000 W in the United States, 1,500 W in China and 300 W in Bangladesh. An average Swiss currently uses 5,000 W.
The concept, developed in 1998 by the Federal Institute of Technology in Zurich (ETHZ), sets a target of 2,000 watts per person. In the long run, this means to reduce energy consumption by two thirds in Switzerland.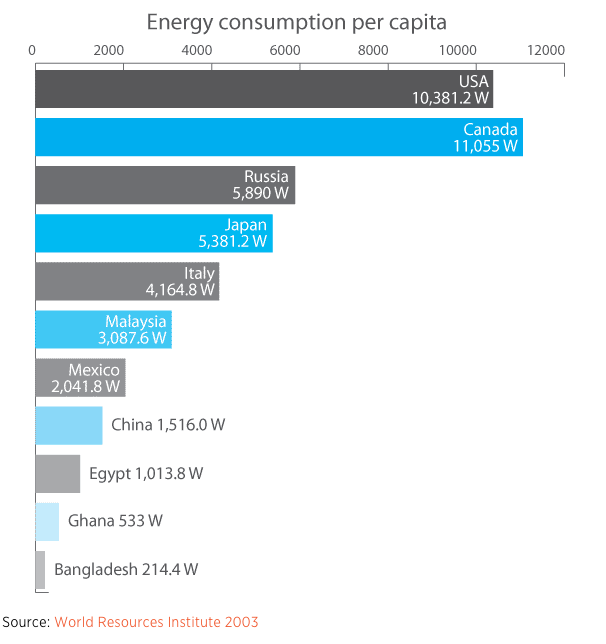 The need for such urgent action on energy efficiency is verified by the latest World Energy Outlook that estimates a 45% increase in CO2 emissions from the energy sector by 2030. This would cause global temperatures to rise another 6 degrees by the end of the century.
Is a 2,000 watt society feasible?
The concept aims to achieve an average use of 2 kW by the year 2050 without compromising living standards and mobility. This will not be easy. The concept has been extensively covered in the media, and with regard to its long-term orientation some commentators suggested it is a utopian, rather than a realistic vision.
However, "the necessary technology already exists," says Moritz Leuenberger, head of the Swiss Federal Department of Environment, at the EU G8 Energy Efficiency Conference in 2007.
"The difficulty in enforcing these standards has nothing to do with technologies. The necessary political will has to exist in order to ensure that this vision can be turned into reality, i.e., implementation plans, energy-efficiency programmes, promotion of the concept of the zero-energy house, heat pumps, biogas, low-consumption cars, hybrid vehicles, and so on. It is our political responsibility to translate this concept into practice."
Changes for sustainability
Such a holistic approach to an energy efficient society addresses all realms of social, economic and political life. A study conducted at the ETHZ highlights the drastic implications of such a transition.
Fundamental changes would be required in the building sector where solar passive houses and zero-emission buildings are already well advanced. Another area with the largest savings potential is road transport and freight logistics, the efficiency of which can be increased with the use of fuel cell cars and advanced telematics.
However, the most significant change will have to occur in human behavior. Residential energy use has multiplied in recent decades as income and consumption rise and lifestyle changes have added to the number of dwellings, not to mention energy eating appliances.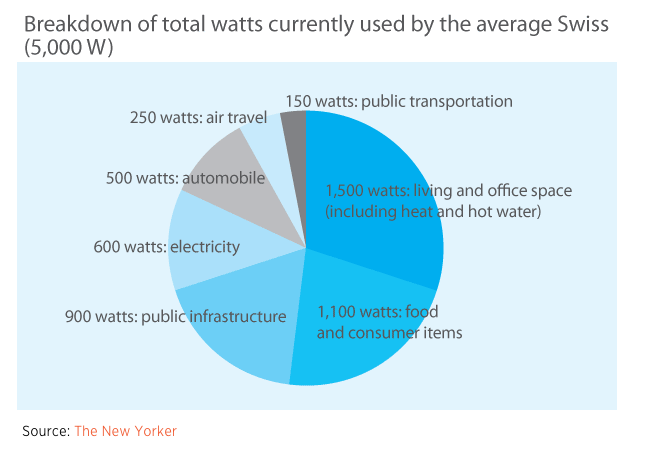 We know that material acquisition (read: resource use) in developed, and increasingly in developing countries, constitutes a primary indicator of individual social status. People begin to satisfy more psychological desires than physical needs, as they move up the social spectrum — goods once out of reach become day-to-day entitlements. Such behaviour is deeply rooted in consumer societies and the driving forces for excessive household energy consumption.
Any strategy towards a 2,000 Watt Society requires a fundamental change in social norms, values and practices, together with a new innovation system (research policy, education, standards, incentives etc.) as part of a national policy on sustainable development.
An urban laboratory
In 2001 the ETHZ together with two Swiss Federal agencies, research institutions, local authorities, companies and private partners initiated the program Novatlantis to demonstrate how the vision of a 2,000 Watt Society can be turned into reality. In the city centre of Basel, a picturesque metropolis of approximately 200,000 in northwestern Switzerland, four major urban development projects will be fully based on energy efficient technologies, renewable energy supply, clean mobility systems and sustainable lifestyle concepts.
Several zero-heating energy buildings are projected for Swiss corporations, and public buildings like a Zurich 2,000 Watt hospital are being developed. The Forum Chriesbach complex, the headquarters of the Swiss Federal Institute for Aquatic Science and a standard-setting zero emissions building, utilizes daylight and rainwater and maintains a constant temperature without requiring air conditioning in all seasons.
Through an "experimental space mobility" project, the feasibility and acceptability of clean energy vehicles and public transportation based on natural gas is being tested. The research findings of such projects are constantly shared in a network of public and private stakeholders and investors that ensure profitability.
Other cities like Zurich and the Geneva region have already caught up and benefited from the research network. Ultimately, these cities are expected to transfer the know-how gained in Basel and implement their own urban 2,000 Watt development projects.
Energy policy is climate policy
The vision of a 2,000 Watt Society requires significant and fully integrated investments in new technologies, urban development and scientific research — financial and economic decisions few governments to date have been willing to take. Hardly surprising that energy efficiency in most countries has improved by less than 1% annually in recent years and is widely surpassed by the increase in energy use, due to cheap oil.
However, as the energy sector accounts for 60% of greenhouse gases, energy efficiency plays the most significant role in tackling climate change.
"Energy policy is the same as climate change policy," noted the International Energy Agency's director Nobuo Tanaka at last month's Energy Efficiency Global Forum in Paris. These words might well sum up the most important messages at the conference: The need as well as the opportunity to scale up energy efficiency has never been greater than today.
Banner image: Unsplash
This article originally featured on Ourworld.
1 Million Women is empowering women and girls around the world to lower their impact on the planet. If you love what we do, please support our work by donating a couple of dollars. For the price of a cuppa, you can help us inspire millions more! (click to donate)
Read this next: What an afternoon with a monk can teach you about happiness

---