What if you could grow a tree on the other side of the world, simply by picking up your smart-phone?
If you've been to Paris then no doubt you've seen the hourly light show beaming from the Eiffel Tower. It illuminates the whole city with sweeping rays of light, and no matter where you're viewing it from there's a magical sense of "this is Paris!".

During the UN's Paris Climate Summit, COP21, the light show is deviating from its standard fare and doing something very special.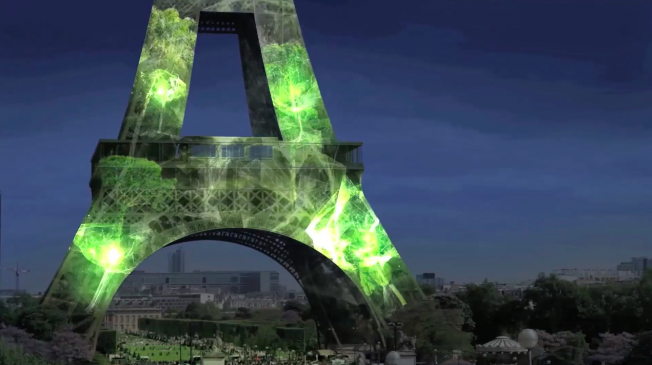 Artist Naziha Mestaoui has created the project 1 Heart 1 Tree, which uses digital mapping, smart-phone interaction and light projection to project a tree and personalised message that grow in time to the users heart beat on Paris' most iconic landmark. The message of 1 Heart 1 Tree calls for a shift to 100% renewable energy - so Paris was the perfect place to launch it.
The project is not only a conversation piece - it has real-world impact. When a user engages on a digital level, their 'tree' is then planted in the real world, where they will receive project updates and a Google Earth file with the location of their seedling. Users are able to choose from different plantation sites - so you might be able to find something close to home! Trees start at € 10 but can purchased in community group packs or as a gift.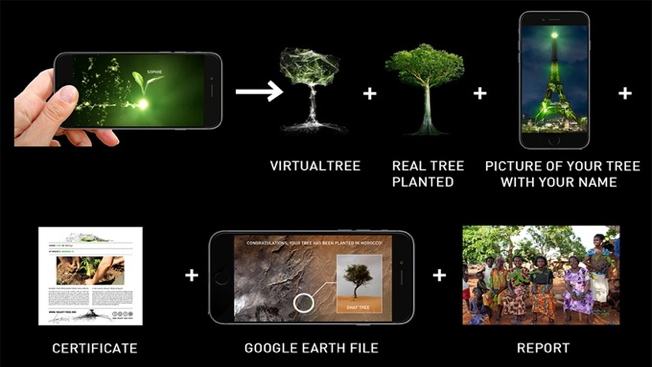 [Image: Adweek]
The project is accompanied by the hashtag #NousSommesUnis which translates to 'We Stand United'.
"I created this installation so that people everywhere can realise what is possible if we come together,"
- Naziha Mestaoui
"We can protect and regrow our forests, we can tap the natural powers of the sun, the wind, the earth and the sea, and we can build a safer future if we go 100% clean energy for everyone." said Mestaoui.
United Nations Secretary-General, Ban Ki-moon, praised the project and highlighted the importance of making individual voices heard. "As Secretary-General of the United Nations, I am telling you that you should raise your voices and make your leaders accountable to their promises. We have to make the world better for all," he said.

Check out 1 Heart 1 Tree on Facebook.
Banner Image: Shutterstock
READ THIS NEXT: Paris wrap up: Day 1
READ THIS NEXT: Paris wrap up: Three days in

READ THIS NEXT: Artists launch mass (anti) marketing campaign for COP21
YOU'RE THE VOICE - Our anthem from women for climate action and hope
With a vibe of hope building that the nations of the world will agree on a breakthrough climate change treaty in Paris this December at the UN Climate Conference (COP21), we have an opportunity to influence world leaders in making decisions that will safeguard the world for future generations.
To do this, 1 Million Women transformed John Farnham's much-loved song, 'You're the Voice' into a powerful anthem from women for climate action and hope. Using the power of music, we want to inspire every woman, man or child to ADD THEIR VOICE - #IMTHEVOICE - to our anthem and form a united call to world leaders for strong action on climate change.
Will you watch the powerful video and add your name?
With your help, we can capture the attention of governments and stand as a clear call for climate action and hope.
---