IN LIGHT OF SUSTAINABLE HOUSE DAY (COMING UP THIS SUNDAY), WE TALKED TO SEVEN UNIVERSITY STUDENTS IN TWO SHARE HOUSES, WHO WERE PROUD TO SHARE HOW THEY HAVE INTEGRATED SUSTAINABLE LIVING HABITS INTO THEIR DAILY ROUTINES.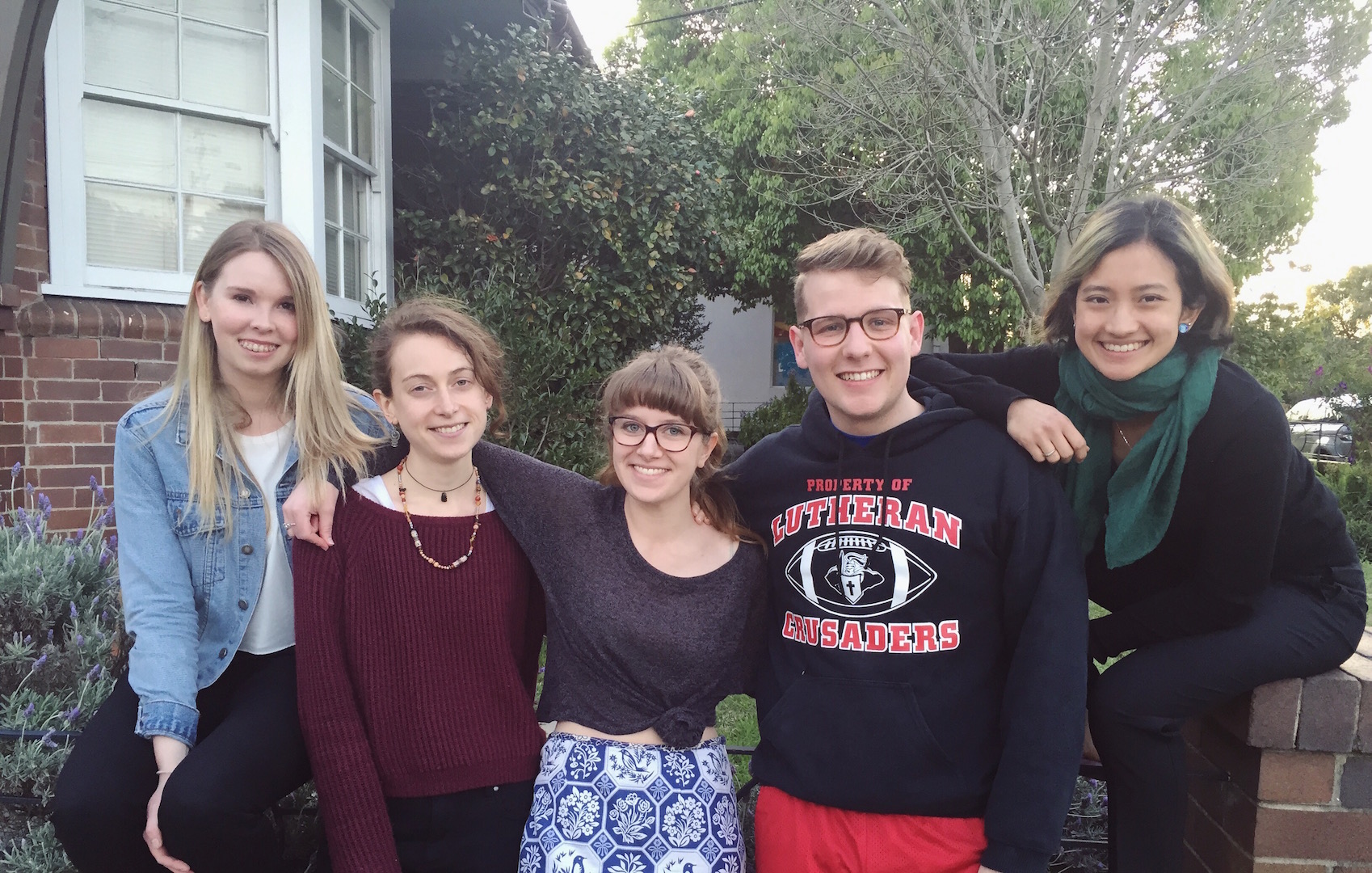 Chelsea, Ellen, Emily, Shane and Nicola share a house in Randwick.

CHELSEA, 21 | MEDIA STUDENT
Surprisingly, our share house is not the chaos you would assume when you put five 20-something-year-olds in a house together. It's actually quite civil, we know how to change a lightbulb and care for our 10 odd plants around the house. Our recycling bin is always double our general rubbish bin and our gas/energy/water bill is usually on the low side. We have also installed energy efficient light bulbs and water saving shower heads. We cook together and eat mostly vegetarian, which I think is great. I love that the house is surrounded by a garden, the lavender bush is my favourite because it usually has bees buzzing around it - #savethebees!
ELLEN, 22 | LAW STUDENT
One of my favourite things about living in a share house is being able to strive towards a more sustainable lifestyle with like-minded people. In our house this means a lot of hoarding, but on the plus side we are never short of jars or containers. The veggie patch is another of my favourite things. Although there have been many deaths along the way, it's so satisfying to be able to create a meal out of the odds and ends you can harvest from your own backyard.
EMILY 21, | MEDICINE STUDENT
Moving into a share house has definitely helped me become more sustainable. I've made a move towards more environmentally friendly cleaning products and try to avoid buying anything with palm oil (giving up mint slices was heartbreaking). I'm a big fan of green bags and trying to cut down on plastics. The time I (tried to) climb into the recycling bin to flatten the rubbish was encouraging of our waste habits. Although there is a lot of independency living out of home, the parents are still very much needed for advice from time to time. Dad helped sourced the worms for our compost bin and is giving me tips on the struggle of keeping the veggie garden alive.
SHANE, 22 | MEDICINE STUDENT
There's a really good vibe in our house, considering there are five of us we all get along really well. There are definitely challenges though. You have to be strategic about how you manage your food because we all share one fridge and we all have to make an effort to adopt everyday habits like taking shorter showers and switching off appliances and lights that aren't being used. A good thing about living in Randwick is that we have a weekend farmers market up the road, which have a great selection of fresh, local produce. Emily and I have had to commute an hour away for hospital placements each week so we carpool with two others. It definitely makes the journey more entertaining plus we save on CO2, win-win!
NICOLA, 21 | MEDICINE STUDENT
I spend a lot of time outdoors and have always had an appreciation for nature so I think it's important, particularly for our generation, to live with sustainability in mind. I love that the house came with a composter, It's amazing how much goes into our compost every day, let alone every week, and it's scary to think of all the houses in which all that biodegradable material would end up in a landfill. Winter was a challenge because we didn't have heating, we just learned to rug up and dress for the cold weather.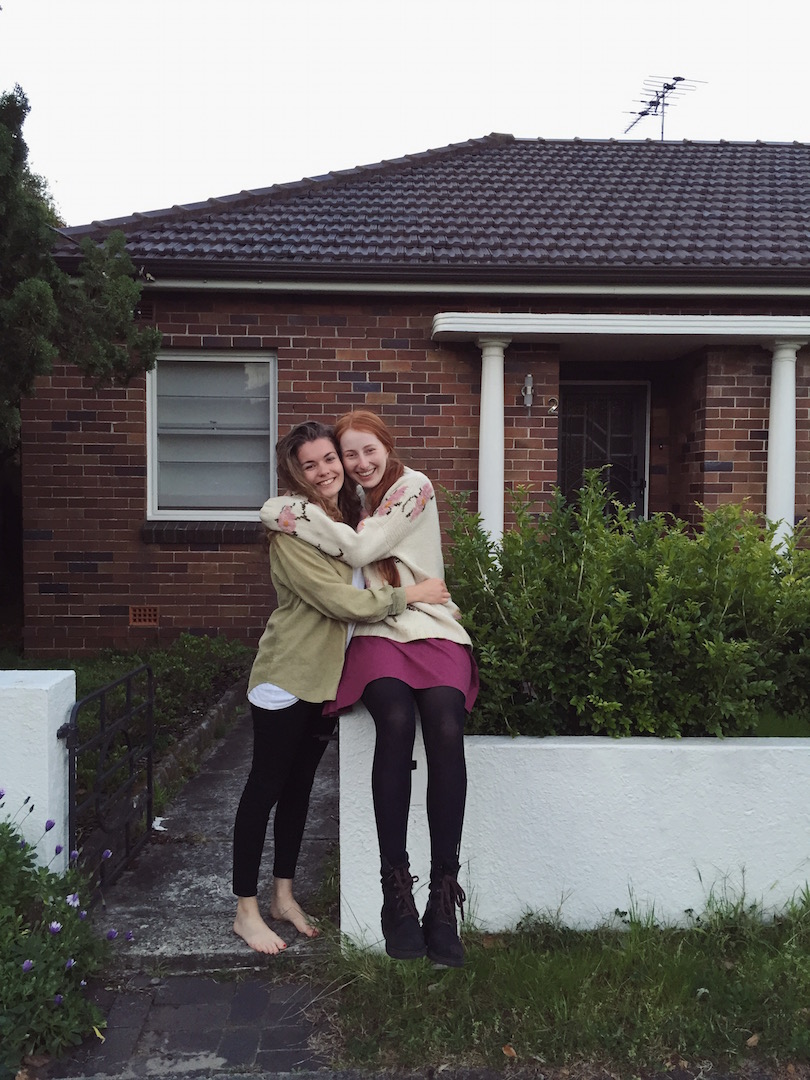 Meredith and Louisa share a house in Kensington with one other housemate.
MEREDITH, 20 | ENVIRONMENTAL MANAGEMENT STUDENT
I think we are pretty resourceful as a household, most of our furniture we collected second hand and we all try to say no to plastic bags, excess packaging and bottled water. Sustainability is definitely something that I value in my life, I think we as uni students have a responsibility to live as best we can without costing the Earth.
LOUISA, 20 | MEDIA STUDENT
I couldn't ask for better housemates than Ned and Mez. We use as many second hand clothes and furniture as we can, spending countless weekends at Reverse Garbage and Glebe Markets. Mez and I constantly swap wardrobes, which is great because we can reduce our need to consume. We also grow our own veggies and herbs in the backyard – it's fun and it means we never have to buy parsley. My favourite thing about share housing is that you are always surrounded by your pals – it's pretty much a 24/7 slumber party.
NED, 22 | LAW STUDENT
I try to cycle the 2km to uni every day, none of us own a car so we have to look for alternatives such as public transport or walking. We definitely make a conscious effort to think how we can live more sustainably every day. We don't have a TV, which brings down our electricity use. We also make meals together and try to limit our consumption of processed foods to reduce our environmental impact.
Whether you are living in a share house, thinking of moving into a share house or have children who are moving out, it is a good idea to think of ways to live with sustainability in mind. A composter or something as simple as a system to sort out recyclable material is an easy way to manage waste. You can save money and energy by installing water-efficient shower heads and energy-efficient lights or simply by switching off appliances and lights when not in use. Thinking of ways to live sustainably will not only save you money but can also be a rewarding way to live both resourcefully and creatively by independently making, growing and recycling to make a house a home.
1 Million Women is more than our name, it's our goal! We're building a movement of strong, inspirational women acting on climate change by leading low-carbon lives. To make sure that our message has an impact, we need more women adding their voice. We need be louder. Joining us online means your voice and actions can be counted. We need you.
---