This is a guest blog from our friends at Farm to Face
Serves 2
You'll Need:

pears, 3
pomegranate, 1/2
Or any fruits that are seasonal in your area
Crumble: (this will last for six breakfasts)
oats, 3 cups
honey, 2 tbs

butter, 1 tbs
almonds, 2/3 cup
pepitas, 1/2 cup
dried apples, 2/3 cup
cinnamon, 1 tbs
organic greek-style yogurt, to serve.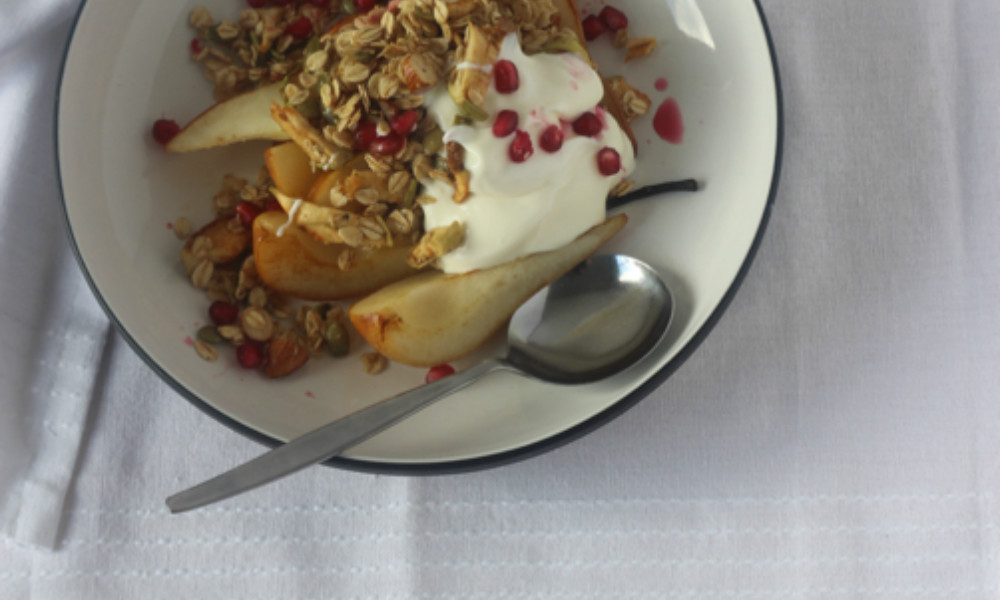 1. Slice the pears into 8 wedges and grill in a non-stick pan until golden on both sides.
2. In a saucepan melt the butter and honey then stir through all the ingredients. Keep stirring until lightly toasted. (Store in the fridge in an airtight container.)
3.Serve grilled pears with a serve of toasted muesli, yogurt and pomegranate seeds.
Waste free tip: Only cook as much fruit as you need. No need for leftovers!
Melodie and Georgia created Farm to Face because they know that the food we eat has a huge impact on our health and wellbeing, and on the planet! We're inspiring people to live waste free and eat for the future by choosing local, seasonal and ethical foods.
Cook this next: How To Home Brew Kombucha

Try this next: Homemade citrus peel cleaning spray
1 Million Women is more than our name, it's our goal! We're building a movement of strong, inspirational women acting on climate change by leading low-carbon lives. To make sure that our message has an impact, we need more women adding their voice. We need to be louder. Joining us online means your voice and actions can be counted. We need you. We're building a movement of women fighting climate change through the way we live.
---