Can you do organic and locally grown food on a budget?
Buying organic can be hard on your wallet, especially when you're at Uni with two dollars to your name. Many independent university students live off 60 cent ramen noodles and instant coffee - opting for cheap, quick fixes wrapped up in a whole lot of plastic. This is the stereotype (and sometimes harsh reality) that Thoughtful Foods aims to combat!
Thoughtful Foods are a volunteer run, non-for-profit food cooperative who aim to stop the quick, unhealthy fixes by supplying cheap, organic, minimally packaged whole foods to the people in and around the University of New South Wales! They're run by the community for the community. (If you want to help them find a new home, sign this relocation petition!)
So what's the fuss about organic anyway?
The word 'organic' is thrown around a lot in mainstream media today, with a lot of people believing it to be a marketing tool. Organic produce is often thought to be grown pesticide and synthetic-chemical free. This is widely debated and you can read all about that here! What we do know is that organic farming promotes a healthier and more sustainable treatment of natural resources, better treatment of animals, is more environmentally friendly and, when grown locally, creates a relationship between local farmers and the community!
Because of the resources that go into producing organic food, you'll often pay top dollar for them at your local supermarket, again causing people to view it all as a hoax. You'll see a lot on the internet along the lines of 'debunking organic', '6 myths about organic produce' and the like, but we're here to tell you that there are benefits to shopping organic, and it can be a lot easier than you think! Yes, organic may cost you more at the supermarket, but checking out your local farmers market or food co-op can take the pressure off your wallet and your conscience!
It's time to get thoughtful!
To Thoughtful Foods, organic means locally grown, locally sourced, nutritious whole foods. It's a way of life that they've lived and promoted for 20 years.
To bring the good people of the UNSW community organic whole foods, they create vegetable and fruit boxes ranging from ten dollars to sixty dollars which can be ordered in store (they're located behind the roundhouse on lower campus)! The boxes contain all sorts of organic goodies. From kale, cauliflower and green beans to bananas, apples and sweet potatoes, it's all packaging free! They store all their nuts, dried fruits and berries in big drums, you bring along your own container (or borrow one of theirs) and calculate the price by weight, a bit like Germany's zero waste supermarket!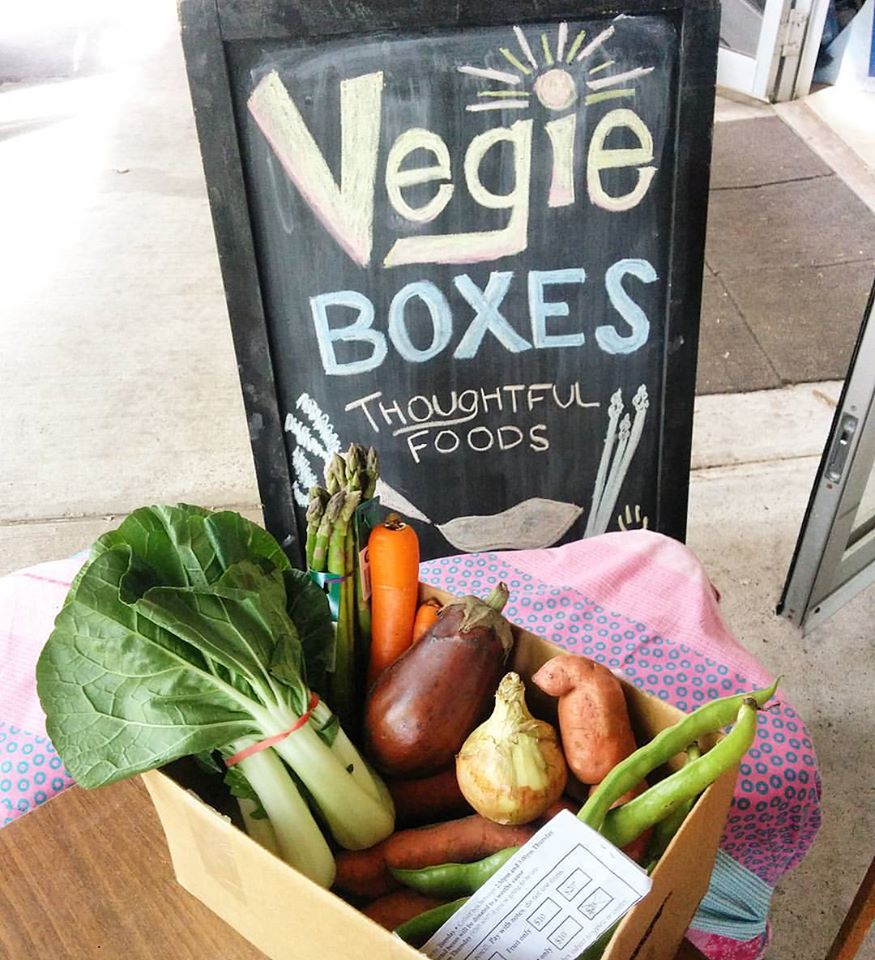 [Image: "Have a look at this week's $20 veggie box!" Thoughtful Foods]
As well as fruit and vegetables, Thoughtful Foods also supply homemade bread, 30 kinds of organic tea, nuts, dried fruits, soaps and toothpaste, organic quinoa and muesli, pasta and so much more, they even have their own peanut butter maker!
I chatted to a friend who lives on campus to see how she manages her food for the week when shopping at her local supermarket. She told me that she often lives off of canned vegetables, rice, tuna and pasta. "Eating healthy costs a lot of money" she tells me, "If I'm eating healthy it can easily cost me up to fifty dollars a week. It's hard because you miss vegetables and the nutrition but it's so much more expensive." That week she spent twenty dollars on food which consisted of pasta, onions, garlic, tomato, bread and apples.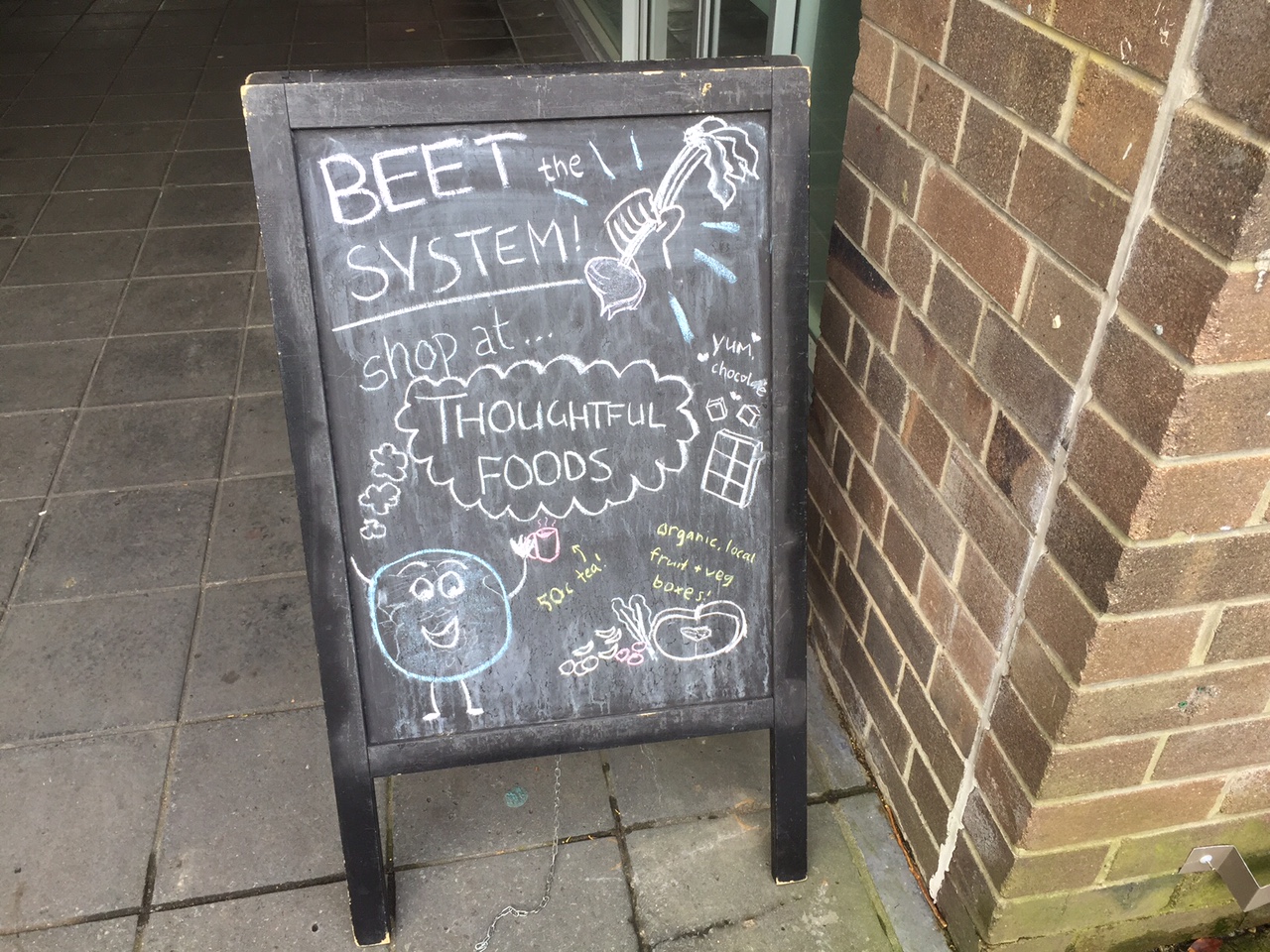 Like many other students, she has become trapped in the paradox of modern day living. Nowadays there's an emphasis on healthy and organic in mainstream media but this has made the prices of leading this lifestyle skyrocket, making it increasingly difficult for people to gain access to simple nutrition on a budget. Luckily it's not just Thoughtful Foods trying to change this; there are volunteer run co-ops in almost every major university you can think of! (UTS, USYD, Macquarie and UWS just to name a few!)
And it's not only university students that can get involved either, food co-ops and farmers markets run all around the country and are a great way to source local, organic foods and support your community and the environment!
Check out these handy resources to find your local farmers market or food co-op!
Header Image: Thoughtful Foods
Do you have any tips or tricks for shopping locally and organic? Let us know in the comments below!
READ THIS NEXT: My Plate, My Planet: America's new dietary guidelines look at sustainability as well as health
1 Million Women is more than our name, it's our goal! We're building a movement of strong, inspirational women acting on climate change by leading low-carbon lives. To make sure that our message has an impact, we need more women adding their voice. We need to be louder. Joining us online means your voice and actions can be counted. We need you.
---