This is a guest post from the 1 Million Women community written by Regan Jade
Single-use coffee pods: we use thousands of them daily, and then send them off to landfill.
If you love a good brew in the morning and are sick of the guilt in the pit of your stomach as you throw your plastic coffee pod in the bin, don't worry, there are other ways to get your fix that doesn't negatively impact our earth like the plastic coffee pod does.
What's wrong with the plastic pod?
The plastic in coffee pods takes more than 500 years to break down, releasing harmful amounts of methane gas as it does so. Furthermore, only 5% of the pods produced are made from recycled materials while the other 95% is generally non-recyclable composite plastic.
The single use design of these pods doesn't promote the ideas of reuse, recycling or composting. They are designed to be used once and thrown away. But the problem is that there is no "away". When you throw something out; it has to go somewhere. This means that the 3 million coffee pods we dispose of daily in Australia are a growing problem in landfill.
So what are your options?
Plastic coffee pods aren't the be all and end all of your much-loved coffee habit. There is a range of alternatives out there from compostable pods to using a plunger.

Reusable coffee pods
These are a few of the brands available on the market that are championing the cause for a more sustainable coffee pod:
Crema Joe offers a reusable stainless steel capsule with a sticker lid called a seal pod. The pods can be filled with your favourite ground coffee and sealed with the lid. Once used the lid can be placed in the recycling bin (check with your local recycling facility as some areas may not recycle the lids).If your local facility cannot sort items this small, planet ark advises that the lids may be collected in an aluminium can, and once full, placed in the recycling bin. They also sell completely reusable coffee pods (including the lid) called a WayCap - zero waste pod coffee!
The Crema Joe reusable pods are compatible with all kinds of pod machines. Check out their website for which machines are compatible.
Eco Caffe supply the Ethical coffee company pods in Australia. Eco Caffe offers capsules that are made from vegetable fibres and starch. They can be thrown in household or green waste bins and with the right conditions the capsules biodegrade in 180 days. The entire range is ethically sourced and is compatible with all Nespresso machines.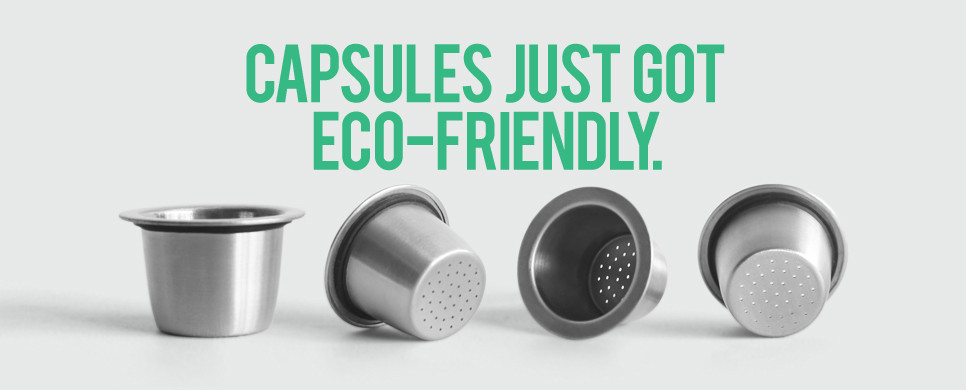 Ditching the pod altogether
Say no to plastic pods: Refusing to use the plastic pods is the best option as it ensures less pods end up in landfill and is a stand against the culture of disposal.
Use a Plunger: The good ole plunger. It may not make a frothy cappuccino but you will still get that caffeine hit without the pod guilt. You can then add your used grounds to the compost or take them into the shower as an exfoliator.
Cold brew at home: Cold brew in a café is often more expensive than your regular latte but making it at home is so simple, and it delivers a less acidic and sweeter coffee hit. Great for warmer climates and a great option if you prefer yours without milk. We love this recipe from Trash is for Tossers.
Drink like an Italian: Disposable coffee cups aren't as big of a problem in Italy. Why? Italians get their caffeine fix from a ceramic cup, served at the bar of the café, which is gulped down in a quick hit. If you don't fancy the espressi style of coffee drinking then take a few minutes out of your day to sit down, relax and enjoy the moment!
Get a reusable coffee cup: A message that we're always preaching to to invest in a Keep Cup! After about 15 uses the keep cup starts paying for itself in an environmental sense. Put your keys into the keep cup at the end of the day so that you always remember to bring it the next morning!
You can buy a 1 Million Women Keep Cup here.
1 Million Women is empowering women and girls around the world to lower their impact on the planet. If you love what we do, please support our work by donating a couple of dollars. For the price of a cuppa, you can help us inspire millions more! (click to donate)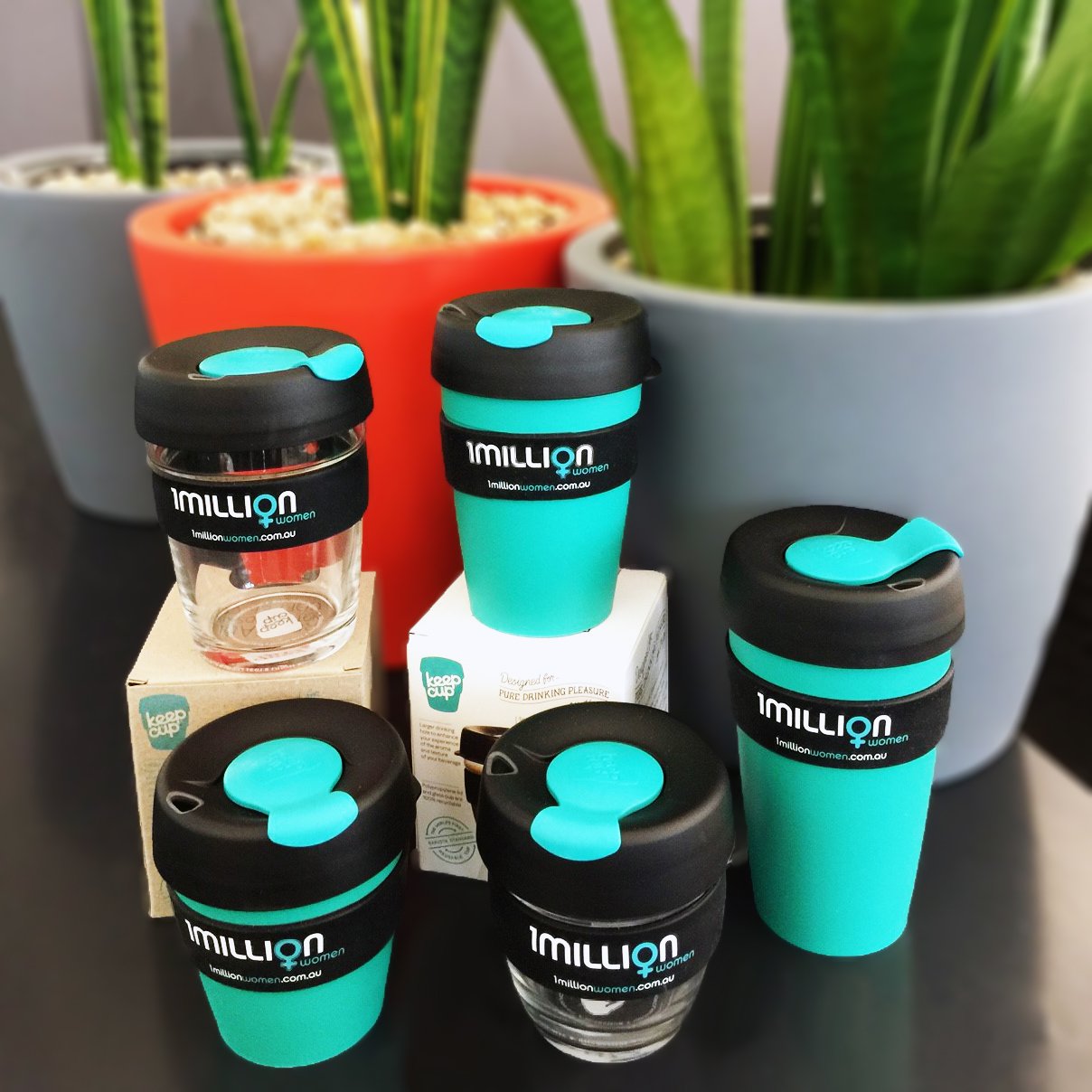 I'll never give up my pod machine, so what else can I do?
If you are going to continue using the pods opt for a planet-strong pod from the list above. If you use the plastic pods make sure you recycle all your pods and packaging.
Terracycle provide a great service that allows you to recycle your pods. You will need to collect them, clean them and send them through the post, alternatively depending on the brand you use, you can take them back to the store and have them recycle them for you. Nespresso pods can be taken directly to a Nespresso store that offers the recycling service. Nescafe Dulce Gusto pods can be sent to Terracycle for recycling.
Find a way to upcycle the used pods and coffee grounds
Ok, so you've done the right thing and gotten rid of your coffee pod machine, or encouraged your workplace to switch from plastic pods to recyclable ones. You're feeling triumphant knowing that you're no longer contributing to an insidious environmental problem by using single-use coffee pods.
But there's still one problem: what to do with the empty pods you already have?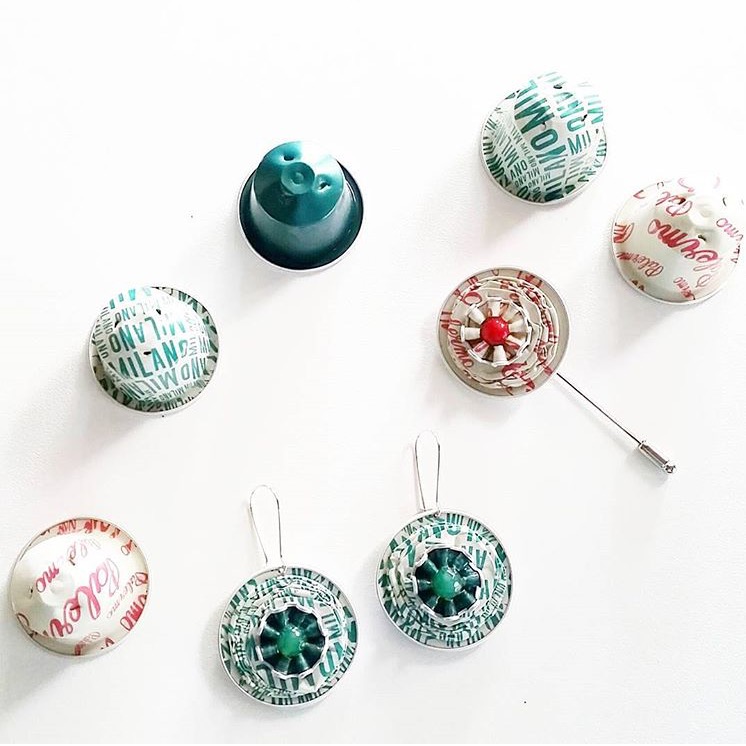 Image: Chiara jewellery
I found Chiaras Jewellery through Instagram, Chiara upcycles used Nespresso coffee pods into rings, necklaces and badges. You can check them out at @chiarajewellery
I stopped using pods a while ago, but I still have my machine, what is the best way to dispose of it?
An appliance is generally considered e-waste. You will need to contact your local council to determine whether they have recycling options for your old machine. Each country and council will have different recycling schemes available. If you are in Australia, you can also contact planet Ark www.planetark.org for recycling information, or consult our handy guide.
Changing just one small aspect of your lifestyle can have a huge impact, especially where there are a million of us are!

READ THIS NEXT: 7 simple tips for minimalist living
Images: Shutterstock
1 Million Women is more than our name, it's our goal! We're building a movement of strong, inspirational women acting on climate change by leading low-carbon lives. To make sure that our message has an impact, we need more women adding their voice. We need to be louder. Joining us online means your voice and actions can be counted. We need you.
---