Taking care of ourselves and others is the top priority around the world right now. For many of us, that means staying inside our homes, sometimes even in our rooms, rotating between home exercise routines, reading, skyping and watching tv. To break up the true crime dramas and romcoms we've added some series and movies that teach us about our planet, solving the climate crisis and reducing our impact to our watch list.
Tiny House Nation
A show with a couple of seasons and 14 episodes all up - so if you like it, you're going to kill some time! This is your classic home makeover type show, only they're doing it with tiny houses. The feel good vibes are strong - the two presenters smile for about 80% of the time. Great for if you want to live in or build a tiny home yourself, because it's far from being one size fits all - the homes are made in a number of different ways, shapes and sizes. There are some really creative examples of how to fit extra storage in, as well as styling inspiration. Plus you see the personal side of what it's like to downsize and cut back on stuff to such a large extent and live minimally. It's also just a great show for anyone who likes tiny homes in general, or if you're into Grand Designs, this is a mini, very smiley version of that.
Currently available on Netflix.
2040
2040 is the ultimate feel good climate movie. Damon Gameau made the film as a letter to his young daughter, imagining the world she would grow up in if we used solutions that are available to us right now (think solar microgrids and seaweed farming) to build a better future. The hybrid documentary format that combines illustrative graphics, with imaginings of 2040 and interviews between Gameau and experts transports you to a 2040 that's full of hope. Gameau travels around the world to show us how communities are already adapting to climate damage, holding up shining examples of what we can achieve. If you want to be inspired and start exploring how we can build a regenerative world, then this movie is a must for your watch list.
Available on here or on Youtube to buy or rent
Biggest Little Farm
This documentary is uplifting and educational, and if you're curious about regenerative farming then fast track this gem to the top of your list. The film follows the story of a couple (the Chesters) and their dog, who pack up their city lives in LA and go to live on a farm - who hasn't dreamed of making this move! The realities of farming hit the Chesters when they move, but they take us on their journey and create a farm that's different. Their farming journey isn't without its fair share of dramas and challenges but everything works in harmony. On their farm, the animals, plants, the land and the Chesters, all work together. It's a beautiful documentary that gives us a vision of how agriculture can benefit us, animals and the land.
There are a few different ways to rent this from home, see their website to find what works for you.

A Plastic Ocean
This film is visually beautiful - it starts out with journalist Craig Leeson chasing blue whales for a new documentary. He finds them, and we see them sliding through the deep blue depths, underneath the sun rays shining through. But we also see the plastic film on the surface of the water too - and that's where the film really begins. If you're new to understanding the impacts of plastic on the ocean, animals, and even our own health, then this movie will be a game changer for you. And if you've been fighting plastic pollution for years, then some of the footage in this film will surprise even you. What A Plastic Ocean has been proven to do over and over again, is motivate people to act. It reminds you of what we need to protect, it shows us what's happening to it, and then it shows us how to act. So try and get everyone in your 'isolation cell' to watch this one with you! Nobody comes out of this one not wanting to make a change.
Available on Netflix.
Bill Nye: Science Guy
If you don't know Bill Nye by name then you'll know his face (look below). Bill Nye is Mr Science, he has been on screens talking about science for a long time and had his own tv show teaching kids science in the '90s. Since then, he transitioned to talking to adults about science and has been focusing his attention on climate change, as the documentary shows. He tackles climate change deniers and their arguments head on - whether it be via news channels or giving talks. Nye's love for science is infectious, which is probably why his kids show was such a success! He is an advocate for the power of science and this really comes across in what he does, rubbing off onto audiences too so be prepared to dust off those high school science textbooks after watching this! The documentary also talks about his personal life so between the science and serious conversations with climate deniers, we get to learn about his story too.

Available on Netflix.

Everything by David Attenborough
There's nothing more soothing than David Attenborough's voice. And if you are searching to tune out of the news and immerse yourself into another world, turn on Blue Planet or Planet Earth (just stay away from 'The Hunt' unless you're looking for an adrenaline hit). Attenborough docuseries aren't just good for their soundtrack, they're always packed with amazing footage and facts. Every time we turn on an Attenborough series we always find ourselves deeply invested in the stories of the animals (did that cute harvest mouse get home safely?!), and glued to our screens with footage that shows us the natural world up close. When in doubt, turn to Attenborough - he never disappoints!
Available across streaming platforms depending on where you live.
Blue the Film
Another visually incredible underwater film, Blue is very similar to A Plastic Ocean, but we've got it on this list because of how much it taught us about overfishing. There's the saying "there are plenty of fish in the sea", but the thing is, there aren't enough fish. Not enough for humans. This film follows several different people who are doing work studying and fighting to protect our oceans and the creatures in it from overfishing and plastic pollution. It's as highly informative as it is beautiful. One thing to factor in with this film is that it has less of a focus around solutions, and can leave you feeling low at the end. It's still worth the watch for how much you'll learn, but we recommend having the Blue 'Take Action' page on hand for when the movie finishes, so you see how many things there are that we can do to fight what's happening. You can also follow people like Madison Stewart on Instagram, one of the people that Blue features. Since filming Blue, she has started up 'Project Hiu', a program providing shark fisherman with an alternative income, so that they don't have to go fishing for sharks anymore.
Blue is available to rent on iTunes, Youtube, or Google Play.
Been watching any hits we've left off our watch list? Add them to the comments and share what you're streaming right now with the 1MW community!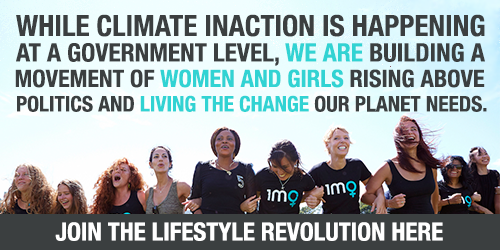 ---