What's a Thanksgiving without Turkey? The two seem to go hand-in-hand, but it's possible to have a delicious Thanksgiving feast and leave meat off your plate.
A turkey-and-trimmings meal for eight produces around twenty kilos of carbon emissions – with 60% of this figure coming from the lifestyle of the turkey alone. Our meat consumption is expected to rise by three quarters in just over thirty years! Our planet simply can't sustain our ever-growing hunger for meat. With this in mind, it's essential we reduce how much of it we eat.
My partner, once a meat-and-two-veg kinda guy and now a strict vegetarian, told me he loves the creativity that comes with vegetarian cooking. There's a common misconception that if you leave meat off your plate, you're also leaving off texture and taste. These recipes are a far cry from a bland plate of steamed veg, and are bursting with comforting flavours that are perfect for a Thanksgiving feast.
This Thanksgiving, skip the poultry and give thanks to the planet by stuffing one of these instead:
Stuff Portobello mushrooms with eggplant and gorgonzola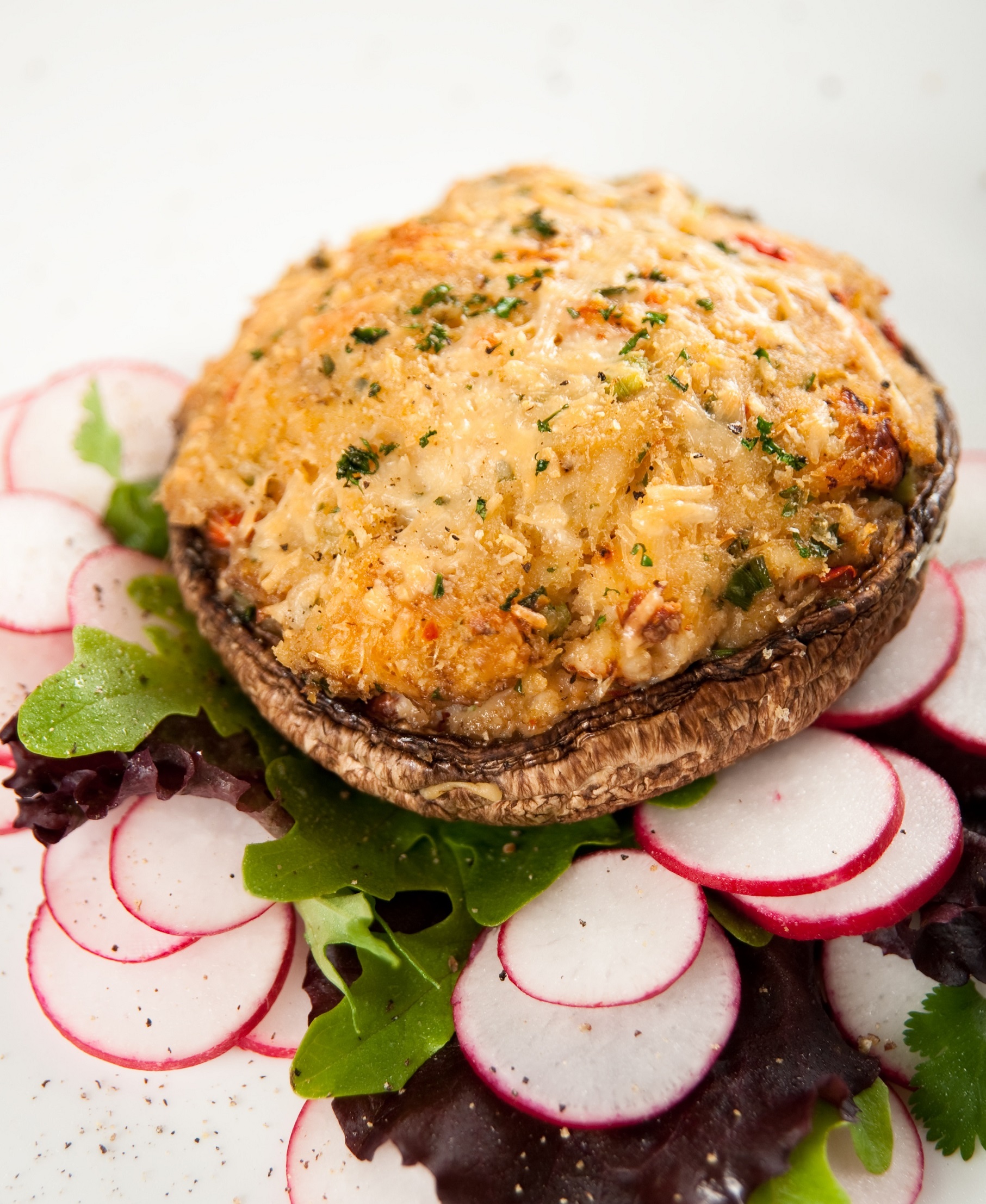 Mushrooms are a fantastic source of iron, and these babies filled with eggplant and cheese are bound to fill you up (and impress your dinner guests!). You can create a completely plant-based version with vegan cheese – try this recipe for delish cashew cheeze. Find the recipe here.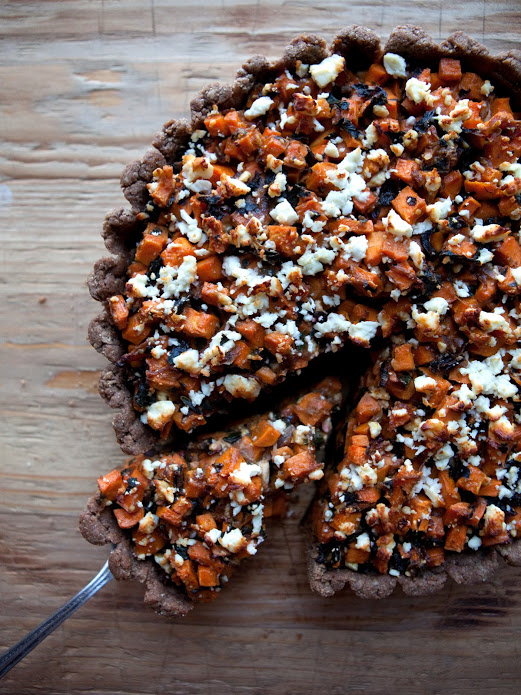 There are few food duos in life that make my heart (and tastebuds) sing! Like chocolate and strawberries, spinach and ricotta and in this case, sweet potato and fetta. Who needs turkey when you have winning food combos like this?
Stuff squash rings with acorns and quinoa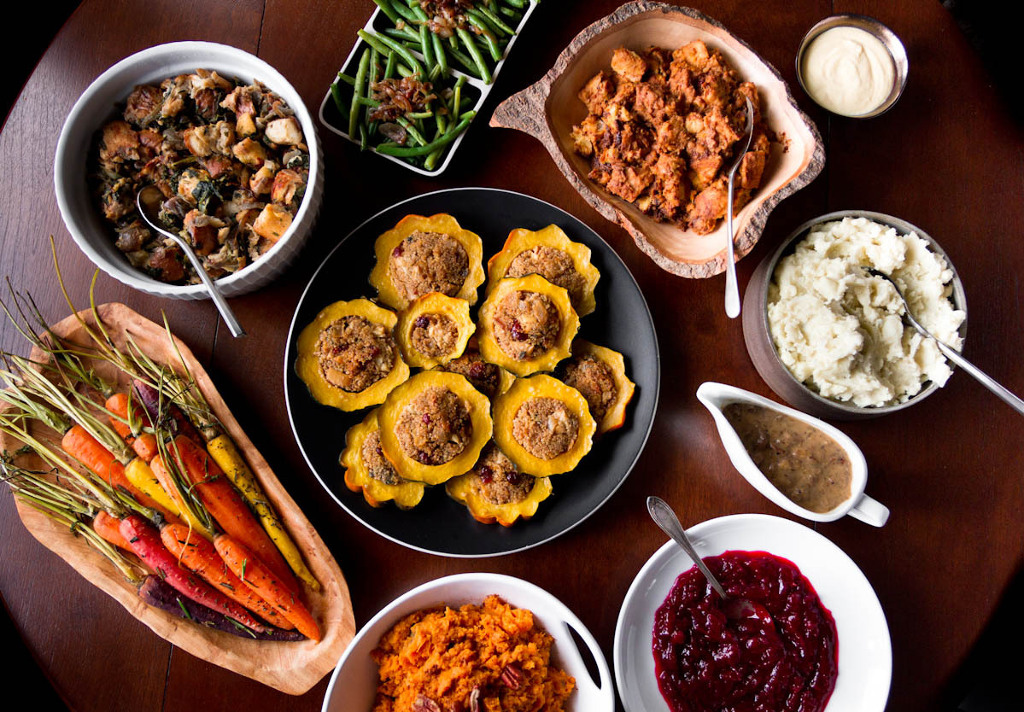 This recipe gets big props for being so beautiful. These slices of squash look like bright orange flowers and are filled with quinoa, walnuts, acorns and cranberries. They're like Fall in a dish. Quinoa is a great source of protein and fibre, and is perfect for any guests who might be gluten free.
Stuff a wrap with Thanksgiving vegetables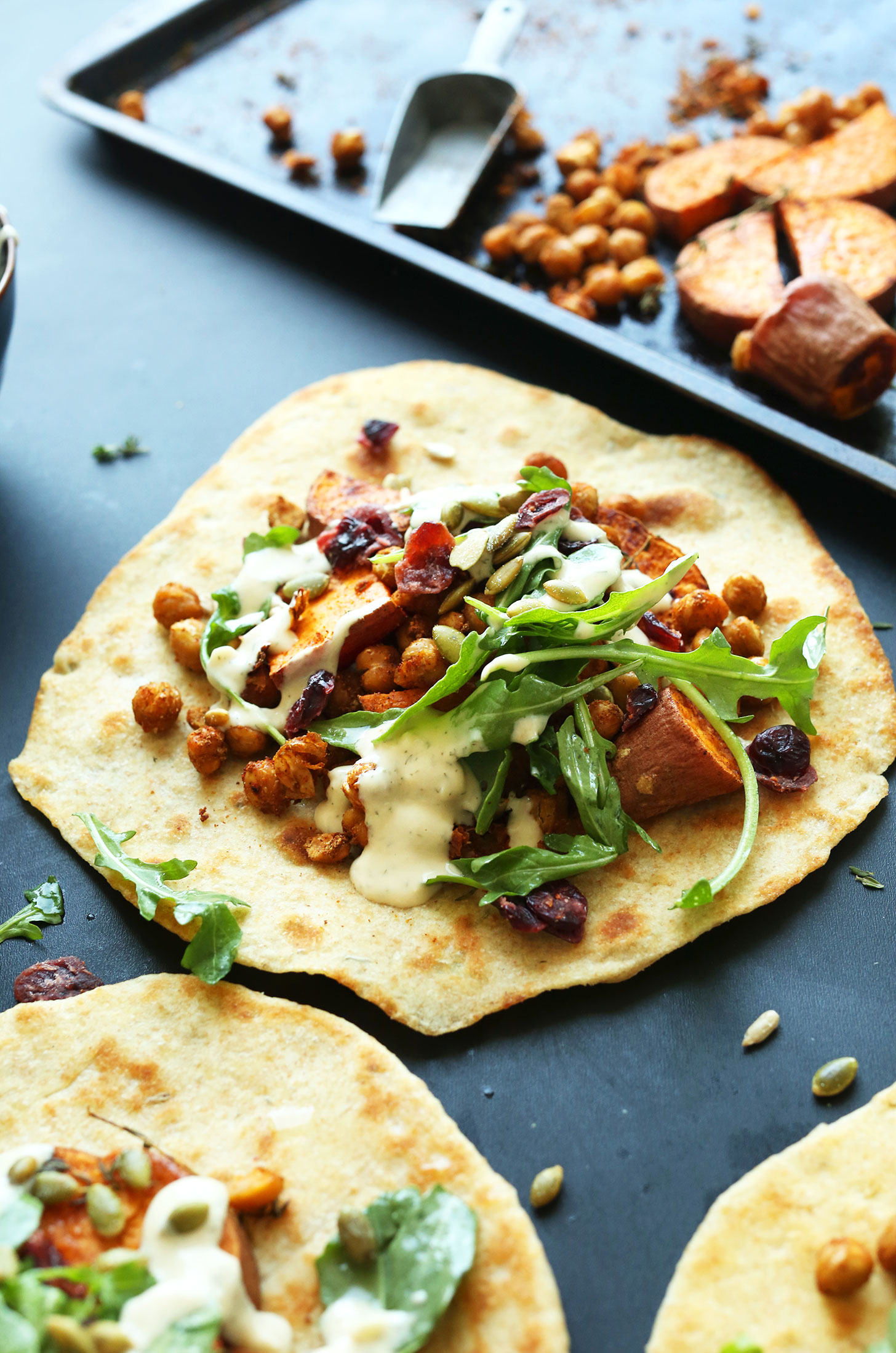 These wraps use less than ten ingredients and can be made in half an hour. They're a great entrée option or as a light snack.
Stuff homemade ravioli with pumpkin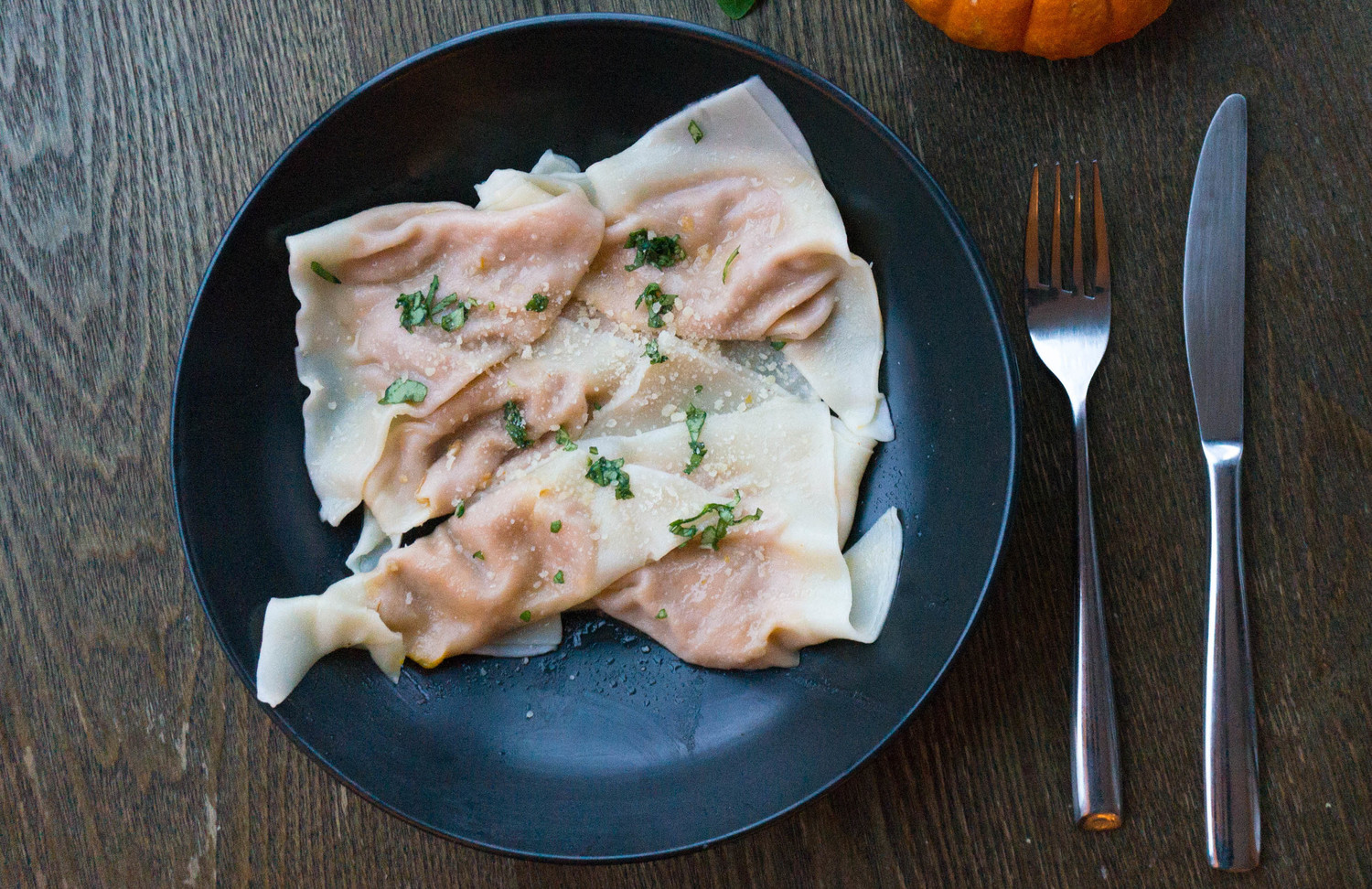 Sure, ravioli might not be the first meal that springs to mind when we think of the festive season, but this pumpkin-filled recipe might just sway you. I always put Ravioli in the 'too-hard' basket, but these take under ten minutes to make! This recipe uses chicken broth, but you can easily use veggie stock instead.
Stuff a whole pumpkin and win at Thanksgiving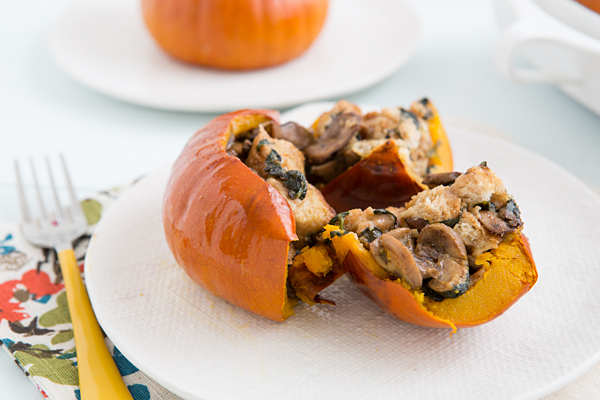 During Thanksgiving or Christmas, usually one person spends majority of their day in the kitchen. This recipe can be made in advance, allowing who ever's lugged with lunch duty to enjoy the festivities of the day!
You can prepare the veggie filling and pumpkins the day before, so before dinner you've just got to assemble and bake.
Stuff artichokes with leeks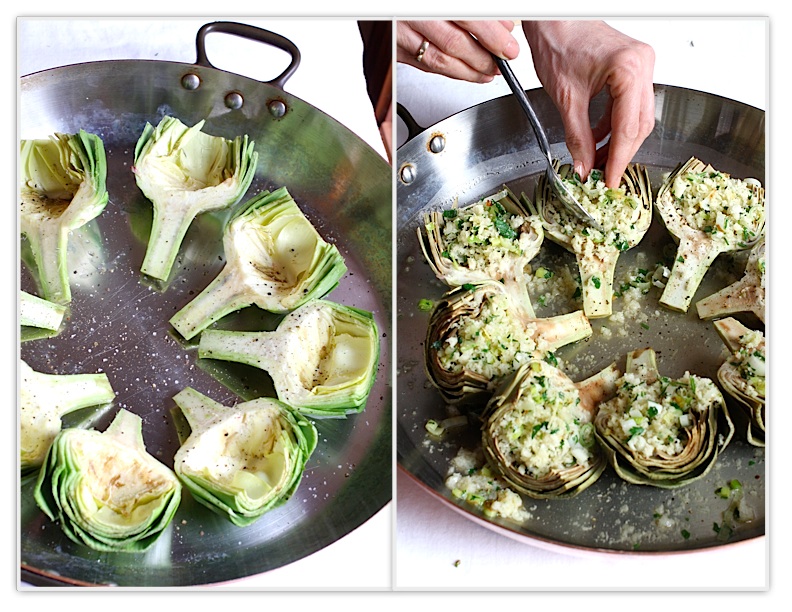 Artichokes are seriously underrated. They're delicious yet thorny little things, so it can be hard to know where to begin when you're preparing them. Luckily this recipe runs through how to trim your artichokes so you can stuff them full of leek and herb stuffing.
Stuff tomatoes with ricotta and pesto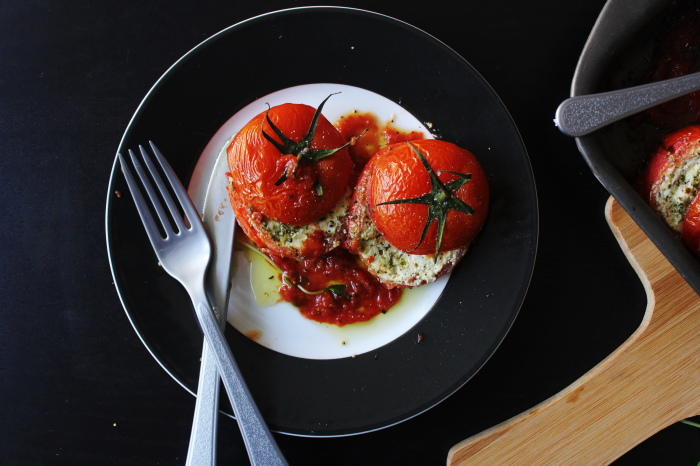 Pesto is a fantastic way to use up leafy greens. This amaze recipe uses basil pesto, but why not swap for this celery leaf pesto or rocket, cashew and parmesan pesto?
We're in a climate emergency and it's going to take all of us to get out of it. That's why 1 Million Women is building a global community of women committed to fighting climate change with our daily actions. To join the (free) movement just click the button below!
---