Swap till you drop!
This is a guest post by Bree Calarco from the 1 Million Women Nothern Beaches Community Hub.
Have you heard of the 20/80 rule of wardrobes? Basically, it's said we use only 20% of our clothes 80% of the time.

The other 80% is just hanging there, untouched and eventually discarded. You know the old saying one woman's trash is another's treasure? A clothing swap is a great way to swap treasures, encourage the sharing community and make memories with friends. Here are a few tips to help you do it!
Preparation
1. Choose a date and time. Daytime during the weekend is good. Holding a clothes swap at the change of seasons (end of winter/summer) can ensure maximum benefit as this is generally when we will start shopping for new clothes anyway. You can help people avoid or minimise having to buy new by doing this.
2. Decide the demographic you are aiming at attracting. Is it women, men, mothers? What age group? Also, decide how many people you are aiming to have and set your minimum or maximum amount of participants.
3. Choose and book (if necessary) a location. If you are going big (over 20 participants) consider booking a community hall, or ask around and see if someone has a space where you can do it for free. If there are smaller numbers expected, a large lounge or living room will work. If you are booking a venue, allow time to set up and pack down as this will probably take more time than the swap itself. Try this, 1 hour of swapping time, plus at least 1 hour for both set up and pack down. Another thing I've found that works is 30 minutes for item checking and hanging after everyone has brought in their clothes.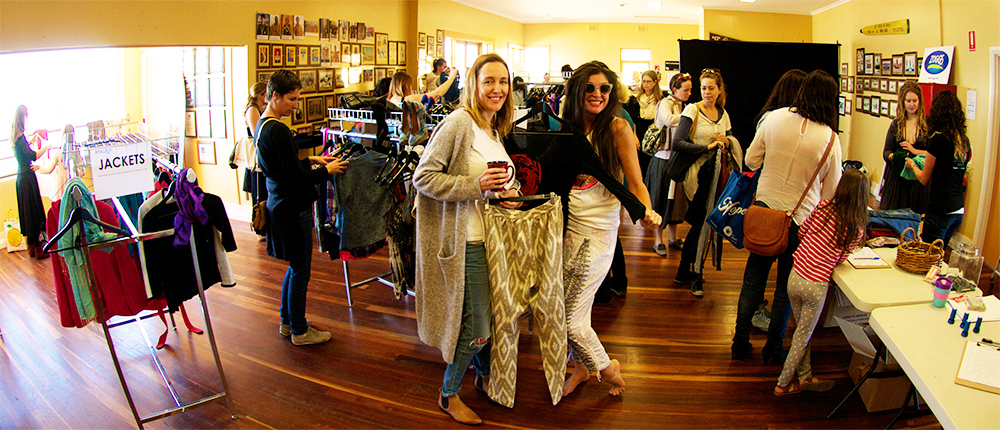 4. Other Important Considerations:
Do you need public liability insurance? Some events/venues will require this so be aware you may need to obtain insurance for the event (this cost can be covered in the entry 'donation' if it is needed).
Do you want to provide tea/coffee or light refreshments on the day? Would you prefer to ask participants to bring nibbles to share?
How many items of clothing will you allow per person? You don't want the racks to look empty, but you don't want them to be too full! Also, it's important that it is a fair swap. 5-10 items per person is a good figure to start with, depending on the total number of participants and rack space available.
Clothing Tokens are a great swapping 'currency' to ensure a fair swap. One piece of clothing coming in receives one token to be used for one other item. Poker chips and buttons are both easy to use as tokens. Whatever you use, it will need to be distinguishable and not easy to duplicate.
Clothing Inspections: you will need to inspect each item for quality and cleanliness. Items should only have minor defects if any, that are easy to repair (such as a missing button). If you wouldn't give the item to a friend then don't bring it to swap! You will also need to communicate this to your participants well before the swap as this will minimise time for checking and the chances of having to turn away items at check-in. It is good to exclude underwear and gym wear as many people will not want to exchange these items.
What will you do with any leftover clothing? Donating to a local charity is a good way of passing on the positive impact. Opshop.org is a good website for finding local opportunity/charity shops.
Where will you promote and advertise the event: some ideas are Facebook/other social media, emails, personal social networks, local newspapers, local noticeboards, flyers, and local food co-ops/cafes.
Changing spaces can be made by using room dividers or hanging up curtains in a specific area of the room for anyone that prefers privacy.
BYOB (Bring your own bag) is a good policy to ensure no plastic single-use bags are being used in the transport of items.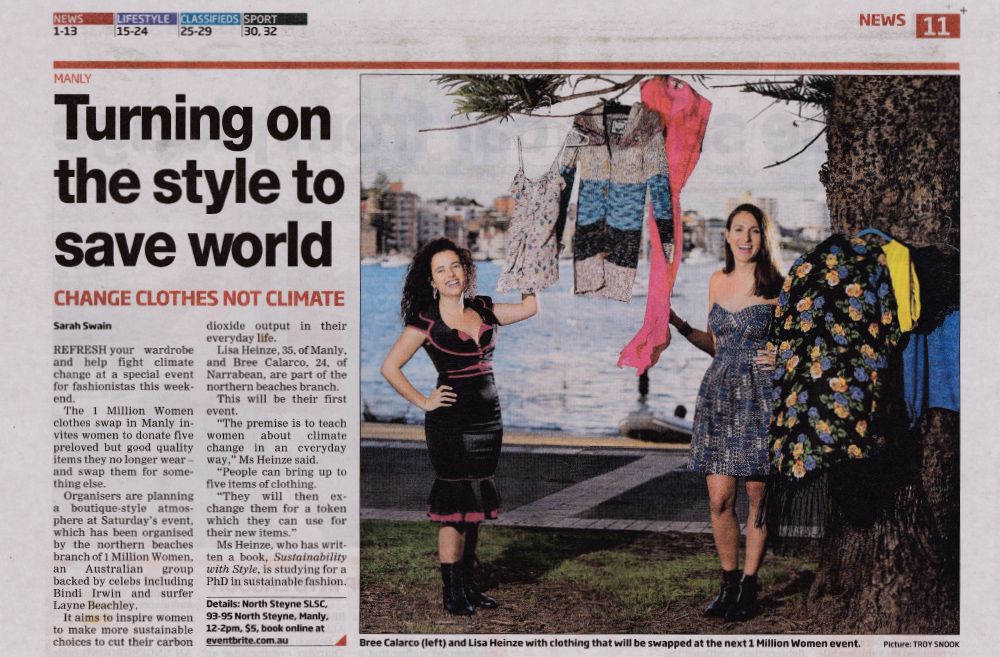 5. Calculate any donation entry cost, if necessary, depending on which venue you have decided to go with, and whether you will be providing light refreshments like tea and coffee or nibbles.

6. Consider opening the event with an interactive workshop on why and how a clothing swap impacts your carbon footprint in a positive way. Doing some research on what the average carbon usage for a woman in Australia is, how far clothing travels from production to shelf, and the impacts of 'fast fashion' on the planet is a good idea so that you can answer any questions that come up on the day.
This may also open discussions on which fabrics are the most sustainable choices if you do buy new clothing, the importance of buying Australian-made for reducing your carbon footprint, and perhaps even how to wash your clothes in a way that is not damaging to the planet by using biodegradable washing powders/liquids (Ecostore has great options for laundry products and other household cleaning items).
The documentary "The True Cost" is a great film about the impact of fashion on the planet and people.
Read more: 5 crazy facts from new fashion documentary 'The True Cost'
Creating the Event
EventBrite is a great tool for event hosting. Make sure you give participants at least 3-4 weeks' notice for the event when advertising/distributing. It's good to contact/email participants with the instructions and rules when they register/book so collect at least the name, email address, and phone number of each booking.
Time, date, place and cost (if applicable).
Any instructions such as BYOB or 'Women's Clothing', plus maximum the number of items and information on whether refreshments are provided.
Contact details for booking (email and phone number).
Any links for online events (facebook event/EventBrite event).
Items you may need on the day
Ensure you have plenty of hangers and racks to hang clothes on.
Consider signage for the racks to categorise them into pants/shirts/dresses etc.
Allow table space for jewellery/shoes/accessories/bags/hats.
You'll need a couple of full-length mirrors in the main area and in the change space.
READ THIS NEXT:
[DIY] Don't throw away your old clothes, repair them!
[Interview] Katie Roberts didn't buy any new clothes for a year!
1 Million Women is more than our name, it's our goal! We're building a movement of strong, inspirational women acting on climate change by leading low-carbon lives. To make sure that our message has an impact, we need more women adding their voice. We need to be louder. Joining us online means your voice and actions can be counted. We need you.
---