Spring isn't just about beautiful flowers! An abundance of fruit and vegetable varieties become available too.
Peas, artichokes, asparagus.
Zucchini! Finally I can get to making oodles of zoodles again.
Blood oranges. Depending on where you live, berries. Blackberries, blueberries, boysenberries.
Plus, loads more. Embracing and eating with the seasons not only challenges you to think more creatively about your cooking, but it also helps to reduce carbon miles. Carbon miles, you know those pesky invisible things that essentially come embedded with our food when we ship produce all around the world causing huge amounts of pollution just so we can eat grapes all year round.
I am really excited to get creative in the kitchen with the best that Springtime has to offer. Did I mention, I can't wait for zucchini?
Our friends at Sustainable Table have a great guide on what's coming into season during Spring.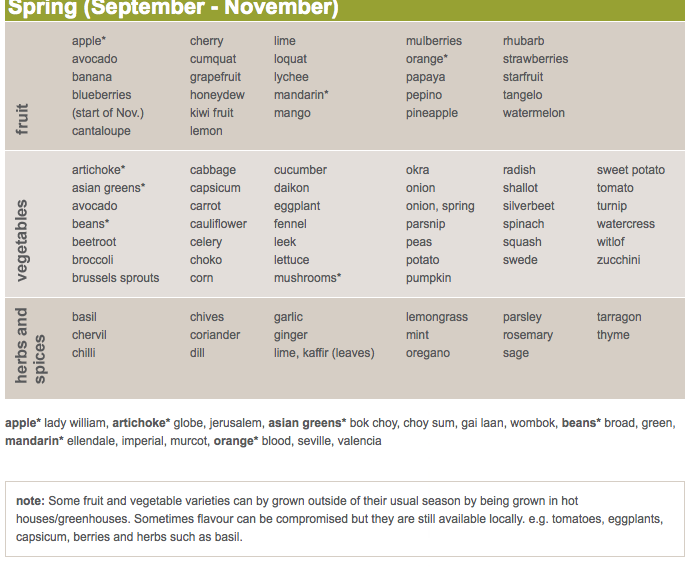 The above, is a general guide. Depending on where you live, different foods may or may not be in season.
Seasonal Food Guide Australia have the option to filter what might be available where you live by citiy and state. If you're interested see here.
As always, do your best to purchase your fresh produce from the local farmers markets.
Why choose local?
Here are four excellent reasons from Seasonal Food Guide Australia.

Buying in season and local whenever you can, will mean getting the best of what's available, and it will end up being cheaper, healthier and tastier. Simple as that.
Why not track your progress with buying local and in season on your low-carbon life dashboard? If you haven't created a low-carbon life account yet, click here.
Let us know what you'll be cooking up with your spring favourites in the comments below.
We're building a movement of women fighting climate change through the way we live.
Join us and be counted.
---