Wildfires are burning all around the world but is it enough to smoke us out of complacency and into action?
The arctic was on fire over summer - a frightening benchmark in what has been a year of unprecedented wildfires. Here in Australia spring arrived a couple of weeks ago and brought an early bushfire season with it. The fires - like so many we've seen around the world this year - are unusual. They're too early, they're in unexpected areas and they're burning ancient rainforests that are parched coming out of a dry winter. And whether you're tuning into the radio, television or scrolling through an article, many are calling these fires the same thing - a bad omen for a scorching summer to come.
The wildfires burning through the Amazon rainforest caught global attention over the past month. Multiple rainforest species such as the Jaguar, South American tapir and brown throated sloth are already on the endangered species list and the increasing threat to their existence is forcing us to evaluate how we can help.
One of the main factors driving this widespread destruction is agriculture. Particularly in the Amazon, we have seen 739 square kilometres of vegetation cut down or set on fire in May 2019 alone to clear land for livestock grazing. The impact of this on the biodiversity in the Amazon and ecosystems it supports cannot be understated. The Amazon is also one of the largest carbon stores in the world, protecting our planet from further global heating.
Wildfires are a naturally-induced environmental stress and many forests rely on them to build resilience, reproduce plants and provide changing landscapes for new species. When human-induced activities like agriculture exacerbate these natural processes an unprecedented level of stress is placed on these ecosystems and wildfires turn from regenerative to destructive.
Wildfires aren't just raging through the Amazon rainforest. In the past few months of 2019, we have seen wildfires spread throughout Spain's Canary Islands, Greenland, Siberia, Indonesia and beyond. These wildfires are engulfing regions far greater than anticipated and have far-reaching impacts. There are the Indigenous populations of Brazil who are suffering and the local communities in various island nations who are constantly fighting to protect their land. The Insurance Information Institute recently published that only 10-15% of wildfires occur seasonally, whilst the other 85-90% reported annually are a direct result of humans utilising the land for various profit-making purposes. During late August this year, 8000 people were forced to evacuate the Canary Islands, located off Northwest Africa, as fires rapidly spread throughout Tamadaba Natural Park. In July, fires were recorded in areas of the Arctic such as Greenland, an event that the U.S. National Oceanic and Atmospheric Administration (NOAA) is particularly concerned about as it's causing glaciers in the Arctic to melt at a faster long-term rate than ever recorded.
These events can be largely attributed to this year's heat, something that scientists at NOAA's National Center for Environmental Information noted as record-breaking data. According to their latest research, July 2019 was the hottest month on record with an average global temperature 0.95°C above the 20th century average. Within the 2019 'Global climate report', they mentioned "nine of the 10 warmest Julys have occurred since 2005, with the last five years (2015–2019) ranking among the five warmest Julys on record."
It's all scary news, but we can help reduce deforestation and protect these ecosystems for generations to come by educating ourselves about the scope of this issue and sharing the news with others. We can also do the following:
Reduce our meat intake – try to cut out just one serving of meat per week, preferably beef as cattle grazing is one of the biggest threats to rainforests such as the Amazon.
Sign petitions to help stop deforestation – such as Greenpeace's petition.
Support the work of organisations such as Amazon Watch or Protect-an-Acre program.
Be conscientious of the products you purchase – use less wood and paper. Check out Rainforest alliance for product recommendations.
Check out https://www.ecosia.org/ search engine – with every few searches, it plants a tree.
I encourage you to reflect, what is one action you have taken this year that has arguably made a positive environmental impact in the community or greater world around you? If you have realised that perhaps time has passed without conscientious action being taken, then now is the time to start. This may very well be the inspiration you need to begin your journey.
By Karen Davids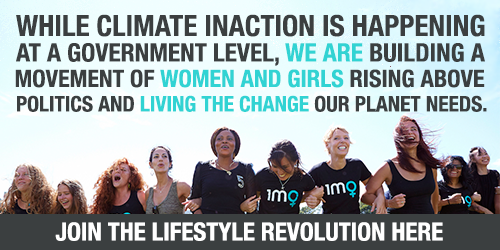 ---