The South-East Asian haze crisis has made Indonesia very unpopular with its neighbours. Yet its government can't do much about it. Local elites, who call the shots in the forested regions, don't want to tackle the crisis – and they're able to stand up to national leaders in Jakarta.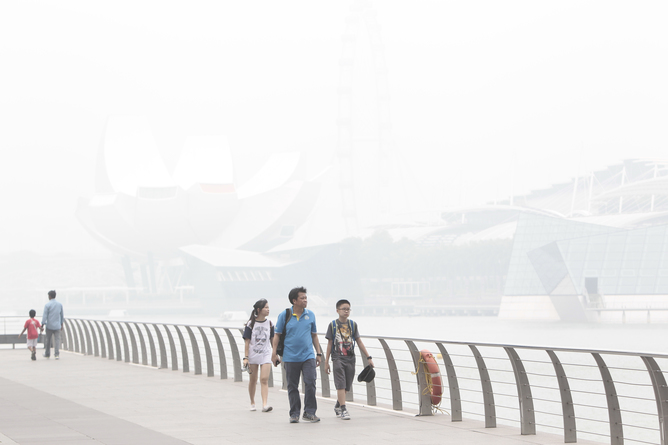 Image: Downtown Singapore is in the background … somewhere. Wallace Woon / EPA
Indonesia has ratified the treaty and the central government at least seems committed to tackling the crisis. Indonesian president, Joko Widodo (or "Jokowi" as he is known) has extended a moratorium on logging in affected areas and made a point of promptly visiting areas ravaged by fires. When fires occur, aircraft and military are deployed to combat them.
So why can't Indonesia stamp out these fires?
In attempting to deal with the haze, Indonesia's central government is hamstrung by the country's decentralised set-up and opposition from local governmental elites and "regents", known as "bupatis", which are interested in preventing enforcement of anti-haze laws. Often they have lucrative relationships with the large palm oil companies that are responsible for the fires – which has led to corruption, collusion and networks of patronage in these provinces.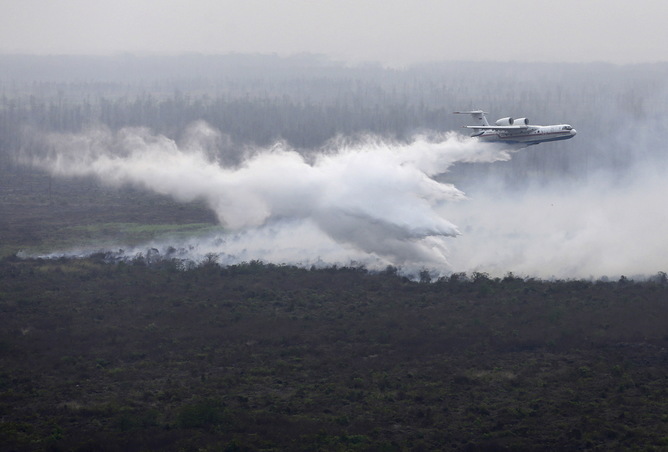 Image: Fire fighting in Sumatra. The national government wants more of this – but local leaders aren't interested. Antara / Reuter
This wouldn't matter if the local elites were ineffective or couldn't stand up to central government. However decentralising policies over the past 16 years have handed more power to local governments, meaning bupatis and other elites are now perfectly capable of preventing significant law enforcement and letting the loggers do what they like. These elites subvert central power and policy without significant risk of prosecution – they simply don't answer to Jakarta.
There have been only limited prosecutions of the firms responsible for the haze, and local individuals often become scapegoats for large companies.
Indonesia must reform
Given that Jakarta is largely unable to affect things in the distant forests, there's little chance of a regional solution either. If local officials in rural Indonesia won't take orders from central government, they certainly won't listen to Malaysia or Singapore.
The only way to prevent the haze will be to remove the capability or the motivation of local elites, especially bupatis, and palm oil companies to subvert national law. Of the two options removing the motivation is the easiest. By increasing law enforcement and enacting harsher prosecution, Jakarta could signal to the bupatis and companies that corruption and collusion is no longer acceptable, and maintaining these networks would have costly consequences. However law enforcement is once again often devolved at local level and sometimes too closely involved in the issues.
Indonesia faces significant structural problems in trying to combat corruption and patronage networks. The Corruption Eradication Committee (KPK), an anti-corruption organisation separate from the police, needs strengthening.
Jakarta could use money to get local elites to switch sides. Caps on political donations and a lack of campaign subsidies mean only limited finance makes its way to local candidates, who still face high costs. Amending these caps or allowing limited subsidies would reduce incentives for local politicians to side with the loggers.
Subsidising more efficient land clearance for palm oil companies may also prevent companies from resorting to the cheapest possible method – burning. However, this would require strong political will as no one wants to see government costs rise.
Beyond this, the only option available to Jakarta is to undertake massive structural reform to ensure the power of the central government is increasingly felt in the provinces. This would mean bupatis, palm oil companies and local law enforcement weren't able to do anything illegal without significant risk. It's a daunting task, however – and not the favoured option of central government.
To prevent the recurrence of the haze crisis, Indonesia's government must either get local elites on board, or ensure they aren't able to resist anti-haze policies dictated from Jakarta. Unfortunately, both require central strength and willingness, which seems in short supply in recent years. Be prepared for similar hazy headlines next year – and the year after that.
Scott Edwards is a Doctoral Researcher in International Relations, University of Birmingham

This article was originally published on The Conversation.
Read the original
READ THIS NEXT: Moving forward on palm oil
READ THIS NEXT: What do lipstick, pizza dough, and laundry detergent have in common?
READ THIS NEXT: Palm oil, climate change, and the trek to make a difference
1 Million Women is more than our name, it's our goal! We're building a movement of strong, inspirational women acting on climate change by leading low-carbon lives. To make sure that our message has an impact, we need more women adding their voice. We need to be louder. Joining us online means your voice and actions can be counted. We need you.
---