We could learn a thing or two from our friends in the Deep South.
In 18th Century Louisiana, people lived off the land. Crops were fertile and there were a large number of rivers and bayous to harvest all kinds of game fish.
There was often enough food to feed the masses, but vegetables and animal protein would become scarce – really scarce. The families of Southern Louisiana couldn't afford to waste a scrap and had to work out the most sustainable way to eat.
The solution to their food shortages created some of the most delicious dishes in America!
Local townspeople would group together at the start of the week with any leftover scraps they had – onion peels, celery leaves, bits of sausage or meat, you name it. The ingredients were thrown into a pot and disguised by exotic flavours of Cajun, paprika and creole seasoning to create no-waste dishes like Gumbo and Jambalaya.

At 1 Million Women, we decided we would try out our own no-waste no-meat version of Jambalaya. It's similar to the Spanish dish Paella, and incorporates a variety of ingredients from rice to veggies to peppers.

So if you're in need of a recipe to feed many hungry mouths and want to use up leftover scraps, Jambalaya is the perfect thing.
Here's our recipe –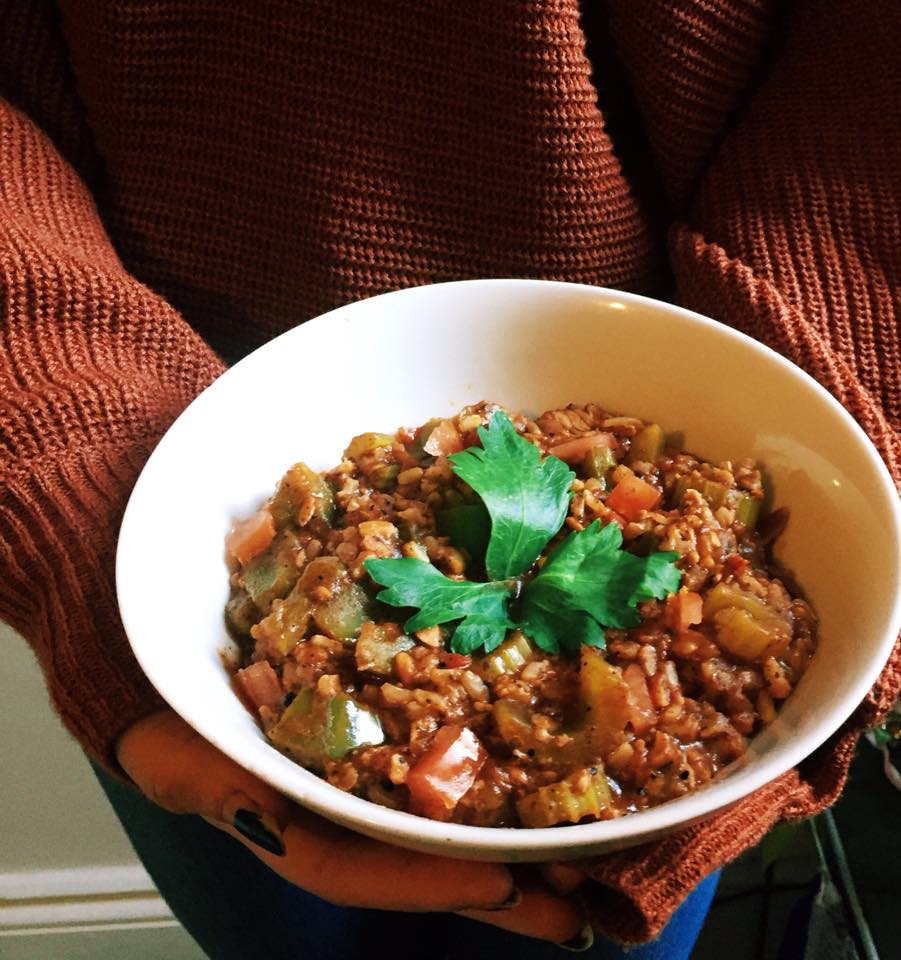 Prep time: 10 minutes
Cook time: 40 minutes
INGREDIENTS
Can be left over food scraps of any of the following:
250 grams of Tempeh
250 grams of Vegetarian Sausage (sun-dried tomato flavour works well)
1 tablespoon Vegetable oil
1 Onion (diced)
6 ribs of celery (chopped)
3 Bell Peppers (green)
1 cup Brown Rice (uncooked)
2 cups Veggie Broth
1 can Diced Tomatoes
1 tablespoon Smoked Paprika
4 teaspoons Cajun Seasoning
Sea Salt (to taste)
DIRECTIONS
In a large pot on medium heat, add the olive oil, tempeh, vegetarian sausages and Cajun seasoning.
Cook until the tempeh and sausages begin to brown, about 5 minutes.
Add the onions to the pot (you may need to add some more oil here), and continue cooking on medium heat for about 3 minutes.
Add the celery, bell peppers, smoked paprika brown rice, veggie broth and diced tomatoes. Stir well.
Bring to a boil, and then place a lid on the pot and bring the heat down to low.
Allow to simmer for about 30 minutes or until the rice is tender.
Once the rice is tender, taste for seasoning – add salt to your liking.
Serve and enjoy!
Who knew leftovers could taste so good?
READ THIS NEXT: Rebecca Sullivan's No Waste Seasonal Orange Cake
We're building a movement of women fighting climate change through the way we live.
Join us and be counted.

---