It's hard to reduce your waste when 80% of supermarket products are packaged. Buying from farmers markets and in bulk is an effective way to cut back on packaging, but what the world really needs is waste-free supermarkets!
A new supermarket in Germany is turning waste-free groceries into a reality. Aiming to open its doors this European summer, Original Unvertpackt (translating to Original Unpacked ) won't sell any pre-packaged products, but instead requires customers to BYO bags, containers or jars. The idea was developed by Sara Wolf and Milena Glimbovski, two German-based social impact innovators, who saw an immediate need for drastic changes to the consumer world. Around 15 million tonnes of packaging gets thrown away every year in Germany alone! It's this kind of scary statistic that inspired Wolf and Glimbovski to make a change.

Gaining financial support from both private investors and crowd-funding, Wolf and Glimbovski were able to reach their target goal of around $124,000 in just three weeks! The final $61,000 came solely from crowd-funding, which is a pretty good indicator that there's a desire for eco-friendly consumer options amongst the German people. Original Unvertpackt wants to prove that a waste-free future is possible, with the hope that the concept will catch on internationally.
How it works:
The supermarket includes rows of nicely presented bulk bins where you can fill your own bag, jar or container with ingredients. There are no endless shelves with flashy plastic packets, boxes or tetra packs. Fruit and vegetables are beautifully displayed with no cling wrap or useless packaging, and there are even beverage stations where customers can fill their refillable water bottles. Customers bring their own shopping bags, containers or jars (or whatever vessel they choose!) and can be assured that all produce is good quality, with an emphasis on locally sourced food.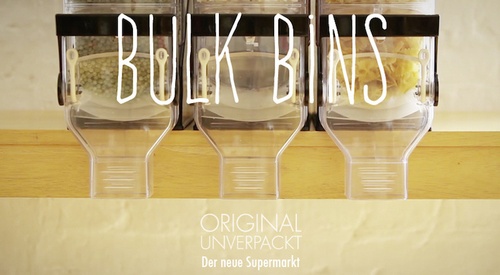 The goals:
- To remodel the consumer world and the shopping experience, so waste-free is the norm.
- No packaging waste after shopping.
- No "fad words" or fake consumer promises, just real food with real ingredients.
- Drastically reduced food waste - the aim is to buy just enough, rather than oversized packages of food that end up going out of date before getting consumed.
- The end of overflowing garbage bins.
- Drastically reduce carbon emissions. Our food and packaging waste are huge contributors to landfill and greenhouse gases.
Although the below video is in German it gives you a pretty good visual idea of how Original Unvertpackt works.
Original Unverpackt - Der neue Supermarkt from Original Unverpackt on Vimeo .
Info via Humans Are Free and Startnext .
We're building a movement of women fighting climate change through the way we live.
Join us and be counted.
---