While doing your grocery shopping in the last 12 months or so, you may have noticed some new kids on the block. They're a bit rough around the edges; they look funny and misshapen. While first appearances may be off-putting, they're just as good as the next guy!
I have to admit something here; I grew up in a small rural town in the North West of Australia. There was one big supermarket chain and weather conditions were similar to those of classic 80's film Total Recall – it was mid to high 40's for about half of the year.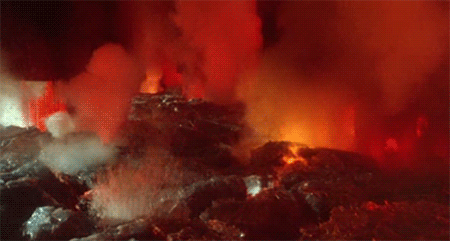 This meant growing your own food was a struggle, and therefore all our produce came from said supermarket. What I'm trying to get at it, is that until a few years after I left home, I thought that all fruits and vegetables grew naturally to the same shape, colour, and size that I would see week after week at the shopping centre.
Am I to blame though?
Australia, like most of the developed world, has strict standards when it comes to the cosmetic aspect of the fresh produce we consume. According to Food Alliance, 20-40% of fresh Australian produce is thrown out before it reaches the shopping centre. Why? Because it doesn't look right. There's nothing askew nutritionally, it's just that they're a bit ugly. Being that we're a society obsessed with perfecting not only ourselves but also our environment, it makes sense that this aesthetic fanaticism carries across to our plates.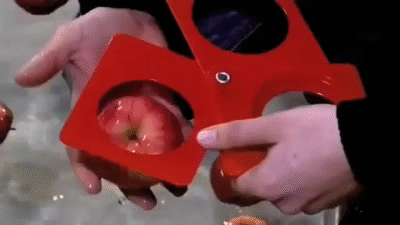 This is an example of a report on cosmetic standards from AusVeg, Australia's vegetable industry body. "Broccoli: Each dome-shaped head weighs about 500 grams and is free from disease and insects. Broccoli are deep green – not purple – and stem length is cut in proportion to width of the head…Cauliflower are packed 18-20 per carton, containing about 1 kilogram of white or pale creamy curd – no yellow or other colours are shipped. Heads are dome-shaped with no leaves".
But here's a fun fact, cauliflower, in its heirloom state looks like this: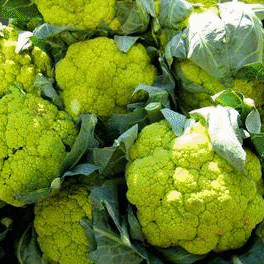 And this psychedelic looking thing is broccoli: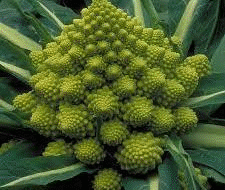 What about the 'normal' stuff though?
As in if I buy a Pink Lady I know what they look like so it should be the same every time. Fruits and vegetables have regulations about how round they are, how much curvature is allowed, how big their leaves can be, it's safe to say that their level of scrutiny is on par with a Victoria's Secret model.
Ronni Kahn, CEO of OzHarvest (a charity that we adore) told Radio National they once picked up 14 tones of carrots that were deemed cosmetically unacceptable and were headed for landfill, "they weren't quite orange enough and straight enough. We turned it into carrot soup!"
Apart from the fact that 60 million people worldwide, 2 million of them Australian, rely on food relief each year. And that 90% of the agencies trying to service this need report they are unable to reach demands (same source). The mass production of perfect fruits and vegetables and the subsequent dismissal of those that don't meet the cut have a huge environmental impact.
Food Alliance report that the irrigation used globally to grow the amount of food that is wasted would be enough for the domestic needs of nine billion people at (200 litres per day) – the same number of people expected on the planet by 2050. Along with this, 10% of the greenhouse gas emissions from 'rich' countries comes from growing food that is never eaten.

This is where the funny looking stuff comes in.
Last year, French supermarket chain Intermarche launched 'les fruit et légume moche' or 'inglorious fruits and vegetables'. A campaign, which saw the fruits and vegetables deemed to be too ugly for the average consumer given a second chance. They were sold at a 30% discount and the campaign was a roaring success.
At the time of the campaign, Australian retailers were asked by the Herald Sun if they would consider following suit. The response was that they were only offering what the customer wanted.
"We listen carefully to the feedback from our customers regarding the quality of fresh produce sold at Coles to make what we are offering is what Aussie customers want," said Coles spokeswoman Anna Kelly
'Historically Woolworths bought produce from our growers that met our very strict standard about how it was presented to our customers,' A Woolworths spokesman said.
But fast-forward a year and customers are now beginning to vote with their dollars. Harris Farm was Australia's first major supermarket to relax the aesthetic standards on their fresh produce with the introduction of the 'Imperfect Picks' range last September. Since that time they've rescued two million kilos of wonky vegetables "This is about 50 semi-trailer loads full of food that wouldn't have typically made it onto our shelves or into people's kitchens," says CEO Tristan Harris. Woolworths have also followed suit with their imperfect range 'The Odd Bunch'.
There are now social media accounts, and accompanying social movements to give the 'ugly' guy a chance. @UglyFruitandVeg is campaigning major American retailers to save more of the funny fruit from landfill.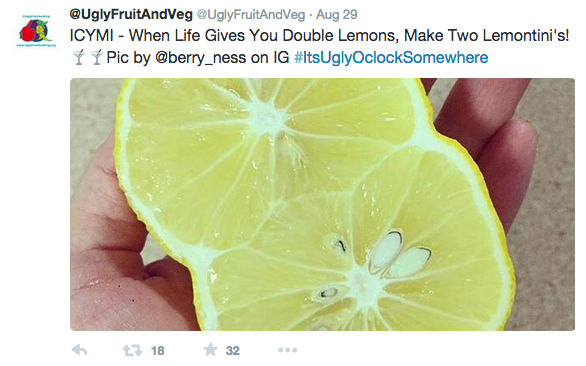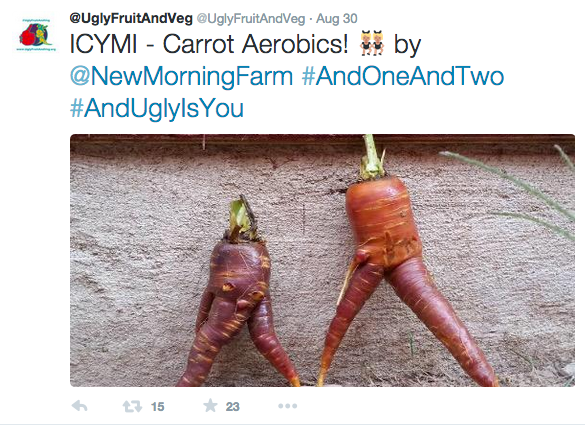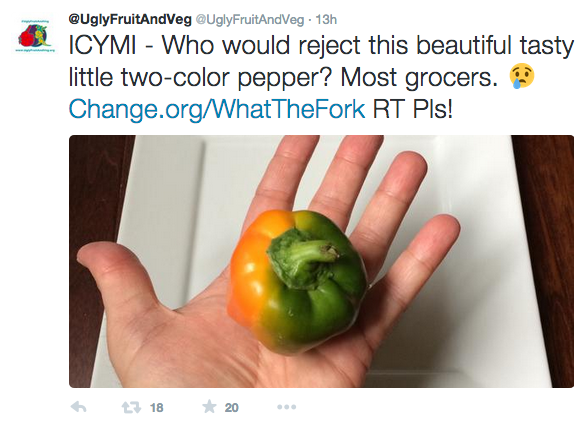 At 1 Million Women we're all about the small choices you can make that have a huge collective effect. We love the idea of growing your own or purchasing from local farmer's markets – but that's not an option for everyone. So next time you're grocery shopping why not pick up something wonky, misshapen, to big, too small, too round, but equally as delicious and nutritious as its flawless friend.
Buying in season and local whenever you can, will mean getting the best of what's available, and it will end up being cheaper, healthier and tastier. Simple as that.
Why not track your progress with buying local and in season on your low-carbon life dashboard? If you haven't created a low-carbon life account yet, click here.
1 Million Women is more than our name, it's our goal! We're building a movement of strong, inspirational women acting on climate change by leading low-carbon lives. To make sure that our message has an impact, we need more women adding their voice. We need to be louder. Joining us online means your voice and actions can be counted. We need you.
---