​Katie Roberts an Environmental Scientist by day, dog walker and blogger by night, kindly spoke with 1 Million Women about her blog Sustainability in Style and how she took the challenge to not buy any new clothing for one year and what it has taught her. Incredibly insightful, this interview will have you wanting to do the same thing!
Firstly, tell us a bit about yourself, where you are from and what you are passionate about!

I'm a rural Victorian girl who was raised by a couple of kombi van driving, hobby-farming parents who aimed to live as self-sufficient as possible. My sister and I grew up in a pumpkin patch surrounded by chickens and fresh country air. When I finished high school I made the move to Melbourne and studied clothing production at RMIT. I feel very fortunate to have had had such a wonderful and varied experience in the fashion industry since graduating, including a stint in a garment factory in India, but the lack of environmental and social ethics in the industry wore on me. After completing a bike ride through Vietnam and Cambodia to raise money for OXFAM in memory of a friends passing I made a brave life decision and moved to Queensland's Sunshine Coast to study Sustainable Tourism.
One year into studies and I surprised myself with a passion for science and ended up graduating in 2011 with a degree in Environmental Science majoring in Sustainability. At present I'm studying a Master of Environment majoring in Sustainability education and climate change adaptation and currently work as a plant science research technician. I'm really passionate about inspiring others to make more environmentally friendly lifestyle choices and how our individual actions, while they seem small and insignificant at the time, add up to big changes when viewed from a global scale.
"I like to think that each one of us seven billion plus individuals putting in our own mindful efforts can make big changes."
- -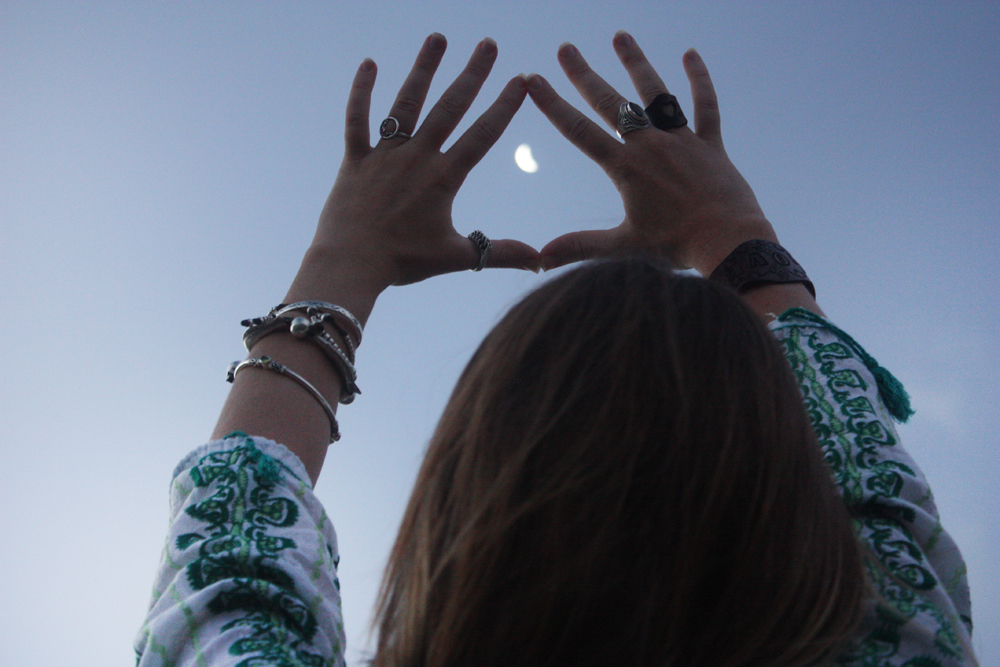 What first inspired you to start 'Sustainability In Style'?
Sustainability In Style began as a series of clothing swaps at my university while I was completing my undergrad. I had started them in hope of getting people to think about the way they consume fashion and to offer university students a fun and affordable way to update their wardrobes. It was also an opportunity to meet likeminded ladies who were passionate about sustainability and fashion.
The sustainability in style blog came about after a year spent working across four casual retail positions, when our plant science project funding ran out. In my year of fast fashion I managed to earn just under the poverty line and spent close to half my annual wages on clothing to stay dressed for work. Many fashion jobs require employees to wear current season, high fashion, full priced stock (not sale items) purchased at a staff discount rate. These items turn over so fast that a casual employee might only get to wear a dress for a three hour shift before it's sold out or on the sale rack and they are no longer allowed to wear it. This year of fast fashion left me with a bulging, style confused closet and a serious case of 'I have nothing to wear'. In an effort to find my style and reduce my clutter I took a year long hiatus from introducing new clothes to my closet and explored the impact of fashion on my life and the lives of others and shared my experience on the blog.
You have done a 'wardrobe workout' that required you to not buy any new clothes for a whole year - what were the challenges and the rewards?
While most of us might not have the overflowing wardrobe problems I did, I can thoroughly recommend taking a break from spending and working with what you have. For me the experience really helped refine what it is that I truly appreciate in my own personal style and gain a greater understanding of the magic of the way we communicate through dress. Too often fashion and adornment is dismissed as 'frivolous' but we are highly communicative beings. Our personal style communicates a sense of our values to others without need for words and helps to attract likeminded people. All one has to do is look at the current political debate surrounding religious garments to realise the power that self-adornment can have and that garments can be more than just 'frivolous fashion'.
"Taking time to know yourself, what you value, and what you want to communicate via your dress is the first step to being a more environmentally conscious consumer because knowing what you like means that you purchase right the first time."
- -
The biggest challenge I faced in the wardrobe workout was boredom. It really can be boring to work with what you have especially when trying to find new content to blog about. Setting yourself styling challenges can help shake up your look and cure a style rut. When I got bored with my closet contents I would set myself a styling challenge such as; a week of styling the one pair of jeans, seven days in a little black dress, styling my closet contents to look like a specific brands look-book pictures, and my favorite and most challenging experience was a 30 day 'WhoWhatWear.com' style prompt challenge. I think the most rewarding part of my year was sneaking off to elope in Vanuatu in a dress I had made from things I had around my house, my Nan's tablecloth and doily, and some calico I had purchased a while back with intentions of making a couch cover. Had I of not been completing the year long shopping hiatus I'm sure I wouldn't of made the effort to sew my own dress.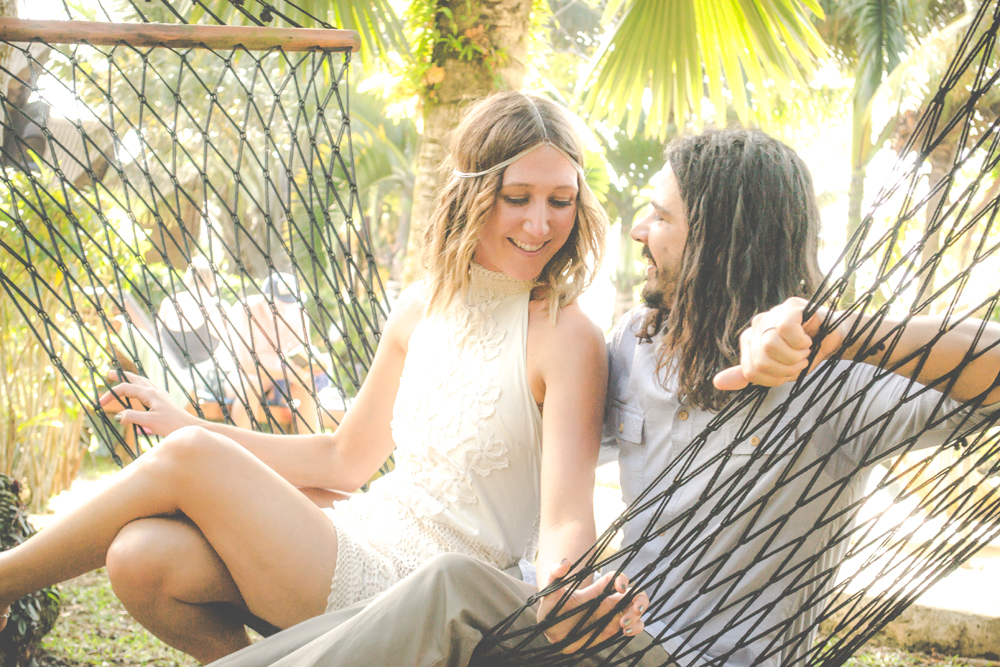 Image by Photographics Vanuatu
Thrifting is a passion of yours, do you have any tips on how to thrift to get the best quality items, including any easy DIY's to make items more modern or a better fit?
Thrifting is more of a sport than a casual shopping experience. You have to get to know your local stores well and ask what days they get deliveries of new items. Visiting regularly will help you work out what stores work best for specific items. My local area has a store that is good for vintage, while another receives dead stock from fashion chain stores, and one is good for accessories. You will get to know what works for you in your local area. Pre shopping ban I thrifted without a list, but this can lead to wardrobe clutter and unnecessary impulse purchases. Even though op-shopping supports charity and is a form of recycling, unnecessary purchases are just money you could spend elsewhere and thrifting with reckless abandon usually results in a trip back to the thrift store to get rid of purchasing mistakes.
My tip for environmentally minded thrifting is to always make sure you go in with an item in mind, for example 'a new work skirt', but be open minded. Sometimes you will find the exact item you had imagined, other times you will find something similar or something that needs alteration. You can easily change an item to suit your purpose by adding a belt to change the shape, tying a knot in a tee or a dress to make it shorter or more fitted, and cutting hems off and shortening items (either by sewing them or leaving a raw edge depending on your desired look). I've found while shopping for my closet or thrifting that items can be unappealing because of their colour. If they are a natural fiber like cotton or wool they can easily be dyed to suit your purpose. Pretty much everything in my closet has changed colour once or twice. India Flint has a great book called on Eco Colour that I would recommend for anyone who wanted to attempt natural botanical dying at home.
After working in the fashion industry, do you have hope the industry can change to value people and the planet?
Yes! Environmental and ethical changes can be implemented immediately because we invented this global economy and we can change it. One of the hurdles to initiating a whole industry reformation is overcoming the fear of change. The big fashion industry players are fearful that they won't be able to make profits if we were to account for the full environmental and social costs of items but there is still a perfectly viable industry in selling socially and environmentally responsible items. There are so many brands that are already achieving success without exploiting their workers or the environment but unfortunately the companies with the big marketing budgets are so loud that you can't always hear the small ones through all their super-sized marketing!
It's likely the hardest part of changing the fashion industry will be changing consumer habits. We have become accustomed to buying bulk amounts of cheap fashion items. We can now get a 100% cotton sweater from the supermarket for less than the price of a bottle of salad dressing. For the garment industry to become more environmentally sustainable we will need to reduce the amount of items we consume because every item, even if it's made in an environmental way, uses resources. To become socially sustainable items will cost a little more because those who made them need to be paid a comfortable living wage. Industry change will require a top down policy approach from governing bodies and large corporate players, accompanied by a bottom up push from consumers demanding more socially ethical and environmentally sustainable fashion options. Of course it won't be a process without hurdles as many counties have built their economy on the manufacturing of cheap garments for export, but without change people and our planet will continue to suffer.
"Are you as a consumer grateful for low prices, or are grateful for an item that was made without costing the earth or people's lives?"
- -
Each dollar we spend is a vote for the world we want to live in. For those interested in learning more about the social and environmental issues associated with the fashion industry I highly recommend checking out The True Cost movie.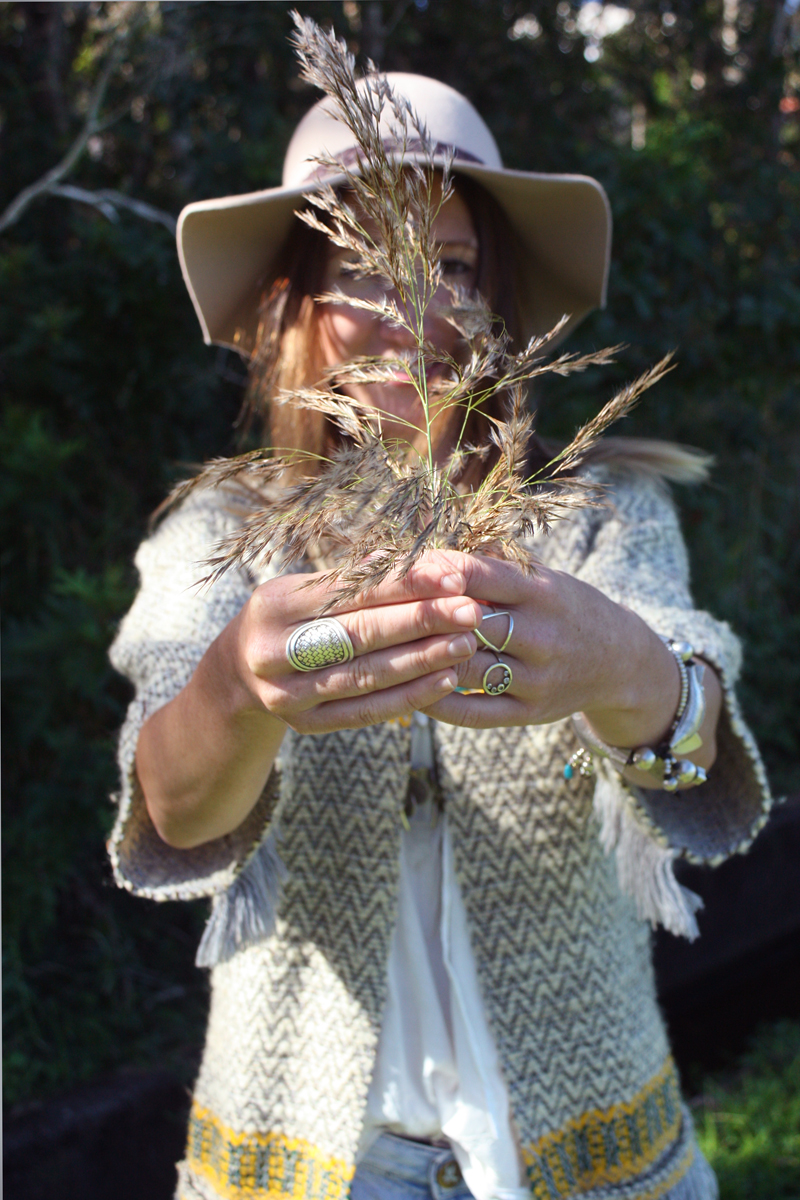 When you do buy 'new,' do you have a checklist, or certain qualities you look for in a brand? What are they?
When shopping new I have a specific idea about the design, quality, functionality and desired purpose of an item. I then look for an item to fit my specifics from socially and environmentally responsible labels. If I can get something made from organic or recycled fabric, that was made fair trade or ethically, that donates to and/or supports charity, has environmentally friendly packaging or shipping ethics or is based local, and from a company that has cradle to grave manufacturing process, then it is the holy grail of purchases. If I can tick off just one or two of these and get the exact product I was after then I'm usually pretty happy. Unfortunately there are still some items that don't tick many boxes. Technical running shoes (not casual sneakers), are an example of a difficult one. When I require a tricky item, like running shoes, that I can't buy as ethically as I like, I always shop for quality and function.
That way you can minimise the amount of times you have to go out and purchase items like this that doesn't necessarily fit your ethical and sustainable purchasing values. If you aren't in a position to buy the ethical or sustainable option, always go for quality and buy right the first time! Then you will love the item for years and wear it to death. Also like I mentioned earlier… getting to know your personal style is essential in making life long love shopping decisions.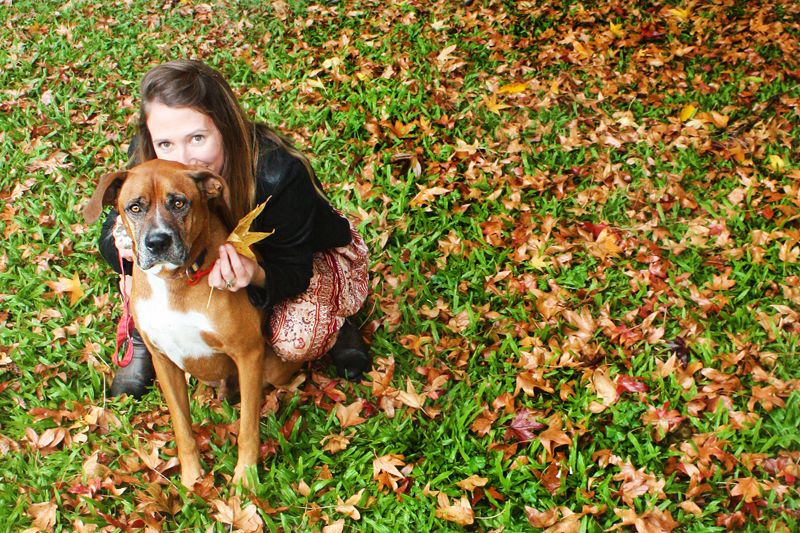 What are a few of the sustainable and ethical labels you support?
This is a seriously tricky one because there are so many great labels out there doing good things. The list could go on forever. My favorite resource when shopping on the go is the shopethical app as it helps you locate ethical brands in a hurry and extends beyond fashion items. The Behind the Barcode Ethical Fashion Guide is another good resource for fashion purchases. The first thing I purchased when I finished my yearlong challenge was yoga leggings from ethical Sunshine Coast based label Hatha clothing. There are more environmentally sustainable brands out there but I'm really fussy about legging fit and opacity so the desire to try them on, buy functional, and get it right the first time outweighed the amount of shipping and hassle I would of had trying to get find the functionally correct recycled pair from overseas. I'm thrilled with the end result and know they will get many years of wear. Not to mention the fact that I've made good friends with the designer too!
"Establishing friendships is yet another benefit of shopping locally."
- -
Another post wardrobe workout purchase has been from Australian sustainable and ethical label Vege Threads, who do some fab on-trend organic basics as all mine had fallen apart by the end of the challenge. I've also fallen in love with the jeans from UK based company Monkee Genes who do the best fitting ethical and sustainable denim so good that they have replaced my fave 'not-so-sustainable' Aussie designer denim company. I wish I could list all the great people and companies I have met along my sustainable fashion journey but I don't want to commandeer page after page of the 1 Million Women website with my mega list!
Some final inspiration for our readers...
There is a song by the fabulous Michael Franti that has a line based on a quote by writer and activist Eldridge Cleaver, which stuck with me as my motto for my environmental science undergrad.
"Are you part of the solution or are you part of the pollution?"
- -
For me this decision is what it really comes down to. While environmental problems seem huge and daunting and it can be tempting to think that your actions won't have any impact it's your choice to decide what you want to do. You can walk past the piece of litter blowing in the street and think 'what's the point there's litter everywhere' or you can pick it up and put it in the bin. The decision is yours. The same goes when you are at the register with a $1 pair of socks in hand. You can buy these socks and know that someone out there in the production process didn't get paid and that poisonous chemicals were likely sprayed on the cotton crops.
Alternatively you can put them back do some research and buy a pair of socks from a company that paid its workers enough to eat, avoided the use of pesticides in the production process, and promotes mindful consumption. A better future for the seven billion strong population can be achieved one thoughtful purchase at a time. One environmentally or socially thoughtful action from each of us each day is seven billion acts of mindfulness worldwide every day. With figures like that it really is impossible to argue that individual actions don't matter.
Read more about Katie's journey and find fantastic sustainable fashion tips at her blog Sustainability In Style.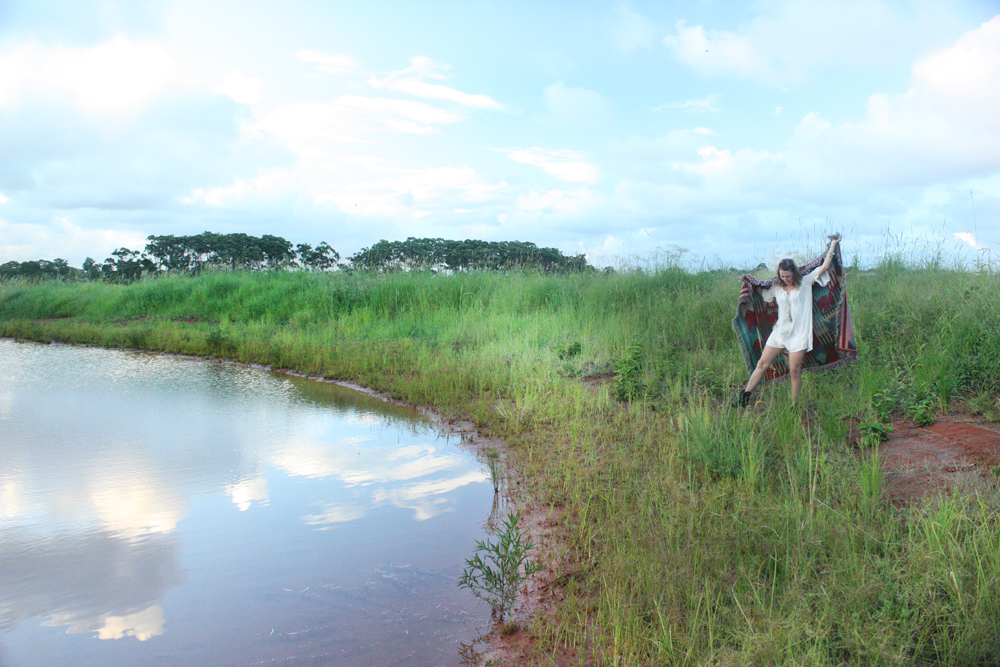 Images by Ged (Katie's Husband)
1 Million Women is more than our name, it's our goal! We're building a movement of strong, inspirational women acting on climate change by leading low-carbon lives. To make sure that our message has an impact, we need more women adding their voice. We need to be louder. Joining us online means your voice and actions can be counted. We need you.
---