Furoshiki embraces the philosophy of eco-friendly living by challenging us on how many items we really need. This beautiful and ingenious art allows one object to have many uses simply by folding and tying the cloth in a different way.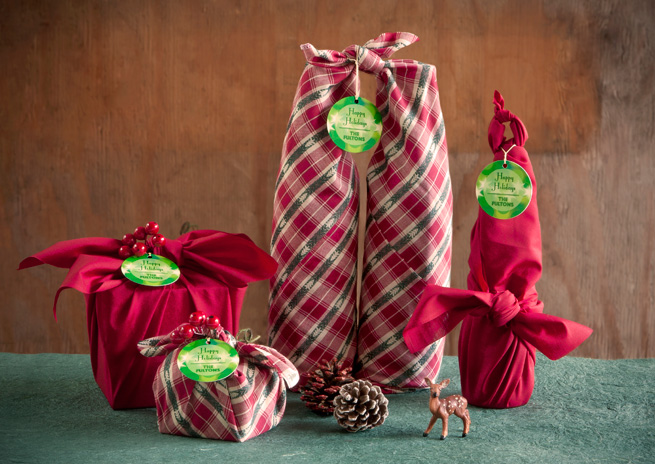 Image: Evermine
When it comes to gift-wrapping furoshiki is the perfect way to convey thoughtfulness and courtesy through the care taken in the choice of wrapping and in the way the fabric is folded and tied.
Growing up my family often used fabric from my mum's sewing stash to wrap presents but it's only now that I am introducing them to this art-form and trying to incorporate it into our family tradition.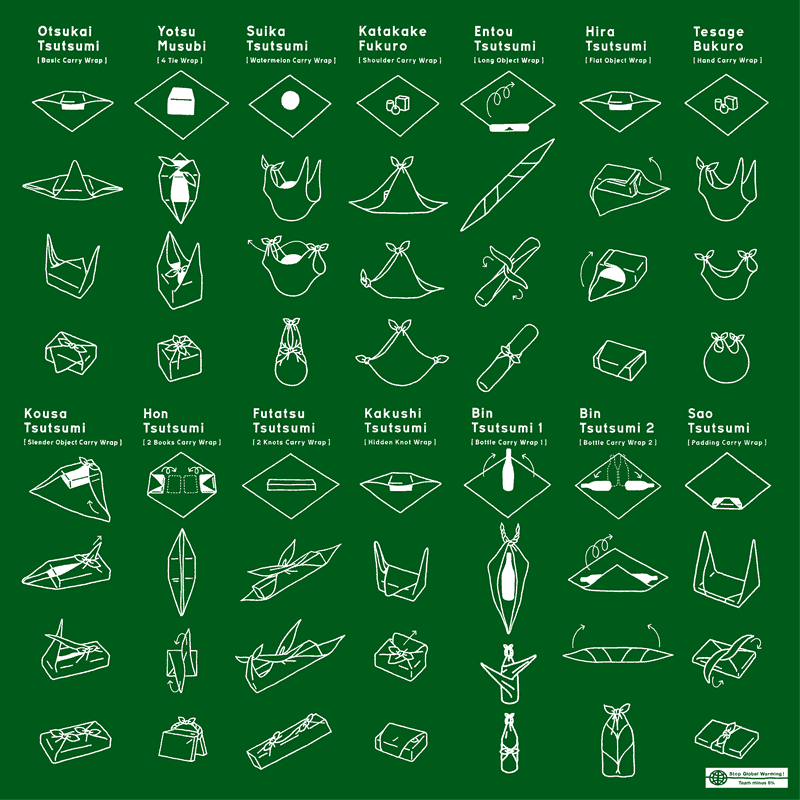 Image: Japanese Department of Environment
When plastic bags began being used in Japan, furoshiki use declined substantially. A resurgence in the artform has occurred as environmental awareness is increasing and many modern furoshiki are designed with contemporary fabrics seeking to appeal to younger generations.
Whereas regular bags have a fixed amount of space that can only carry a particular type of object, a furoshiki is highly versatile and can be adapted to suit the exacts needs of the specific objects to be carried.
Traditionally both the colour and the printed design on the furoshiki is meaningful, so it's important to choose the correct cloth for the occasion. The giver presents the receiver with the gift, unveils it then keeps the cloth for the next use.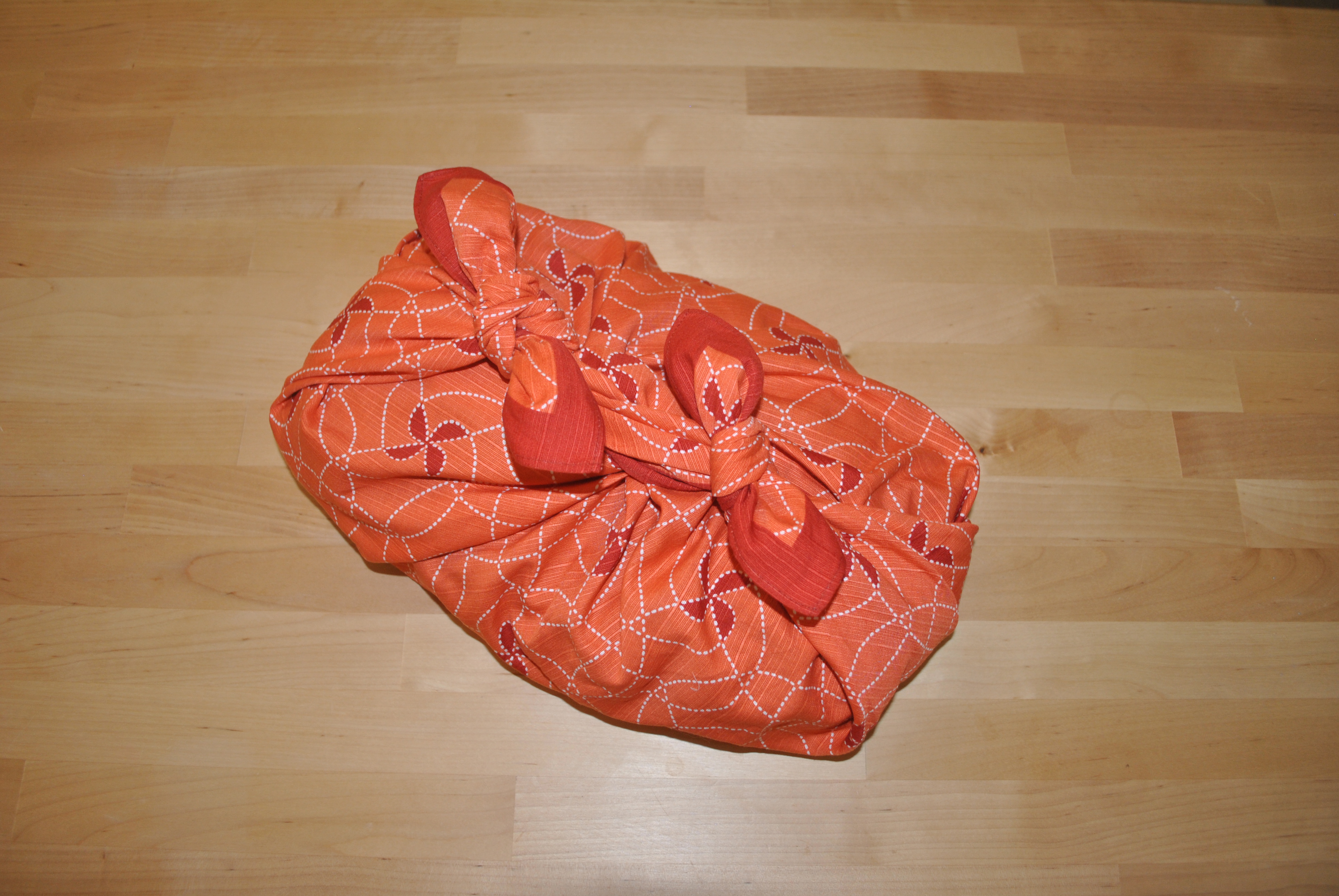 Traditional Furoshiki
While Japanese culture is not alone in using fabric wrapping, furoshiki has a distinctive style reflecting their interest in ceremony, beauty, multi-functional objects and thoughtful detail in their approach to everyday living.
Cloth wrapping has been used for over 1200 years in Japan and the word furoshiki came about during the Edo period (1603-1868) when the cloths were commonly used in bath houses to wrap clothes and as a bath mat. The word furoshiki means 'bath spread'.
Over time, they developed a multitude of uses and patterns that are both elegant and functional. One furoshiki cloth can be used for:
wrapping a gift
a bag for shopping
decorating a handbag
a picnic hamper
a tablecloth
household decor
a scarf, belt or bandana
wrapping clothes when travelling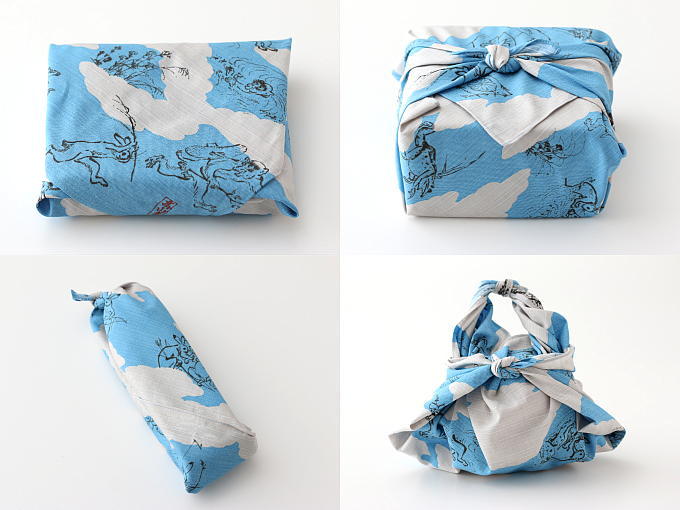 Image: Hibiki-an
Eco-fabric wrapping
Western culture is beginning to pick up on furoshiki and it's easy to wrap your own gifts. It's even quicker than paper wrapping!
Including some instructions on how to tie a furoshiki as part of your gift is a nice touch, and it's also great to give the person a demonstration to show them just how easy it is. This ensures your furoshiki is high chance of being passed on and spreading and eco-friendly fabric wrapping message on its' journey.
Here are some affordable and eco-friendly ideas for acquiring or making your furoshiki cloths:
1. find scarfs in op-shops
2. find fabric at an op-shop
3. decorate calico fabric using dyes, fabric paint or fabric pens
4. cut up old sheets and decorate them
5. use fabric samples from a recycling centre
6. ask friends who sew for any unwanted over-cuts
7. use a bandana, handkerchief or teatowel (although it's not square you can still use it to flat wrap a present).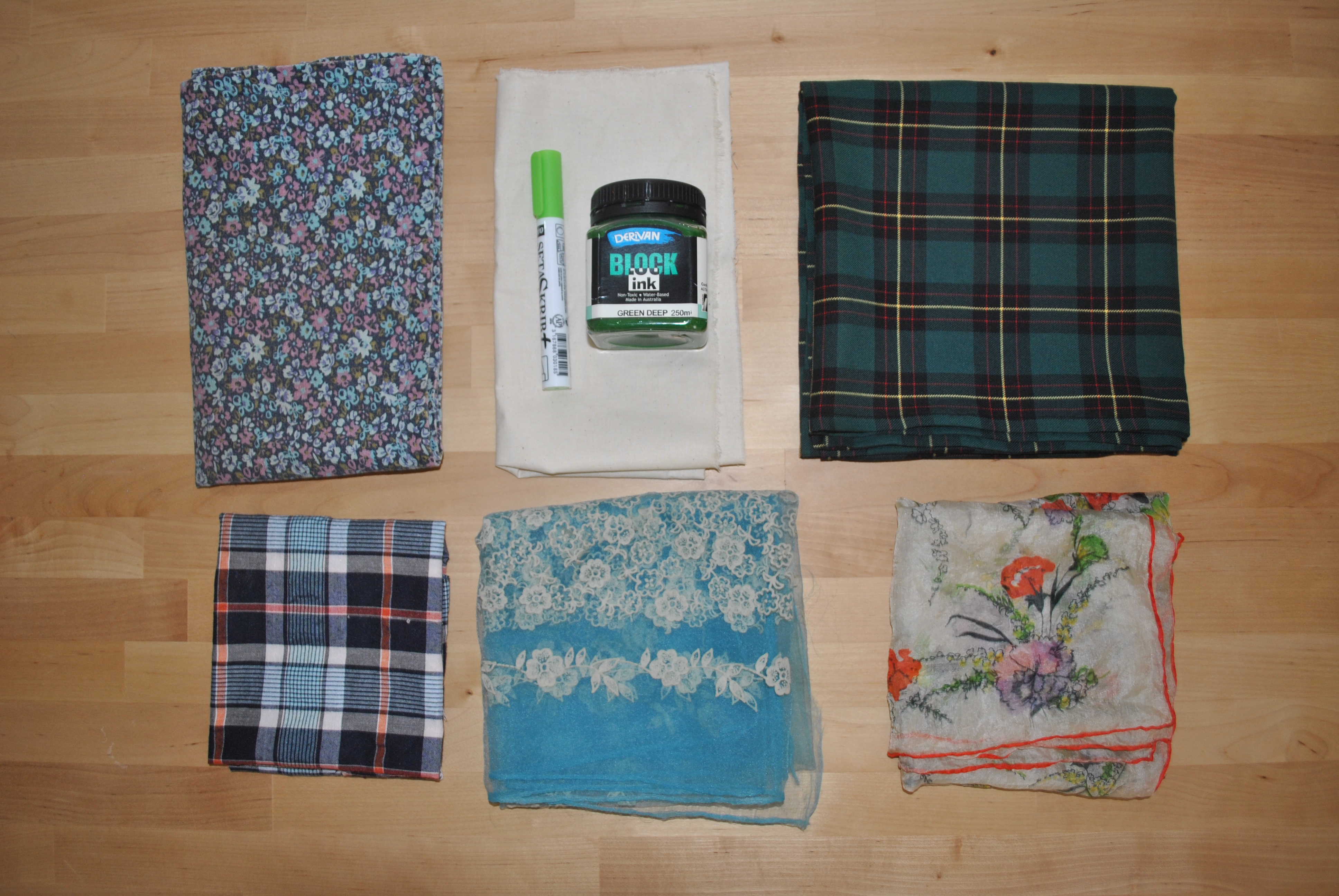 Sizes
For wrapping, the object should be approximately one-third of the furoshiki's diagonal line and there are some traditional sizes that tend to work well for a range of objects.
50 cm - small book
70 cm - T-shirt
90 cm - a bottle of wine
A traditional furoshiki cloth is not square, the 'take' length (height) is slightly longer than the 'haba' (width) and you will notice this when you look up some furoshiki instructions. This dates back to the cloths originally being made from kimino material lengths but for the purpose of making your own, a square furoshiki will work just fine.
Fabric
A fabric that is not too thick yet is strong is best but use whatever you have available and experiment with different techniques. If you have a thicker fabric you would like to use but is difficult to tie, then use a simple folding technique and tie up the gift up with a ribbon.
You can double-up the fabric to make the cloth reversible, and this looks great with a contrasting colour when it is wrapped but be mindful that the fabric can easily becomes too thick to tie, so it's best to only do this with very fine fabrics.
You can also make use of fabric off-cuts from your sewing by creating a patch-work. Look up some images of the Korean 'bojagi' wrapping cloths for some inspiration.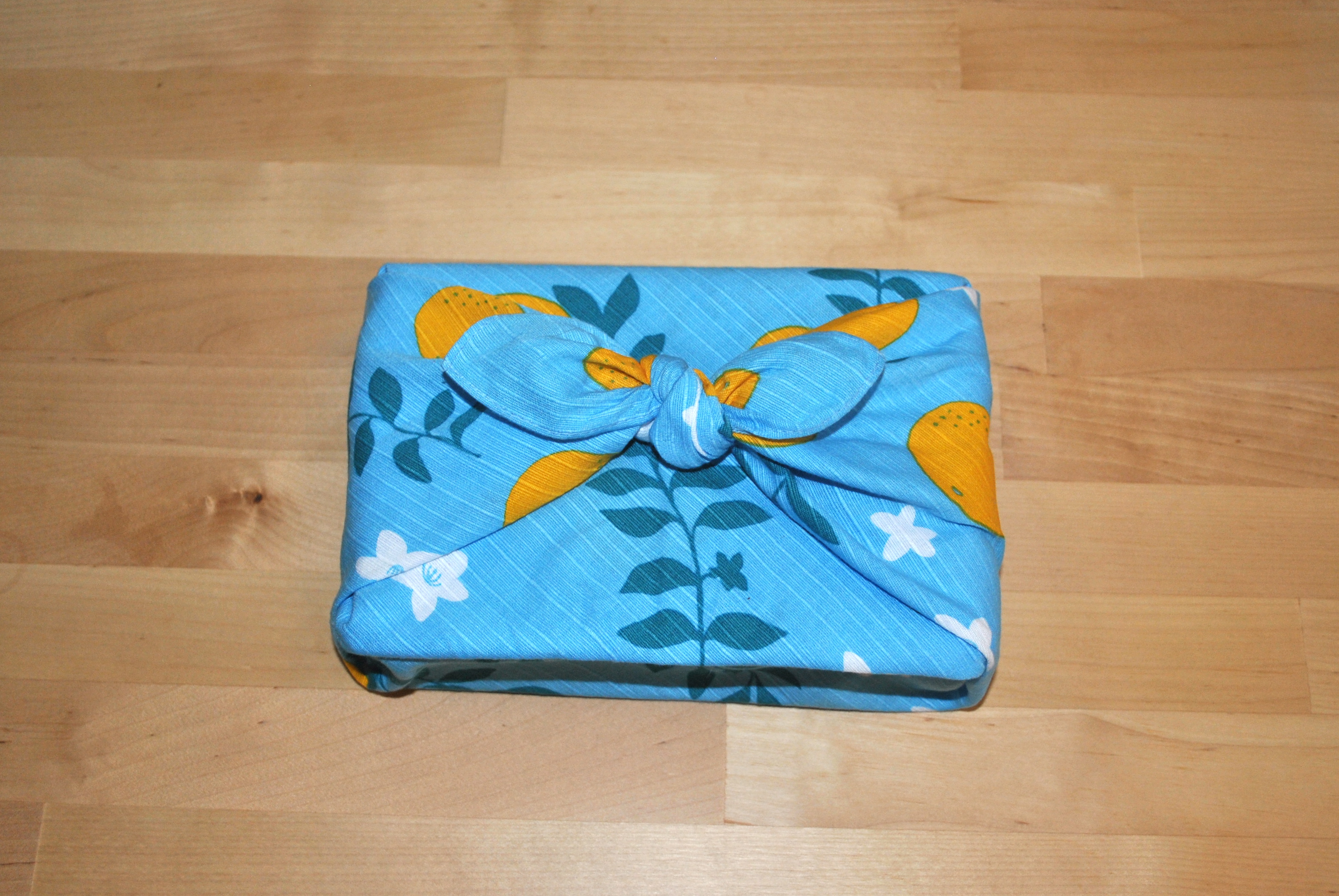 Edging
Hem the edges any way you choose by hand-stitching or using a sewing machine. If you aren't an experienced sewer you can even make a feature of edging it in rough manner for an organic look. Pay attention to creating attractive looking corners because these will be a key feature of your furoshiki creations. I used my mum's over-locker to edge some of my cloths, and this was a quick and easy solution.
Decorating
If you are using recycled bedsheets or calico you can decorate these using dyes, fabric paint and fabric pens. Have a look at some traditional furoshiki to get some ideas. These designs look beautiful both laid out and wrapped and often feature a border, repeating patterns or asymmetry.


Try wrapping a present or two using furoshiki this year and begin looking out for ways of starting your own furoshiki collection.
Banner image: Shutterstock
Read this next: Help! I don't want more 'stuff' for Christmas
Check out our guide to avoiding overconsumption in our everyday lives to get started on a more mindful way of living and consuming.
1Million Women is more than our name, it's our goal! We're building a movement of strong, inspirational women acting on climate change by leading low-carbon lives. To make sure that our message has an impact, we need more women adding their voice. We need to be louder. Joining us online means your voice and actions can be counted. We need you.
---