This recipe was passed on to me by my friend Bonnie who is a goddess of all things yoga and delicious. It's a lovely alternative if you're looking to kick the coffee or you're feeling a bit chai'd out!
Ingredients

1 Heaped teaspoon of combined chai spices Tsp chai spices (ginger, cardamom, cinnamon, nutmeg, star anise, cloves)
Lots of fresh grated ginger and turmeric
Coconut milk (go for something that's 100% coconut with no additives)
1 Teaspoon of cacao
Your choice of sweetener: honey, maple, coconut nectar
Method

Add the chai spices, ginger, and turmeric to one part water and two parts coconut milk in a small pot. Bring to a slow boil stirring to avoid scorching on the bottom of the pot.
Once infused strain into another pot or your mug, add cacao and sweetener then blend with a stick blender to make it creamy and frothy (you can skip this step if you don't have the necessary equipment).
Sometimes a pinch of cayenne is a nice addition if you're feeling like a bit of heat!
Now grab a book, get back to bed and enjoy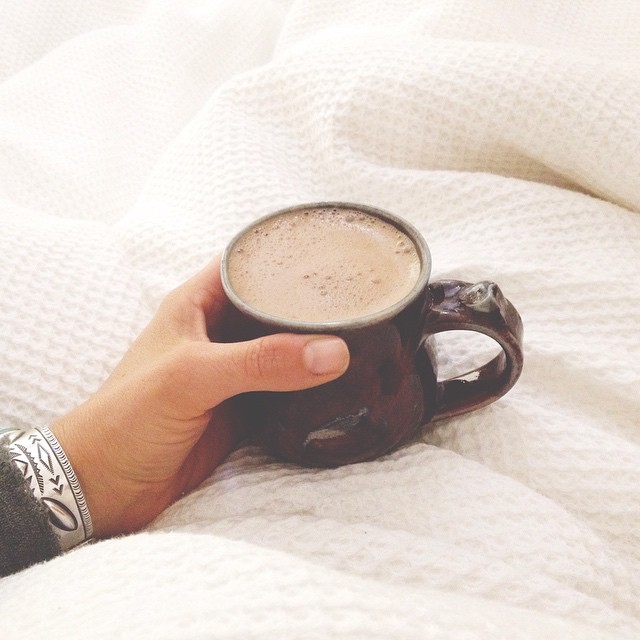 READ THIS NEXT: Grow your own herbal tea at home
1 Million Women is more than our name, it's our goal! We're building a movement of strong, inspirational women acting on climate change by leading low-carbon lives. To make sure that our message has an impact, we need more women adding their voice. We need be louder. Joining us online means your voice and actions can be counted. We need you.
---