This dessert is the perfect balance of sweet, tart and creamy!
If you are a vegan, and miss the gelatin desserts of your childhood, then fret not! Agar agar is vegan gelatin, and there are so many things you can make with it!

And the best part about this - unlike gelatin, agar sets at room-temperature and holds its shape pretty well in scorching heat! So this is a perfect dessert to take on a summer picnic or potluck lunches in the park. And it takes less than half hour and 5 ingredients to make!
But, do let it chill in the fridge for a while, it's best eaten cold.
Agar is the most important ingredient in this recipe - so make sure you pick up a pack at your local Asian/Indian grocery. It's the cheapest in these places. You can also find it in health food stores. Agar comes in two forms - strands and powder. Powder is the easiest to work with, although you can substitute one for the other.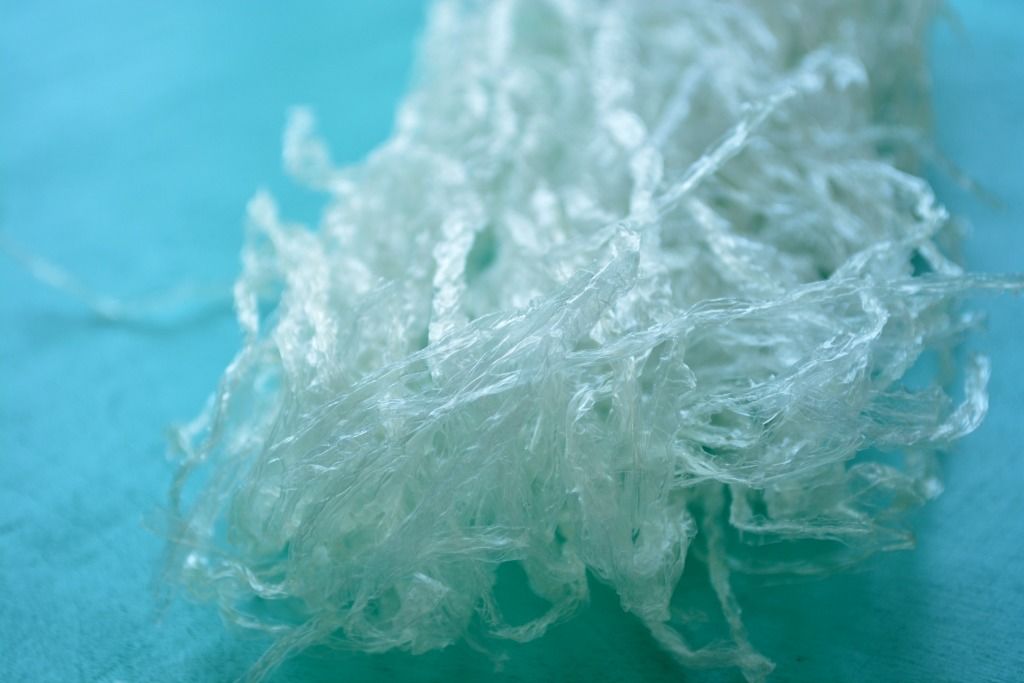 Ingredients
Mango layer
250 g mango, roughly cubed (from about 1 ½ – 2 mangoes)
1 3/4 c water
2 tsp. agar agar powder
1/3 c sugar
Lime juice, to taste (optional)
15 small mint leaves (optional)
1 small mango, cubed (optional)
Coconut layer
2/3 c water
1 tsp. agar agar powder
4 tbsp. sugar
2/3 c coconut milk
1 pinch salt (optional)
Method
Prepare mango layer
1. Pureé the mango pieces to a smooth pulp, reserving some pieces. Set aside.
2. In a small heavy bottomed pan over medium heat, combine the water, agar-agar and sugar. Use a whisk to stir continuously till the sugar and agar dissolves completely.
3. Add the mango pureé and continue to stir and cook for a minute. If adding lime juice, add it now. If the mangoes are tart already, avoid lemon juice.
4. Pour into a glass/metal container (if using moulds, fill 3/4th). I used a glass container (roughly 8"x6"). Spread the mango cubes and mint leaves over the liquid.Let it sit at room temperature to set completely. You may refrigerate to speed up the process, but it is not necessary.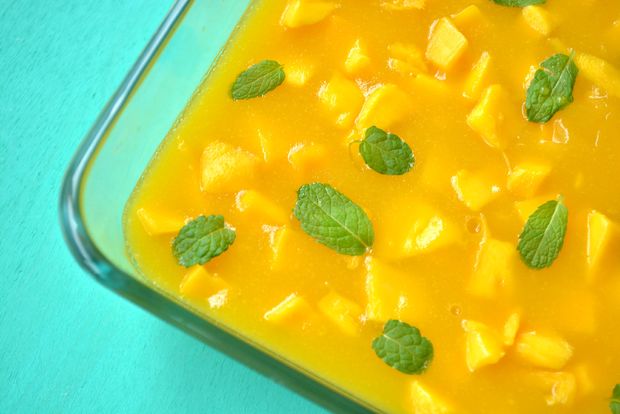 Prepare coconut layer
Start this process only after the mango layer is set completely. The surface should feel smooth and hard to the touch.If re-using the same pan, remember to wash and dry it.
1. Combine the water, sugar, salt and agar agar in the pan over medium heat.
2. Once the crystals are dissolved completely, add the coconut milk.
4. Continue to stir and cook until the coconut milk is fragrant.
5. While the coconut milk is still hot, pour over the mango layer. Make sure the coconut milk is hot, else the two layers wont 'stick' and will come apart while serving.
Cool for a few hours in the refrigerator. Slice and serve cold.
[Recipe originally on Instructables]
Read this next: Vegan Spicy Ramen Noodles
We're in a climate emergency and it's going to take all of us to get out of it. That's why 1 Million Women is building a global community of women committed to fighting climate change with our daily actions. To join the (free) movement just click the button below!

---