A refreshing Thai inspired kale and tofu salad coated in a creamy peanut butter dressing...
If you're craving Thai flavours, but don't have time to make anything too complicated then this recipe is for you. It's super quick to whip up for a light meal, or as a side to accompany something more substantial.
PLUS it packs incredibly well for lunch! You can make it in the morning or the night before, and then eat it later at work, or school.
Tofu is a great source of protein and can take on a lot of different flavours and textures. In fact I saw a nice post on Jamie Oliver's blog this week titled 'Why you should be eating tofu' more often. I've kept it pretty simple in this recipe, and just added some sesame seeds to the raw tofu, as the peanut dressing really ups the flavour.
Hope you enjoy! and feel free to leave any other Meat Free Week recipe ideas in the comments below too.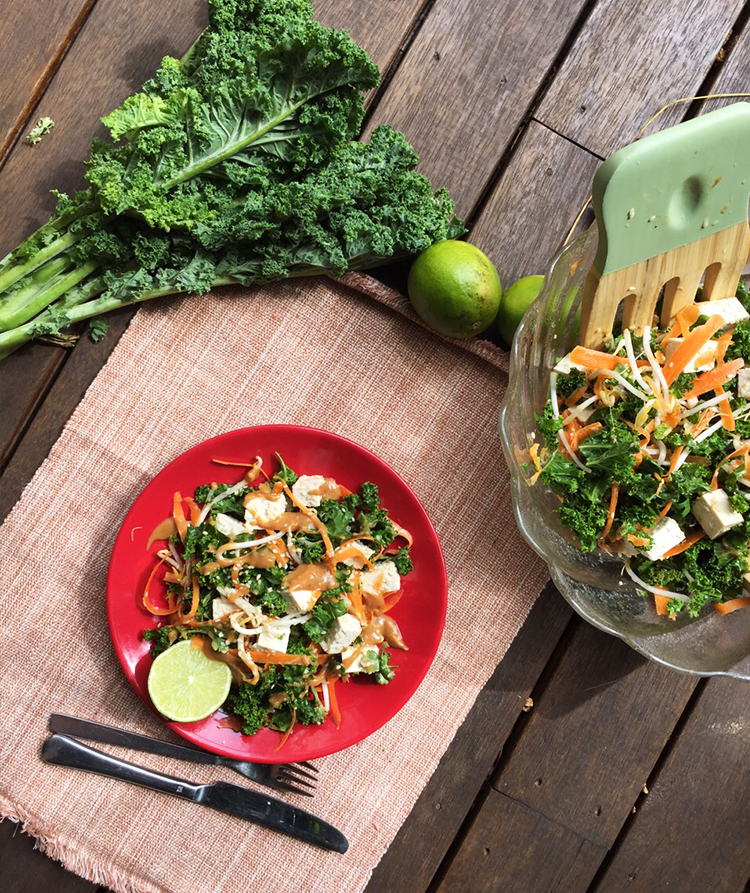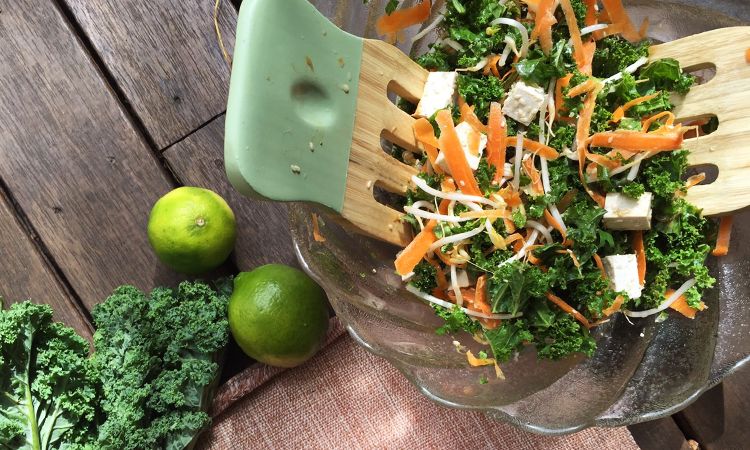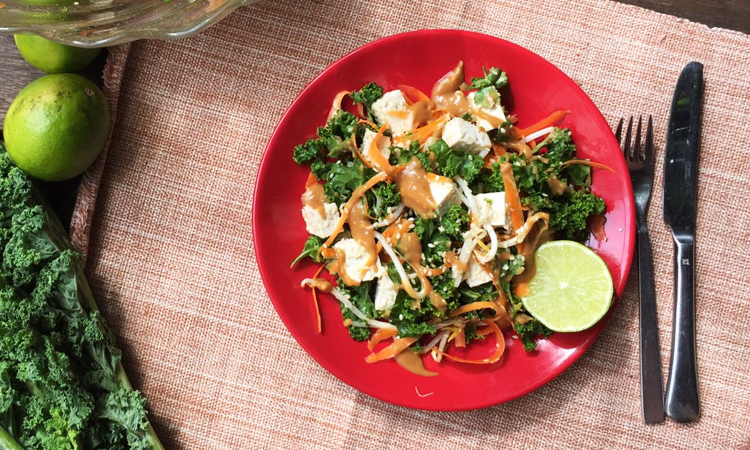 Ingredients
For the salad
4-5 cups tuscan (lactino) Kale, Chopped roughly
2 medium carrots, julienned
200g firm tofu (organic and non GMO), cubed
Large handful of fresh coriander
Large handful of bean sprouts
2 Tbsp sesame seeds
Juice of half a lime
For the peanut dressing
3 tbsp salted natural peanut butter (creamy or chunky)
1 tbsp soy sauce
1/2 tbsp sesame oil
2 tbsp brown sugar (or agave, maple syrup or honey if not a vegan)
Juice of 1 lime
Hot water (added as needed)
Directions
Put the kale in a large bowl with the juice of half a lime and massage the kale gently with your hands to soften the leaves.
Drain tofu and cube. Toss in a small bowl with the sesame seeds until the tofu is coated lightly in seeds.
Add all other salad ingredients into the bowl with the kale and toss to incorporate.
Whisk all the dressing ingredients together. Add hot water, a little at a time, until the dressing is pourable. Taste and adjust seasonings if necessary.
Add salad to a serving plate or bowl, and top with sesame-tofu. Drizzle with peanut sauce and serve immediately.
Serves 2-4
---