Youth expression on climate change
In November 2014, the IUCN (International Union for Conservation of Nature) held the World Parks Congress in Sydney, a prestigious global gathering that only comes around once every 10 years.
1 Million Women held a very special event at the Congress to explore 'Youth expression of climate change'.
We took 6 amazing students to the event as part of our 1 Million Women delegation. They met some the top IUCN influencers and were celebrated as our 'voices of tomorrow' when they performed their expressions of climate change.
We wanted to share these sensational expressions with the 1 Million Women community.
See all the amazing entries below:
1. Ode to Our World by Meg Cummings
"My name is Meg Cummins, I live in Wollongong, Australia. I have just started year 12 at St Marys Star of the Sea College. My entry is a poem that I wrote called 'Ode to our World' – I talked of the problem of climate change and how it is our job as the next generation to do our part and protect our world for our own daughters and sons."

2. Short film: 'Inevitable Change. Optional Progress' by Winnie Yuan and Celeste Zhong
A duo piece created by two 13 year old girls – Year 8 students of Abbotsleigh School for Girls, Winnie Yuan and Celeste Zhong. They explain:
"Climate change is occurring; the inevitable result of decades and even centuries of rapidly increasing industrialisation and urbanisation, in an attempt to support a growing population, maintain political power, and to thrive in the constant competition for more advanced and developed sciences and technology. Yet in the progress we've made towards improved medical knowledge, towards gender equality and women's rights, towards education, through the efforts of individuals and the choices of generations, environmental changes have been neglected."
"Where's the progress in the climate change?"
"Is it because we're unaware that a choice exists?"
"Do we choose not to act because we struggle with the enormity of the situation?"
"Or is it perhaps, that we're unable to see the direct impacts of climate change?"
"Climate change is effecting the environment and the resources which support the world we share. And yet, even in the media, we do not often see the link between the failing crop or ruined harvest and climate change. If we want humanity to make the choice of progress, we must first revolutionise the thinking of a generation. Our generation."
Music: Kiss the Rain by Yiruma.
3. 'Mr Abbott' poem by Vanamali Hermans
"My name is Vanamali Hermans and I'm a Year 11 Student at Murwillumbah High School. My entry is just a short little poem I wrote addressed to PM Tony Abbott and his ghastly climate change policies."
4. Short film: 'One Summer' by Samantha Hawker
5. 'Dear diary' reading by Michelle Vo
"My entry is in the form of three short diary entries. 'Katie' writes to the goddess Gaia about her feelings on the issue of climate change in today's society. Enjoy my reading!"
6. 'Climate Change' created by Susan Sun and Nicole Cheong
"This artwork on 'Climate Change' was created digitally using the software Paint Tool Sai and Adobe Photoshop. It is a collaboration between Nicole and I (Susan). The artwork depicts the pure and beautiful Earth being in a sense "zipped up" by various causes of climate change. (industrialisation, deforestation…etc) Around the beautiful part of the earth, there are words of hope, but around the "dying" part, the words tell of a world without hope. We really enjoyed creating this artwork together!"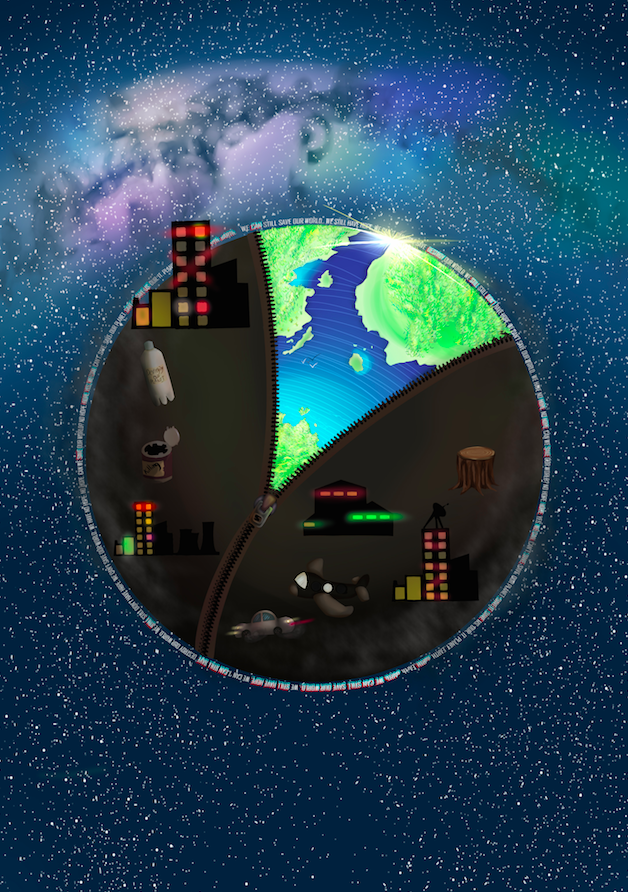 ---