I love to eat pasta, but when I am looking for a lighter meal, zucchini noodles are my favourite option. Especially in summer as they can be prepared both hot or cold and still taste delicious.
Zucchini noodles, or Zoodles as some call them, have become a staple for anyone on a grain-free diet, and also popular with people looking for a healthier alternative to standard pasta. They are literally noodles made from zucchini.
There are a few different ways to prepare zucchini noodles, and I have experimented with most. Some people use a spiralizer to make zucchini noodles, which will give you perfect noodle shapes, however you will have to purchase this if you don't own one. You can also make long, thin ribbon noodles using a vegetable peeler or mandolin.
I have also simply cut zucchini slices into very thin strips before, to create noodles, and this worked great too.
Here is a great article on preparing zucchini noodles if you're in doubt.
I am going to sauté my noodles in this recipe, but you can also skip this step and serve them raw if you prefer.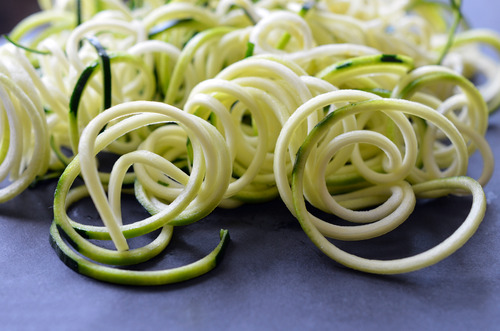 Zucchini noodles with basil walnut pesto and cherry tomatoes
Ingredients
Zucchini noodles
4 - 5 small zucchinis, ends trimmed
1 pint cherry tomatoes
extra virgin olive oil
Basil walnut pesto
2 cups fresh basil leaves
2 cloves garlic
1/3 cup extra-virgin olive oil
2 teaspoons fresh lemon juice
1/4 cup freshly grated Parmesan cheese (omit parmesan or substitute with 2 tbsp nutritional yeast flakes if you are a vegan)
1/2 cup walnuts
salt to taste
Directions
1. Preheat oven to 200C.
2. Clean and halve cherry tomatoes and spread on a lined baking tray, seed side up. Toss in a splash of extra virgin olive oil until evenly coated and sprinkle with salt. Roast for 12 to 15 minutes.
3. Use a julienne peeler, mandolin, or spiralizer to slice the zucchini into noodles. Set aside in a sieve to let any water drain out of them.
4. Combine the pesto ingredients, except the olive oil, in a food processor and pulse until coarsely chopped. Slowly add the olive oil in a constant stream while the food processor is on. Stop the machine to scrape down the sides of the food processor with a spatula as your going, until a pesto paste has formed.
5. Heat 1 tablespoon of olive oil in a pan, add zucchini noodles and stir for 3-5 minutes until noodles are tender. You may have to do this in batches depending on how big your pan is, or you can skip this step and serve the noodles raw which is just as tasty.
6. Next, combine noodles with 2-3 tablespoons of pesto (or more to your preference) and mix well.
7. Add the roasted tomatoes, and serve.
---