I'm a huge fan of leafy greens; they're nutrient dense, fibre rich, and make me feel great. I love kale chips, baby spinach from my garden, and native warrigal greens. But for years I've been diligently following the recipe and discarding of the fibrous stems. They're tough and stringy, and even though I knew they were edible, I didn't think that they actually tasted good. That was until I learnt about root to shoot cooking.
When it comes to food, I come from a privileged position. Australia has access to a tasty selection of fresh ingredients, and a vibrant food scene. We don't want for anything. But I'd say that it's this level of wealth that has dulled us creatively in our ability to use produce. We only ever use the prime cuts, but in most cases we're throwing out some of the best bits!
It's estimated that 20% of the food we purchase in Australia is wasted. Tweet this!
We need to start honouring the whole! Just last week our intern came in with a jar of fresh made celery leaf pesto, and it was divine. I've also started to candy citrus peels, pickle watermelon rinds, and I almost love these potato skin chips more than I like the actual potato.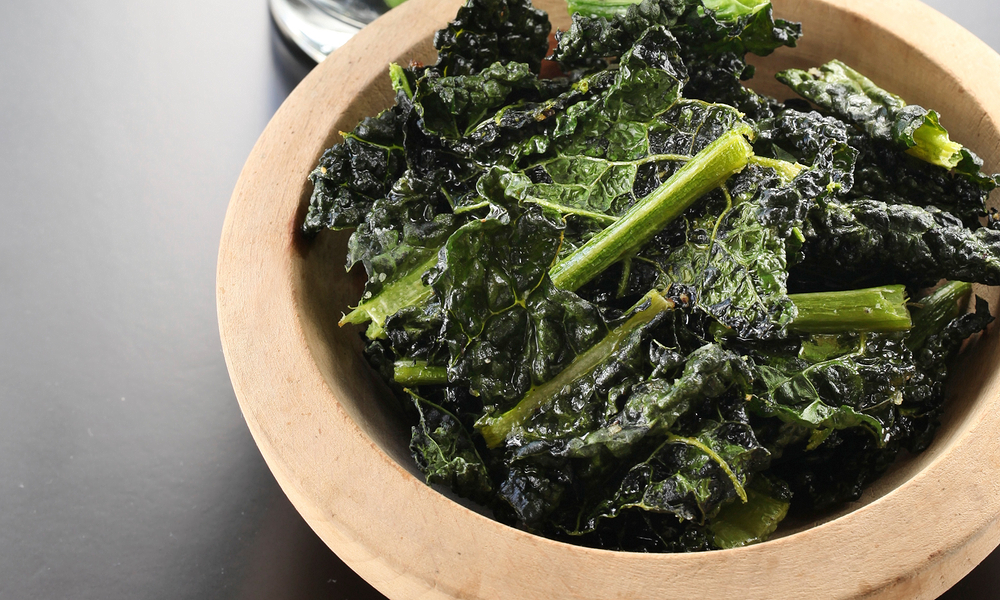 So with this in mind I want you to come at these kale stem suggestions with a hungry stomach and a desire for creative cooking.
Sautéed Kale Stems
This one is an adaption from a recipe by my cooking muse and queen, Stephanie Alexander. She suggests that you thinly slice chard stems (I've just subbed in kale and it works a treat), then sauté them with some onion, garlic and oil for 5-10 minutes. If you've still got the leaves then you can thinly slice them and add them to the pot, cover and cook on a low heat for another 10 minutes or longer. Season with quality salt and fresh cracked pepper. Delicious!
1 Million Women is empowering women and girls around the world to lower their impact on the planet. If you love what we do, please support our work by donating a couple of dollars. For the price of a cuppa, you can help us inspire millions more! (click to donate)
Pickled Kale Stems
Last year I was lucky enough to go to a pickling and fermenting workshop at Sydney's Cornersmith café. Since then I have been attempting to pickle anything and everything. Oddly enough, kale stems lend themselves to this process.
The shorter the pickle the crunchier your stems will be (which is what I like in a pickle). So I do a quick pickle that needs to be kept in the fridge (I skip the heat treating as this will make them soft).
With any kind of pickle it's important to sterilise your jar first.
I prefer my pickling liquid tart over sweet so this is the recipe it use:
2 cups water
2 cups white vinegar
¼ cup sugar
½ tablespoon of pickling spice - you can buy this as a premade mix or create your own using crushed bay leaves, coriander seeds, mustard seeds and all all-spice.
If you'd like it sweeter then you can tweak the recipe by adding more sugar.
Heat in a medium pot then pack your raw kale stems into jars and pour the liquid on top.
Allow to cool, then keep in the fridge. They're nice as is, or chopped up into smaller pieces to add zest and crunch to a salad!

Flash Fried Kale Stems
I'm a huge fan of Bill Granger's salt and pepper tofu. It's a light batter with a deliciously zesty sauce. I've taken this recipe and subbed the tofu for kale stems. So simple! If you have larger, tougher stems then you might like to quickly blanch them (and refresh in cold water) first. But if they're younger and thinner then they'll be fine to fry as-is!
BBQ Kale Stems
I believe that most things are better barbequed! You can barbeque the leaf of the kale on a hot bbq with a small drizzle of olive oil (it's one of my favourite things). You can also separately bbq the stems; they just take a little longer. They're ready when they look crispy and charred!
What next?
If you're looking to nail food waste in your household then I'd recommend you start to meal plan.
If you're interested in how to get more from your produce then you should probably check out these 10 food scraps that most people throw away (but are totally great to eat).
If you like your food in liquid form then have a look at our list of food scraps that are great when juiced
If you want to garden your food scraps then check out this guide for produce than can be regrown from just the top or tail.
Read this next: All the best recipes from our zero waste picnic
Images: Shutterstock
---