Winter means a change in fresh produce availability.
It's important that we are buying fresh and seasonal produce all year-round. The changes of winter bring changes in what's available to us at the local farmer's markets. Sustainable Table have a great reference table so we know exactly what is in season throughout winter. Check it out below!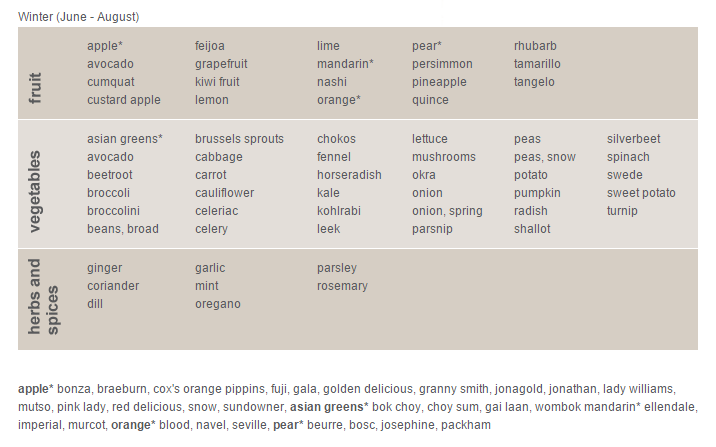 Make sure you save this one to your desktop for future reference during June-August! Luckily for us, coriander, ginger and mint are still in season – fresh and spicy Asian cuisine awaits! Check out our recipe for Som tam: Spicy Thai Papaya Salad – you'll get the heat with none of the heaviness. Another one to save for later is our Top Nutrient Dense Produce blog. During winter it is especially important to make sure you're chowing down on all the essentials. It's the sick season, so avoid an unnecessary and inconvenient cold by eating your greens and drinking lots of water!
If you're looking to keep up your morning routine, you can make your smoothies hot! Yep. Check out the hot smoothie recipes here.
As always, do your best to purchase your fresh produce from the local farmers markets. They will have only the best of what's available, and it will end up being cheaper, healthier and tastier.
What you can do
Buy local, fresh and in-season when you shop for fruit and veg
When you buy fruit and veg do the following: choose locally produced, in-season and fresh rather than frozen, don't use plastic bags and avoid any overpackaged items. Do this for a month then try to keep going.
1,205
Tonnes of CO2
savings pledged

---