When I first saw people checking into standing rock on Facebook with the heading "Water Protectors are calling on EVERYONE to check-in at Standing Rock, ND to overwhelm and confuse them" I was sceptical at best, but then after some thought, I decided to check in.
Standing Rock is an Indian reservation in North Dakota; the site is sacred indigenous land. Aside from the strong ties Native Americans have to the land, the site is also intrinsically connected to the Missouri River. The longest river in the United States.
The reservation is also the site where an American energy (oil) company called LLP plan to build a multi-billion dollar oil pipe to transfer oil to refining markets in Illinois.
The pipeline would be drilled straight through North Dakota's Lake Oahe, a sacred burial site to the Standing Rock Sioux, as well as a primary source of drinking water for millions of people.
Read Next: Meet The Woman Who Took On Canada's Oil Companies And Won
Aside from the complete disrespect to the indigenous communities who are connected to and own the land, should the pipe leak it would contaminate clean water supplies all the way down to the Gulf of Mexico, leaving millions without access to safe drinking water.
Unfortunately, with oil pipes, it is not a matter of 'if it bursts' but 'when it bursts', considering since 1995 there have been more than 2,000 significant accidents involving oil and petroleum, and between 2013-2015 an average of 121 accidents happened every year.
#WaterIsLife #StandingRock #noDAPL (Tweet this!): The Power Of Social Media
The Morton Country Sheriff's office released a statement denying the posts legitimacy, saying it was "not monitoring Facebook check-ins for the protest camp or any location for that matter" saying that "these rumours/claims are completely false." Which confirmed my suspicions about the legitimacy of the post. However, I got to thinking about what else this could achieve.
The final decision that led to my checking in was a pretty simple one, what would the negative outcome of me checking in somewhere be? Nothing. Could checking into this place, which will take me all of 10 seconds be of some help? Possibly. And that was enough for me.
Watching the check-ins spread showed me something, suddenly #noDAPL, #WaterIsLife and #StandingRock were everywhere, in every major international paper, all over twitter and coursing through Facebook like the river it was designed to protect.
Read Next: Malcolm Turnbull Puts 'Mr Coal' In Charge Of Environment Portfolio
So what did it achieve? It showed protesters that more than a million people stand with them in solidarity, it loudly exclaimed that we are no longer going to be quiet and wait as the government puts private interest before public health and the environment.
A statement from 'Sacred Stone Camp' reads: "There is no doubt that law enforcement comb social media for incriminating material and monitor communications… we support the tactic and think it is a great way to express solidarity."
And for those of us who physically can't be there, standing in solidarity via a tool we have immediate access to is a small gesture that could help have a positive impact, so why wouldn't you?
Negative backlash
The morning after checking in I knew there would be at least one post berating the 'online' protest.
A friend of mine had done just that, written a long response, it was beautifully written, well thought out and asked some real questions about how we make ourselves feel better, without doing much.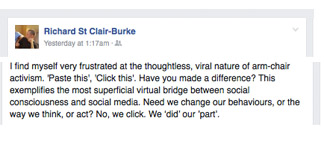 - An excerpt from Richard St Clair-Burke's status on Facebook, read the full post here
It got me thinking, is this what we do? Do we avoid action because we're fed this understanding that with minimal effort we've already 'done' something?
The truth is there is more we can do, we can donate to the protesters who have been braving sub-degree temperatures to stand up for what they believe in, we can sign the petition to make the government understand that the health of their country should come before private oil profit.
1 Million Women is empowering women and girls around the world to lower their impact on the planet. If you love what we do, please support our work by donating a couple of dollars. For the price of a cuppa, you can help us inspire millions more! (click to donate)
And if you're able to do those things, please do. But the thing about social media, the thing about spreading what is happening, is that even if you are unable to donate, maybe someone you share it with can.
Activism is hard, it's time-consuming, it's more likely than not unpaid, and it's very often emotionally draining. But it is important. Standing up for what we believe in has led to so many things we take for granted, everything from Women's rights to ending the Vietnam war- these actions couldn't happen without people power.
Perhaps we should be grateful that people power can now start with the tip of our finger gracing a keyboard, for those dipping their toes into the social activist pond the internet is a great way to ease your way in. But let us not forget that we're more powerful than out keyboards. We can make changes and impacts every single day in our lives.
Heading image source: Fourtune.com
---