There's no time like election time.
Elections are noisy - whether it be the coining of slogans, the ramping up of scare tactics or endless advertising campaigns crowding the airspace and streetscape. With an increasingly divided mediaspace in Australia added into this mix, it can seem all but impossible to cut through the noise, get the story straight and decide how to number your ballot paper on election day. But don't fear - we're here to help. For us here at 1 Million Women, climate action is one of the most important election issues so we've been doing our homework and reading up on how the major political parties stack up when it comes to key climate issues. We've rounded up some of our favourite and most informative resources to help give you all the information you need to understand how the climate crisis is being treated by different political actors and what you're going to be voting for on election day.
Give me a quick roundup
The Australian Conservation Foundation has created a scorecard (below), analysing parties' policies on climate and nature. You can go deep into reading their analysis or have a skim of their breakdown of major issues and party positions. This resource will also give you a good idea of the key environmental issues in Australia right now.
ACF have also dug into positions on the climate crisis from minor and independent parties across the states so you can also see how they stack up on environmental policies here.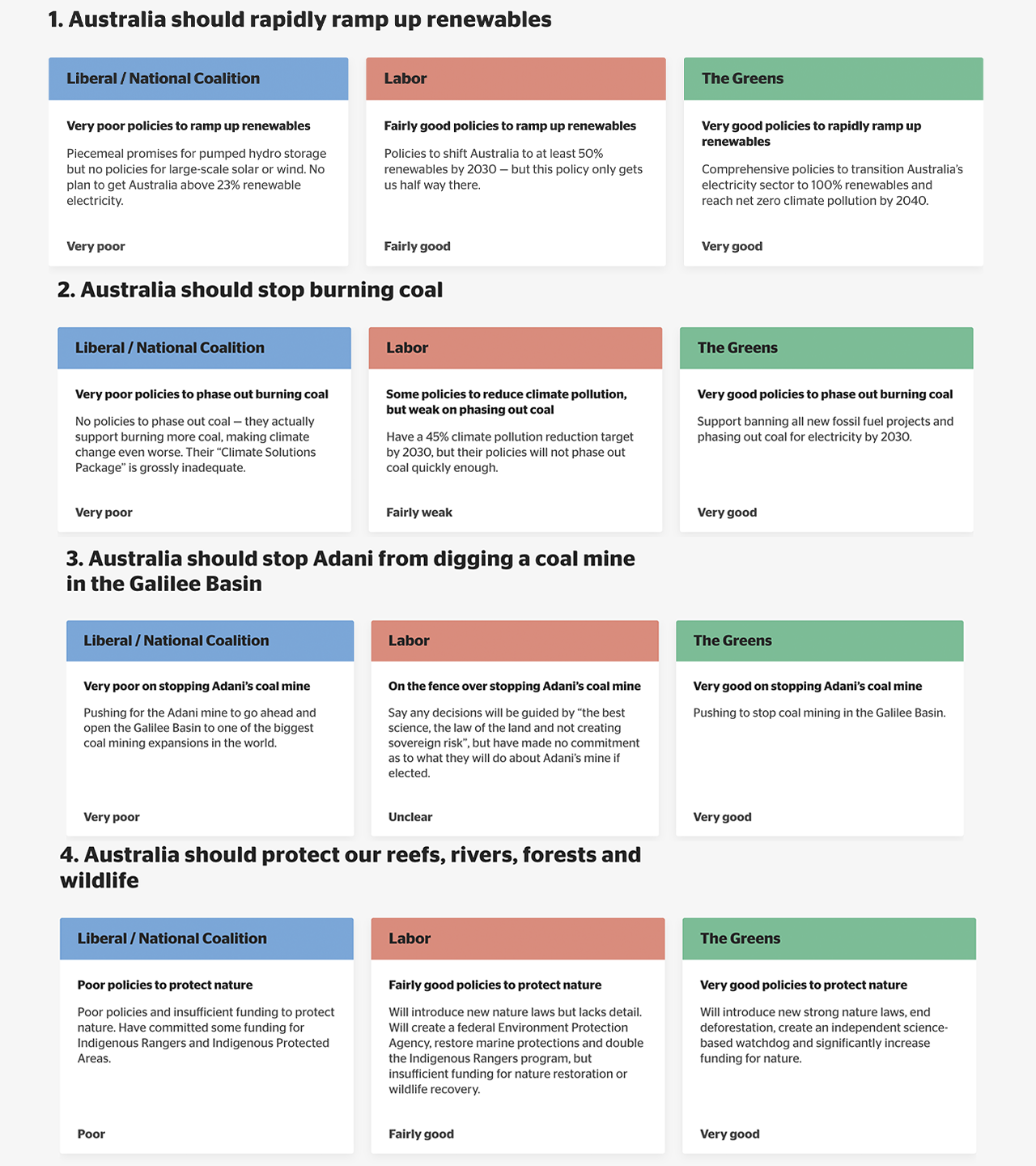 What are the major parties' policies?
If you want the rundown on what each of the major political parties are committing to doing if they win government have a read of this ABC article. Or listen to this episode of Triple J's Hack, where they outline party policies. You can also have a read of this breakdown that runs through party policies according to major environmental issues in Australia like the emissions targets and Murray Darling Basin.
Tell me more about Adani

The Adani Carmichael Mine is one of the biggest and loudest environmental issues in Australia at the moment. It's also a big election issue so understanding it and where different political parties stand might help you decide who you're going to vote for.
To get the low-down have a read of this. Listen to this to further unpack Adani. To hear from all sides of the debate listen to this.
How has the current Government done?
The Climate Council recently released a report detailing how the current Australian government has approached climate change since the 2013 election of the Liberal-National Coalition government. Spoiler alert, it's not good and the title 'Climate Cuts, Cover-Ups and Censorship' says it all. To read a wrap up on SBS click here or here for a summary from the Climate Council.
Want to know where you sit on the political spectrum in Australia?
For most of us, who we vote for comes down to a lot of different things. To help you understand which party your own beliefs and values most closely align with you can use ABC Vote Compass. It'll take you through a series of questions across social and political issues and then situate where you sit on the political spectrum. You can also use Smart Vote, which has been put together by The Sydney Morning Herald, The Age and the Australian National University and will also match your views to parties and candidates.
Help me cut through the spin

Here's a handy guide to help guide you through this election campaign and get to the bottom of the issues that are important to you.
Climate change is a big election issue this time round. So much so that most politicians out there are saying that they'll do something if we elect them to government. Their commitment to climate action however is not always as strong as it seems, and we all know that what politicians say doesn't always match up to what politicians do. Knowing about the climate crisis in Australia at the moment and key issues will help you sift through all the political rhetoric, ask the right questions and sort fact from fiction when it comes to commitments to climate action. Right now, School Strikers are fighting for their future and demanding that politicians commit to:
Stop Adani
No new fossil fuels
100% renewable energy by 2030
These demands are also a good guide on what you should be paying attention to.

Here are a couple of other great resources that have a lot of information on all things political and election related. They have specific episodes and articles dedicated to climate but are also great to help you understand a whole range of issues. Browse through The Conversation's Federal Election collection - everything's written by academics in a way that everyone can understand, so you'll get well rounded views without having to read an entire journal article! Or listen to the Party Room.
We want to make this election the climate election so we're pledging to have 1 Million Conversations for Climate. Will you help us do this by pledging to speak to your friends and family about climate damage? If we all do it, we can change an election result! Take the pledge here.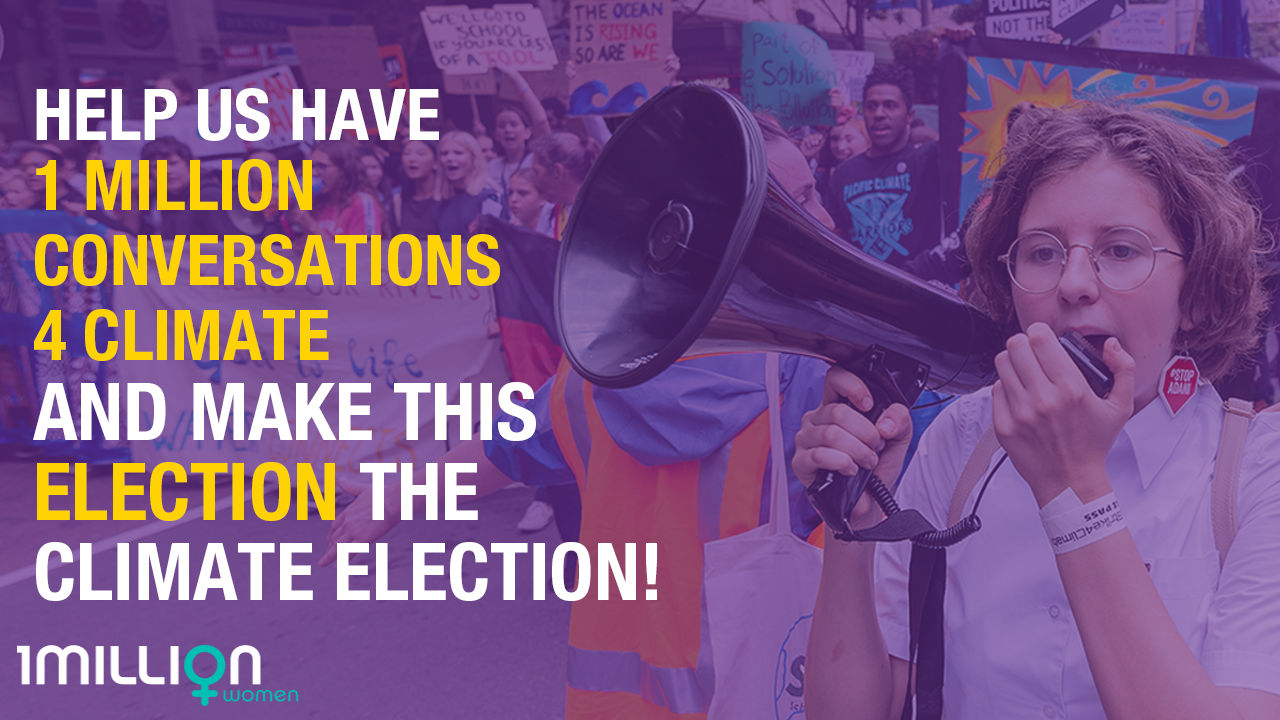 ---