Put your favourite cafe to the test!
With sustainability fast becoming fashionable , there are a lot of businesses jumping aboard the low-carbon train and doing their bit to make a difference. This is great news for the planet, but it's also worthwhile doing your research to understand exactly how and why making small changes can have a significant impact.
Menu choices
Looking at the types of food on offer can be a great indicator of overall sustainability. Are there meat-free options? Is produce local and/or organic? Are animal-based options such as eggs, meat and fish from sustainable sources?
If your local café isn't advertising whether eggs are free-range or caged, it's probably worth asking. You could also inquire where fish are sourced from: sustainable suppliers or mass producers with shady ethics?
If there's a change you'd like to see, consider approaching the manager or owner and voicing your concerns. Consumers really can make an impact, especially if you're a regular and/or you can demonstrate the wider support for change.
Here are some great reasons why all restaurants should put more veggies on the menu:
Vegetables are generally cheaper than meat per kilo
Healthier options means that customers can feel good about their dining experience, which means a better feeling towards the restaurant as a whole
Veggies generally take less time to prepare and cook, and are less susceptible to contamination (meaning a decreased risk of customers getting food poisoning)
Certain demographics respond well to sustainability: attract the hipsters!
On-site garden
One of my favourite things about my local café is that they have potted herbs from which the chef snips basil, oregano and parsley to pop on top of meals. It's fresh and flavoursome, reduces food miles (the distance your food travels to get to your plate) and having plants around the place has a positive impact on the mood of the customers. Plus, it looks awesome.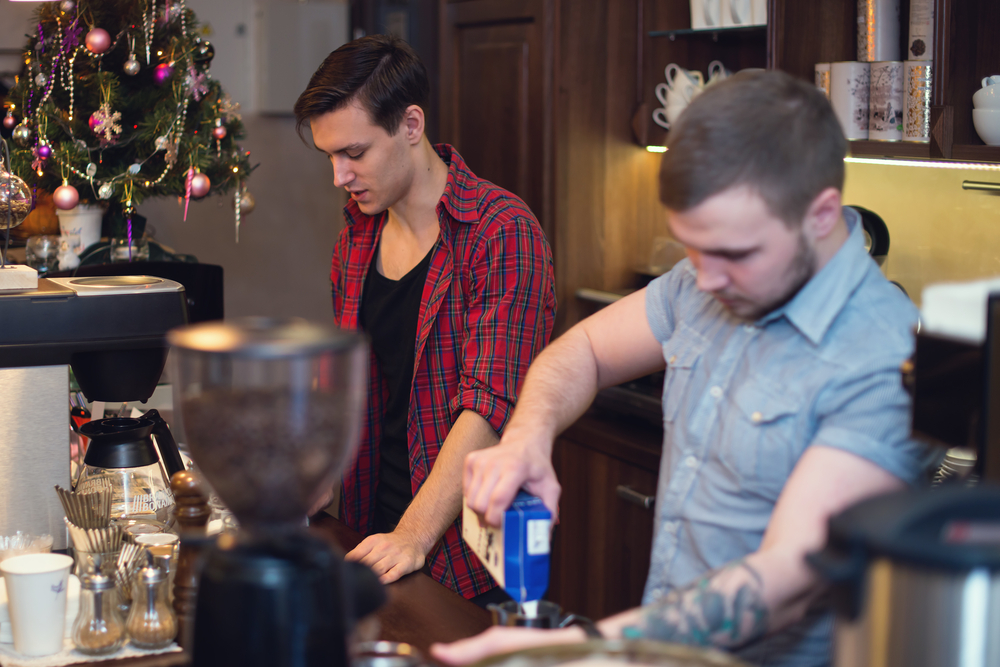 Sustainable takeaway
It's hard not to accumulate massive amounts of waste from takeaway food. Having worked in a takeaway joint for a three-year-stint, I still cringe at the memory of plastic bags, containers, straws and cups. So much waste!
If you buy or serve takeaway coffee, consider the benefits of a reusable coffee cup. Negotiate with your barista about giving a small discount for BYO cups (my local joint knocks 50c off the price of a coffee if you make the effort to bring your mug). You could also consider a free upsize or other perk: customers love a freebie!
Responsible Cafés is one Australian based organisation connecting thoughtful cafés with conscious consumers by encouraging them to offer a discount to customers with reusable takeaway cups.
When it comes to takeaway containers, look for places that will allow BYO options (the guy at my local salad bar gives you extra avocado if you have your container with you) or at least don't overdo it on disposable options.
Check out our tips from Plastic Free July on how you can ditch disposables from your life.
Manage waste responsibly
What does your local eatery do with their rubbish? Do they recycle? Do they toss food scraps out into the gutter?
Food waste in particular is becoming an issue of increasing importance. In fact, Australians throw out 8 billion dollars worth of food every year.
So how can restaurants and cafes reduce food waste? Well, it starts with you, the consumer. Are you over-ordering? Do you actually finish the food you are served? If you think the servings are way to big, let the staff know so that maybe they can consider having different sizes available (I know for a fact that I generally don't eat the same amount of food as my 25-year-old male friends, yet in most places the meals are of uniform size).
Check out how this restaurant in the United States is challenging food waste.
You can also consider getting local restaurants and businesses involved in community projects such as composting, worm farming and community gardens: it's good for the planet and good PR for them.
These are just some starting points for the hospitality industry to start taking action at a local level. Let your local café or restaurant know that these issues are important to you, and ask them what they're doing to reduce their carbon footprint. Let us know what your local area is doing in the comments below!
1 Million Women is more than our name, it's our goal! We're building a movement of strong, inspirational women acting on climate change by leading low-carbon lives. To make sure that our message has an impact, we need more women adding their voice. We need to be louder. Joining us online means your voice and actions can be counted. We need you.
---