Australia's first Frank Gehry building has been described by the architect himself as a tree house that came tripping from his mind…
Australia's first Frank Gehry building featuring many of the famous architect's signature curves and trademark wizardry has been opened by the Governor-General Sir Peter Cosgrove.
And guess what?!? It has a 5-Star Green Star rating thanks to features such as:
The air-conditioning system, which works similar to a sensor light in that it adjusts on and off with people in the room.
Plus, Gehry's innovative lighting design eliminates the need for most exterior lights by making internal lights cast a light outside.
And a 20,000-litre rainwater tank.
The vision started as a couple of squiggles on a piece of paper back in 2009.
As the Sydney Morning Herald reported:
Mr Gehry wrote [about his ideas] to the dean of the business school Roy Green back in 2009: "Thinking of it as a tree house came tripping out of my head on the spur of the moment," he wrote. He wanted a growing learning organism with many branches of thought, some robust and some ephemeral and delicate, he wrote.
The Governor-General has described the finished project as "the most beautiful squashed brown paper bag I've ever seen".
The curves of the building are unmistakable Gehry, and certainly caused a headache for the brick layers who were given the task to create the tessellated facade. The bricks were so difficult to lay that master bricklayer Peter Favetti came out of retirement.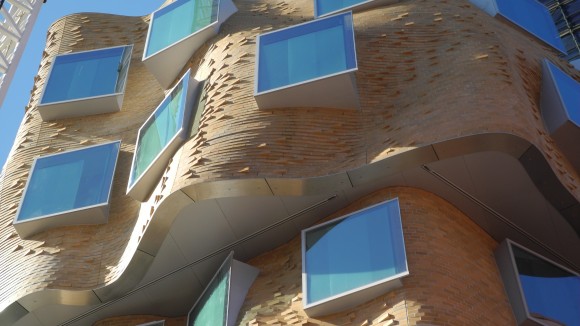 The Guardian reported:
Brian Moore, executive project architect, explains: "If you imagine a whale ribcage inside the wall – bricks attached to one side and plasterboard the other – what you see on the outside is what you see on the inside." These materials are pretty much the same you would have in your home, but by a structural sleight-of-hand, Gehry and his team have created a wall that goes in and out of shape, seemingly defying gravity.
What do you think of Sydney's newest 5-star Green Star rated building? Love it…hate it? we want to hear your thoughts in the comments!
---