The whole world has been plunged into a new reality and with every breaking news alert that pings onto our screens it can be hard to stay optimistic. But with every notification that brings a sense of doom, there's also a message of hope - whether it be musicians banding together to stream concerts from their living rooms or your gym offering free online classes. Finding little comforts and nurturing our community have become our coping mechanism and cooking is the magical act that combines both!

The healing power of cooking is no secret. If you're not already convinced of this then add Ratatouille to your movie watch list (you're welcome)! We wanted to tap into this power so we asked our community to tell us what they are cooking while physical distancing at home. And we got a big response (so proud of us). We rounded up the recipes that we thought would be most useful to everyone and listed them here.
We've tried to fill in a couple of gaps to make these recipes as easy to follow as possible - some ingredient amounts aren't exact but we're home chefs so we improvise! What's the fun in following a recipe to the T anyway?
↪ Spicy Bean Stew with Guacamole from Lauren
Lauren got this recipe out of a magazine years ago and has it on her recipe rotation now. If you can't get kidney beans, she thinks you could use any beans for this recipe!
Ingredients:
300g brown rice
1 can of chopped tomatoes
1 can of red kidney beans
1 litre of vegetable stock
1 red chilli, deseeded and chopped
1 1/2 tsp cumin
1/4 tsp of garlic powder
Guacamole
2 Avocados
Pinch of paprika
1 garlic clove, crushed
Pinch of salt
Juice of 1 lime
Method:
It really is as simple as throwing everything in a large saucepan, stirring and leaving on a low heat for about 30 minutes!
For the guacamole, combine all the guacamole ingredients and mash. If you can't get any avocados then simply squeeze lime juice on top of the stew.
↪ Basia's Easy Tomato Soup With Fresh "Gnocchi"
This recipe makes enough for 2-3 people or a mum with 2 toddlers! Preparation and cooking time is just 10 minutes!
Ingredients:
1 litre tomato juice
Eggs (one per person)
Flour (the recipe also works with gluten free, you might also need a little bit of fibre husk)
Spices: cinnamon, cumin, pepper
Method:

Mix the tomato juice with spices in a pot and bring to a boil.
In the meantime, mix eggs and flour with a little bit of water. I use 1 egg and 1 tablespoon water for one person, then add flour. Add bit by bit until the dough is quite thick. If the dough is too runny, the pasta falls apart.
When the soup is boiling, take a tea spoon and put a small amount of dough in the boiling soup so a small gnocchi forms and do this with all your mixture. When all the "gnocchi" swim, let the soup simmer for another 2 minutes.
That's all - ready to serve!
Here are some modifications you can make to add more flavour:
Add some cheese into your bowl (works with all kinds of cheese, mozzarella, grated gouda, camembert...)
Add fresh pressed garlic after you have taken the soup off the heat
Add some fresh herbs like basil or parsley into your bowl
Play with the spices cooked in the soup (try bay leaves or different kinds of pepper or cook with a small piece of onion or a few cloves of garlic).
↪ 'Karen's Surprise': Nutritious Veggie Stew
This is Karen's quick weeknight dinner that 'keeps the vegans and meat eaters happy'. As for the name, she's not sure why they call it Karen's surprise but said it's a bit of a surprise what she throws in sometimes!
Ingredients (adjust according to how many are eating)
Potatoes
Onion
Garlic (to taste)
Mushrooms
Spinach
Vegetable stock
Tinned beans or chickpeas
Method

Chop potatoes. Microwave until a bit soft and then fry in a large fry pan. Remove when cooked.
Chop some onions and garlic and fry in olive oil in a pot.
Add some mushrooms , the potatoes, and a tin or two of beans/chickpeas.
Add a cup of veggie stock and throw in a whole lot of spinach.
Pop the lid on for a few minutes until wilted.
Salt and pepper to taste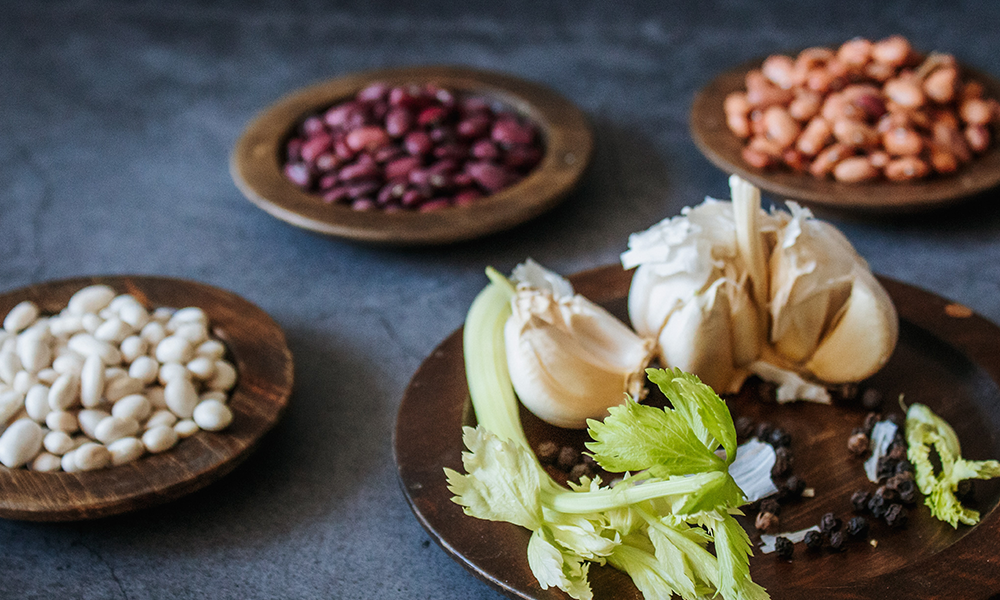 ↪ Spinach, Red Kidney Bean and Rice Wrap from Gabriela
Ingredients:
Spinach (you can use fresh or frozen - 2 packets / cubes if frozen spinach)
Can of red kidney beans
Can of corn
1 cup of cooked rice (Spanish rice is best)
Cheese
Wraps
Method:
Sauté spinach with garlic in a pan
Drain the cans of beans and corn then add to pan
Add the cup of cooked rice
Sauté together for 10 minutes
Put in a wrap with cheese!
↪ Easy Peasy Pantry Soup from Kathy
Ingredients
450 grams split peas (green, yellow, or red)
1 large onion, diced
2-3 large carrots, peeled, diced
2-3 large ribs celery, diced
3 medium Yukon gold potatoes, diced
2 cloves garlic, chopped
Water to cover vegetables
Vegetable broth / stock

Method:

Put all ingredients into a large soup pot and cover half with water, half with vegetable broth.
Bring to a boil, then simmer, covered for about an 1 hour or until the peas have completely turned to mush.
Stir occasionally and once the potatoes are soft, use the back of the spoon to crush them against the side of the pot.
Add salt to taste, serve with freshly ground black pepper.
You will probably have to add more water to the leftovers, as the soup continues to thicken during storage.
Optional: this soup is nice with a can (15 oz.) of diced tomatoes stirred in toward the end of cooking time!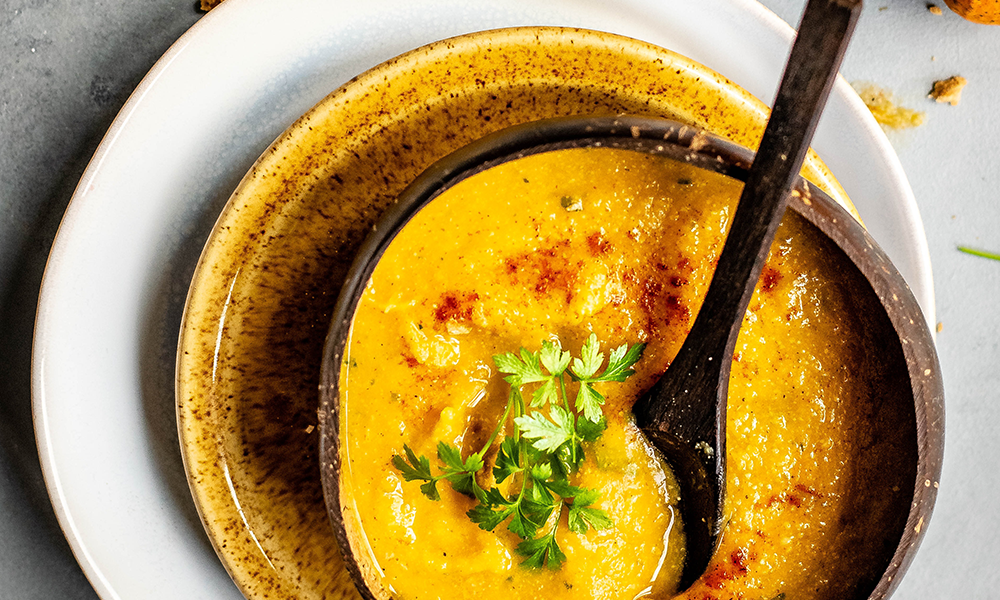 ↪ Louisa's Salsa Verde
If you can get your hands on some herbs or grow them yourself this is a great recipe to add a punch to your meals. Louisa says it's great on pasta or mix 2:1 with mayo for potato salad or coleslaw or in a sandwich!
Ingredients:
2 bunches basil
1/2 bunch dill
1 bunch coriander
1 bunch parsley
2 soup spoons of capers
Lemon Juice
Olive oil (around a cup)
Salt and pepper
2 cloves of garlic
Method:
Chop up and combine all ingredients - too easy!
↪ Falafel from Trish
Ingredients:
380gs dried chickpeas
2-4 cloves garlic
150g brown onion
1 small bunch coriander, washed, chopped coarsely,
Good handful flat leaf parsley, washed and chopped
1 1/2 tablespoons ground cumin
1 tsp ground coriander
1/2 tsp black pepper
1/2 tsp ground chilli
2 tsps salt
1 tsp bicarb soda,
Oil for frying
Method:
Pour boiling water over chickpeas and soak overnight, drain well. You can also sub in canned chickpeas.
Combine the drained chickpeas and all ingredients except bicarb soda and process in a food processor to a crumbly paste.
Cover the mixture and refrigerate for about 2 hours.
Remove from the fridge and add the bicarb.
Form into falafel shapes and deep fry until golden brown.
Eat as part of a salad, in a wrap on a plate with some hummus, olives and tomato!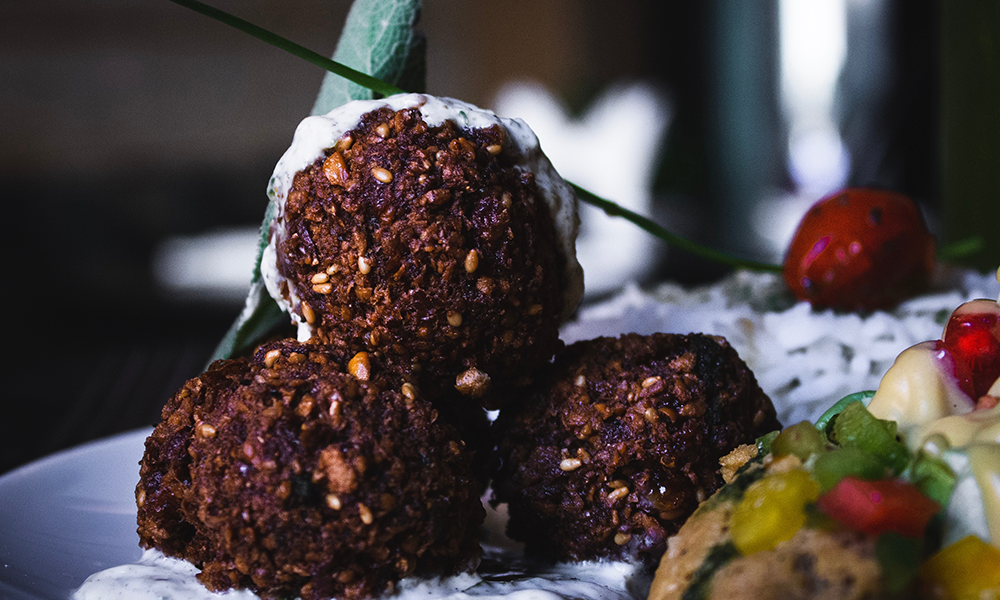 ↪ Here's a list of links to recipes our community loves:

There are so many delicious recipes we think we're set for a while. And the best part is that most of these recipes are perfect for sharing - so we can pack them up and deliver them to neighbours and friends in need. Can't wait to try them all!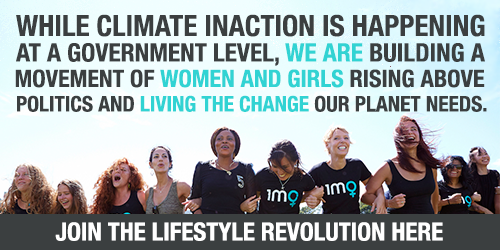 ---