This blog has been written in a paid partnership with Who Gives A Crap, because we can honestly say that we love them, and their product.
We've all become a lot more conscious of our paper use, for the sake of precious carbon drinking trees. Our email signatures will say "please think of the environment and don't print this email", and we'll opt for e-books over printed books. But what about that soft fluffy stuff that we use once to wipe our bottoms and then flush down the drain?
In 2010, 27,000 trees were cut down every day to produce toilet paper. Considering that the population of the Earth was 6.9 billion back then, and is now 7.7 billion, it's likely that even more trees are being cut down to create our TP.
It's not a great thought - trees are being cut down so that we can wipe our butts with them. That was the main reason I decided to switch to Who Gives A Crap about a year ago.
In fact, everyone at 1 Million Women uses Who Gives A Crap TP, and we've never looked back. Here's why:
1. It's 100% recycled
Good day to all you dedicated recyclers out there! I have news for you that you might not like. Recycling is just one tiny aspect of a larger system - a closed loop system. On its own, it doesn't help. Recycling only works if us consumers buy products made from recycled goods. So, choosing Who Gives A Crap is a little way we can contribute to completing the loop. It's about more than not chopping down trees to make our TP, it's about making all our recycling efforts worthwhile as well.


2. It's plastic free!
For our office manager Shea, this is the biggest perk - Who Gives A Crap helps her keep her bathroom 100% plastic free. That's what we love here at 1 Million Women, no plastic on our TP, no plastic in landfill, and no plastic in the ocean.


3. An important one - Who Gives A Crap hasn't let us down
That means no bodily secretions on our fingers because the TP has failed us and broken apart. Recycled toilet paper is just as sturdy as regular toilet paper, have no fear. It's also nice and soft - a fluffy little puppy would definitely endorse it (see below). If you did want to go even softer though, Who Gives A Crap do have a plush 100% forest friendly bamboo line. The bamboo is self sustaining, requires no irrigation, fertilisers or pesticides, and best of all, doesn't impact pandas.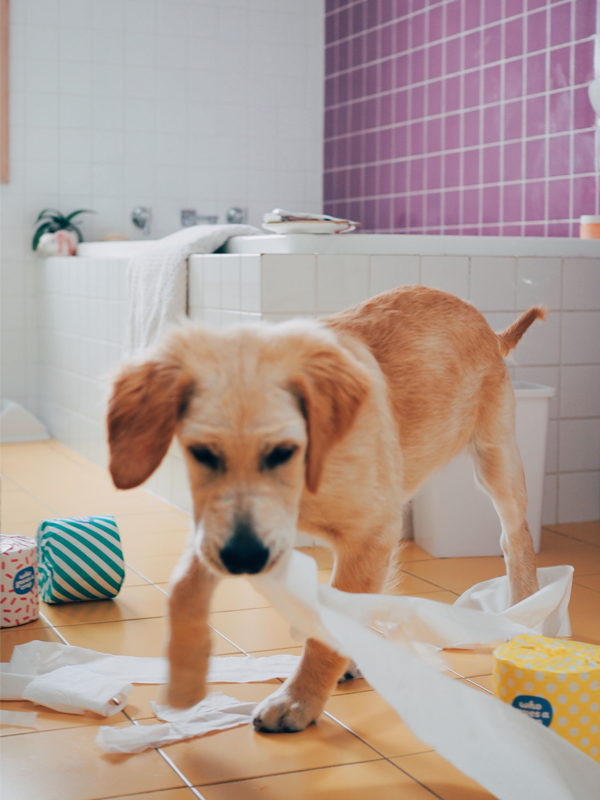 4. Each roll lasts a whole lot longer than your average toilet paper roll
So you might be doing a price comparison between Who Gives A Crap and the regular TP you buy from Woolies, and you just can't grapple with the fact that Who Gives A Crap costs a little more per roll. Well it tells you on the Who Gives A Crap website that there are more sheets per roll on a Who Gives A Crap roll, so it ends up being cheaper per sheet when you do the maths. And I can back this up. My housemate and I get along really well, aside from our taste in toilet paper. You might not have even considered how many ply your toilet paper is (most of the people I tell this story haven't - but your TP actually has layers, and you can choose how many layers you get). When we first moved in together my housemate said her TP had to be five ply, and Who Gives A Crap toilet paper is the standard three ply. Since then she's relinquished her need for extra cushiony TP and has dropped back to the regular three ply, but is still buying separate toilet paper on principle (I know, I should probably try again with the Who Gives A Crap sell, especially after writing this). So in my household, there are always two rolls of TP going at once, and let me tell you, Who Gives A Crap outlasts its plastic clad, three to five ply foe every time, despite being in the prime "use me" position on the toilet roll holder.


5. The wrapping

The wrapping on Who Gives A Crap means that if you have nowhere to store your TP, you have no problem, because it's beautiful. I leave my TP out on display around my bathroom and save my cupboard space for cleaning products and other less aesthetically pleasing things.
And while we could just throw these wrappers straight in the recycling or compost when they're no longer wrapped around toilet rolls, we don't. We wrap them around presents! This is great because it means we don't have to pay for wrapping paper, we don't end up with the plastic that often comes on a roll of wrapping paper, and also, a lot of the time regular wrapping paper can't actually be recycled because of some of the coatings that are put on it.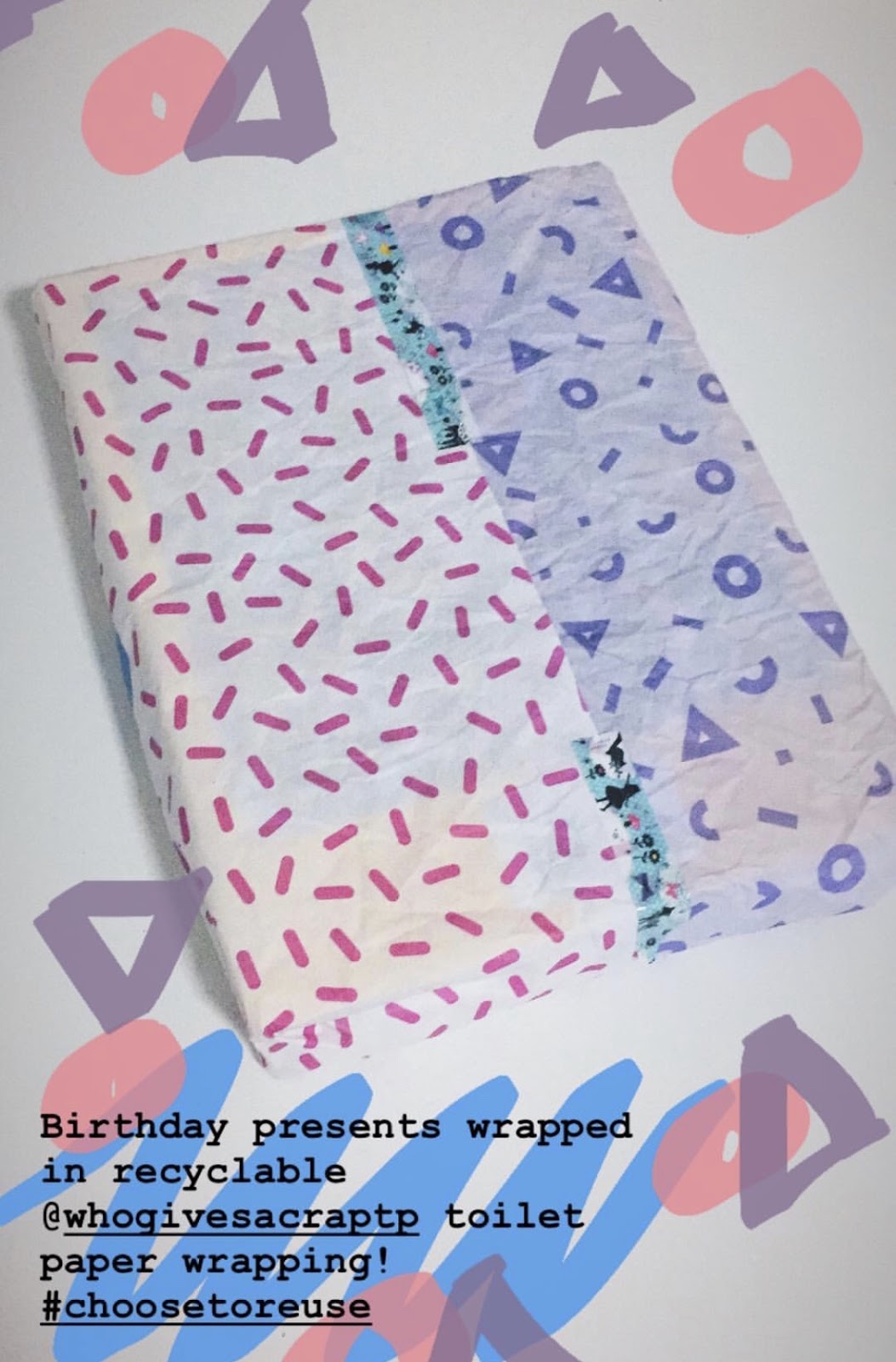 Last Christmas I wrapped my presents in the 'Happy Edition' festive themed wrappers and a friend actually commented on how nice the paper was. Speaking of Christmas, Who Gives A Crap are also perfect as DIY Christmas cracker wrappers, check out these ones our previous social media coordinator Harriet made.
6. You'll never run out!
With Who Gives A Crap, you can get a subscription, which is what most of the women in our office do. It's all about making sure you get the frequency right, and you'll never have too much or too little toilet paper ever again. You can also pick how much you get at a time - there's a box of 24 which is perfect for smaller households -especially when you don't have heaps of storage space- or you can get the box of 48, which is perfect for big households. In fact, we have $10 discount to you get started on a subscription.
7. Who Gives A Crap really does give a crap
If we didn't already feel great sitting on the toilet, gazing at the pile of colourfully wrapped, plastic free recycled TP on display in our bathrooms, we can remember that Who Gives A Crap actually donate 50% of their profits to building toilets in developing countries. This is really important, because right now, 2.3 billion people around the world don't have toilets - in fact, more people own mobile phones. And the big problem with this is it means that sanitation and water quality is bad, affecting people's health. Around 289,000 children under five die every year from diarrhoeal diseases caused by poor water and sanitation. That's almost 800 children per day, or one child every two minutes. So far, Who Gives A Crap have donated $1.8 million to their charity partners who are doing work to solve this issue. We never would have even thought about, let alone donated to this cause without Who Gives A Crap highlighting it, and passing on our TP dollars.

To wrap it up - as Eva, our Events and Partnerships Manager said: "The knowledge that this entire company has built itself on the foundation of really giving a crap means I'll never go back to 'normal' TP. It's clever, it's pretty, it's honest but most of all it's so important to give a crap. Because if we don't, who will?" This is why the 1 Million Women team forever pledge our allegiance to Who Gives A Crap. We hope you will too.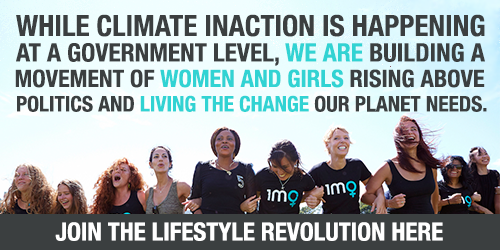 ---