In an effort to be a responsible omnivore I have been slowly but surely reducing my meat intake. There are powerful environmental reasons behind this change, but not only that, I'm finding it cheaper and I don't feel instantly sleepy after every meal.
I don't often try to make fake meat because I feel that it usually falls short of the real deal. Instead I love fresh seasonal produce that's been cooked well. Like this quinoa taco bowl, ricotta gnocchi, or banana bread mug cake. That last one isn't exactly everyday food, but it's so good!
So I was skeptical about vegan pulled pork, but being that it's generally the sauce that makes the dish so memorable I thought the recipe might work well. And as a meat eater I can honestly say that I'm happy to make this swap!
Note: If you're time poor, or just don't feel like the extra effort then you can use a store bought bbq or rib sauce. If you're looking to cut down on your waste and want to make everything from scratch then use my recipe below.
Ingredients
Smokey BBQ sauce
2 cups of tomato sauce (we have a recipe for homemade if you have the time)
2 tablespoons tamari
3 tablespoons maple syrup
2 tablespoons apple cider vinegar (or try our apple scrap vinegar)
1 teaspoon all spice
Lots of smoked paprika
Cracked pepper
Lots of dried thyme leaves
Jackfruit pulled pork
550 grams (19 ounces) of canned jackfruit in brine or water (not syrup), rinsed and drained
Note: any good Asian super market will stock canned jackfruit
¼ cup of water, plus more as needed
1 small onion diced
1 tablespoon olive oil
Tablespoon of dried Thyme
Tablespoon of dried oregano
Teaspoon of smoked paprika (or to taste)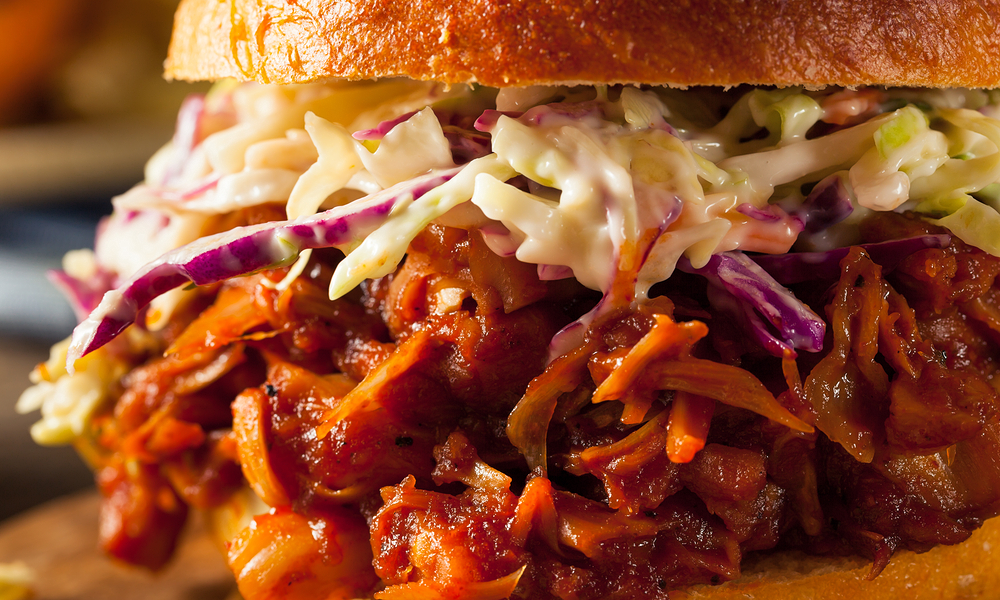 Method
Smokey BBQ sauce
Add all the ingredients to a small saucepan and whisk together on medium heat. Simmer for about 5 minutes and then take off the heat.
Jackfruit pulled pork
In a non-stick pan, simmer the olive oil and onion over medium heat until soft but now browned.
Add remaining ingredients and simmer on a medium heat. Stir then cover, leave for 10 minutes (checking to ensure that mixture doesn't dry out or burn).
Add your Smokey BBQ sauce and coat the jackfruit
Allow this to simmer covered for 30-40 minutes, or until it is soft and pulls apart. While its simmering use a fork to slowly break apart the jackfruit.
The sauce will thicken and you will be left with a sticky, pulled 'pork'!
I like to serve it up with a good dose of home made kim chi or sauerkraut and some freshly diced herbs (mint is beautiful in there). I've you're not a strict vegan then swisse cheese is great to throw inthe mix, otherwise you could use a slice of our vegan 'cheese'
Recipe adapted from Nourish Not Punish
Images: Shutterstock
Read this next: One-month in as a new vegetarian
Read this next: Six reasons to end your love affair with Himalayan pink salt
---