At 1MW, we like to talk about sustainability and women doing awesome things whenever we get a chance.
And this time we've got both! Ever heard of eVe? She's Sunswift's fifth generation solar car which was designed and built by the University of New South Wales Solar Racing Team. According to the Sunswift website, eVe is "the embodiment of Australian innovation and design."
She was originally created for the 2013 World Solar Challenge, and sets a new standard for transportation in terms of fuel efficiency and clean energy!
We got in contact with Wing Ki, a student/engineer who is studying a Bachelor of Engineering (Renewable Energy Engineering)/Bachelor of Commerce at UNSW to chat about the solar car.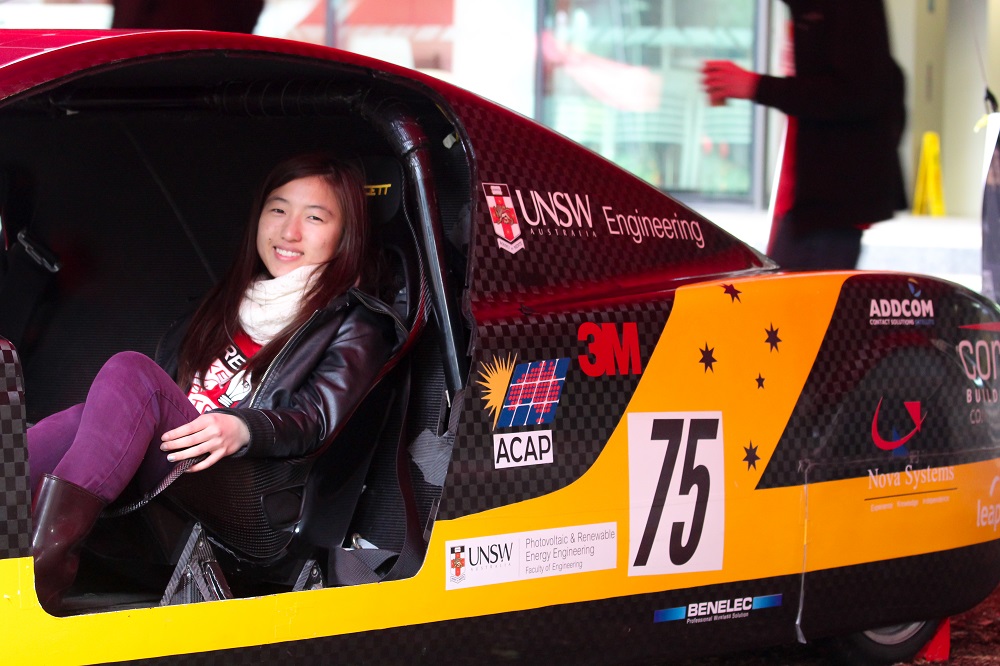 eVe is the first road legal solar passenger sports car. Congratulations! What was your particular role in the creation process?
Being part of the 2014/2015 team, our aim is to modify eVe to make it more reliable and road legal. I am part of the mechanical and systems engineering team. My role in the mech team was to create an initial design for the battery box. This battery box needed to be light weight while being strong enough to withstand impact forces. As part of the systems engineering team, my role is to work with my team to break down and decipher the Australian Design Rules. This allows us to ensure that our mechanical and electrical designs for various parts of eVe are compliant to reach our road legal goal.
What do you think the significance is of the success of projects like eVe?
The success of projects like eVe proves to the world that we can easily integrate sustainability ideas into our everyday lives with a few small changes. In our case, the design of eVe is completely different to the previous solar cars we have made with the three wheels, flat body, single seated capsule vehicle. eVe is much more comparable to the typical car we see on the road everyday: 4 wheels, passenger seat, luggage space, wide windscreen, side windows. There is immense potential for solar cars to be operated like a normal passenger car – minus the petrol and emissions.
Do you think there is a future where cars like eVe can be sold in Australia at an affordable price?
Most definitely. Even though eVe is a project car, we have received many emails and read many comments regarding purchasing of the car so people are definitely interested in a solar powered vehicle. If it is commercialised, the cost of manufacturing solar cars will definitely decrease due to the mass production of parts. The process will also be much faster and efficient.
"eVe proves to the world that we can easily integrate sustainability ideas into our everyday lives with a few small changes."
- Wing Ki
How long does the car need to charge for, and when it is charged, how long does it last?
When we go on track days, we usually charge the batteries overnight if we are plugging it into the wall. Once it's charged, it can travel a total of 800km (500km with just batteries, and an extra 300km with the solar panels).
Is there any future work that needs to be done on eVe to make her more energy efficient?
There are many things we can do to eVe to make her more energy efficient. However, we do have skill, budget and time restraints. What we have planned is to use more efficient solar panels, from 22% to 24% efficiency.
Are there any future plans to develop vehicles powered by solar?
Of course! We build a new solar car every 4 years for the world solar challenge. Each generation will be a significant improvement from the previous.
[image credit: Sunswift]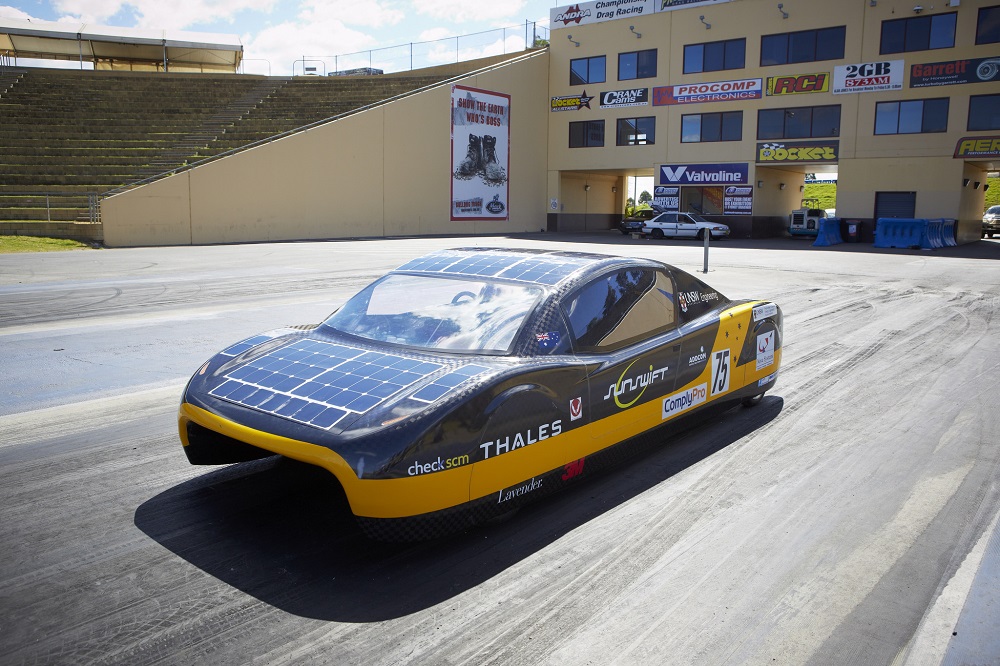 eVe has broken the land speed record for the fastest long range electric vehicle in its weight category, which is a pretty amazing achievement for the UNSW Solar Racing Team! It averaged at 107km/hr over a distance of 500km – which basically proves there is fuel efficiency in solar powered cars. Her design is based on a catamaran to enhance the aerodynamic characteristics, and it also gives her a unique appearance.
A big thank you to Wing Ki and the UNSW Solar Racing Team, Sunswift, for letting us take a sneak-peak into your innovative world!
What you can do
When buying a car make fuel efficiency a top priority
Solar energy is making it's way into the car industry in leaps and bounds! But in the mean time, make sure your car isn't burning off too much fuel!
2,320
Tonnes of CO2
savings pledged

---