The following is a 1 Million Wommen community member guest post.

Recipe created for Best Skin
Autumn is setting in, and we can soon expect chilly weather and grey skies, which means comfort food cravings still abound and easy, healing kitchen recipes to help ward away winter bugs and fatigue are a must. This creamy and filling savoury porridge combines the healing and soothing qualities of turmeric and ginger and the energizing powers of various spices and coconut milk.
Make a batch and store in the fridge for up to three days, and add protein or greens for a perfect lunch or dinner or to heat up as a small bowl for a savoury breakfast.
INGREDIENTS:
Walnut sized piece of ginger, peeled
Turmeric, half the size of ginger, peeled
1 large garlic clove, green germ removed (preferably organic)
2 eschalots (preferably organic)
1 small, hot red chilli, seeds removed (optional)
1 tsp coriander seeds, roasted and crushed
1 tsp fennel seeds, roasted and crushed
Grated peel of 1 organic lemon - wash before use
1 heaped teaspoon of brown mustard seed
¾ cup organic coconut milk - choose a brand with the highest concentration of actual coconut, with minimal fillers and added ingredients
Himalayan pink salt
Freshly ground black pepper
Wedges of fresh organic limes to serve
200g/1 cup brown rice - (preferably organic)
2tbsp coconut oil - 100% pure, raw and cold pressed
METHOD:
Chop ginger, turmeric, garlic, eschalots and chilli fairly finely, but still retaining some texture. Combine with lemon peel, coriander, fennel and mustard seed in a small bowl.
Heat a small saucepan over a low heat, add coconut oil, and spice mixture created above. Cook gently until fragrant, about 3 minutes. Do not burn.
Meanwhile, wash rice in a strainer under cold water for 30 seconds. Add to saucepan, pour over 1/2 cup of water (filtered as per your preference), the coconut milk, and bring to a boil, uncovered.
Turn heat down to low, stir, cover, and cook for 30 minutes. Turn heat off and let sit for 10 minutes still covered.
Remove lid, fluff rice with a fork, season with salt and pepper, cover with lid again, and set aside until needed.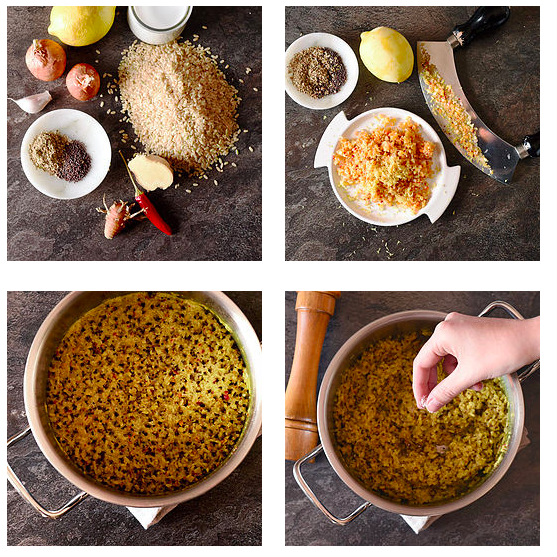 BEST SKIN is a curated online platform exploring current ideas and information related to achieving and maintaining your healthiest and clearest skin, from the inside and out. You can keep up to date on Instagram, Twitter, and bestskin.co.uk

Try this next: Perfect Plum Bruschetta
1 Million Women is more than our name, it's our goal! We're building a movement of strong, inspirational women acting on climate change by leading low-carbon lives. To make sure that our message has an impact, we need more women adding their voice. We need to be louder. Joining us online means your voice and actions can be counted. We need you.
---