Well isn't this just cute?
Clearly there is no excuse for the rest of us when a bunch of bright little children take to the garden to make the world a better place.
Preschool for me was a traumatising place where they tried to make me go to sleep, and some little kid bit my sister so hard she needed a tetanus shot. But Castle Hill Beehive Childcare Centre in Sydney's north-west is making me realise I totally missed out.
The Childcare Centre staff have been teaching the kids about sustainable living and lowering their carbon footprint through simple household activities. Kind of like… exactly what we do at 1MW.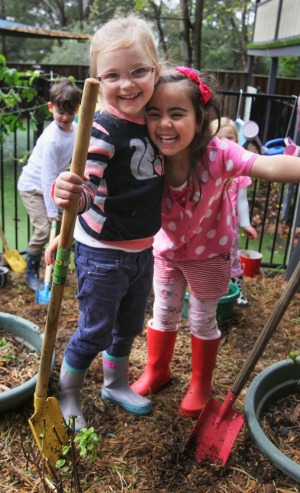 They are being taught about recycling, composting, water conservation and gardening. And despite the complex subject matter, apparently the kids are really eager to learn. Bless!
"They really love it… it gives them a respect for the environment and hopefully that will come through when they reach primary school."
- Cara Miceli, centre's director
The Castle Hill program is being run by Hornsby Council as a part of a scheme that teaches environmental sustainability. It's now running in more than 30 pre-schools and childcare centres. The Convener of the NSW Early Childhood Environmental Education Network, Julie Gaul, said that learning about sustainability was now just as important as literacy and numeracy. As we become more urbanised, it's important that children aren't so disconnected from nature that they forget how to care for it.
The best part? The kids are taking their new-found skills home and getting their parents on board! Learning goes both ways here people!
Seriously considering showing up at Castle Hill Childcare Centre for a bit of gardening…
Just look at these little guys.
[image credits: SMH]
What you can do
Put veggie scraps in worm farms, Bokashi buckets or composters
Make like these inspirational little guys and get composting!
709
Tonnes of CO2
savings pledged
We're building a movement of women fighting climate change through the way we live.
Join us and be counted.
---